& U Thought U Were Cold
By: Skyepony, 3:39 AM GMT on January 07, 2008
Northwest got buried. Disaster declarations bring little relief Seems they were answered with suggestions for citizens to find & dig out thier local fire hydrent & keep the snow build up off the roof.

Canada has put the spotlight on avalance safety. It's been a bad season with 11 lost on Dec 5th & conditions are ripening again.

China~ <em>Hundreds of thousands of desperate travelers, some hoisting terrified children or baggage over their heads, pushed their way onto trains Thursday as service resumed after the worst winter storms in decades paralyzed China.

People Blamed for Water Woes in West


~~~~~~~~~~~~~~~~~~


This winter has been so harsh, now we have a Canadian death toll.

US Army is off to aid those in the flood in Bolivia

TX & OK fires are outta hand AUSTIN, Texas --Gov. Rick Perry issued a disaster proclamation for more than half the counties in Texas on Wednesday because of wildfires that have already destroyed at least two dozen buildings and could do more damage later this week. OK is under a statewide burn ban

By the headlines the Midwest got slapped, the NE is in for it & thid system produced a deadly tornado. Along the way, it destroyed a trailer in Poseyville, killing two people, ripped the roof off on one home, part of a roof off another and destroyed at least one barn and numerous sheds, officials said ( I think that's in KY). Looks like some wind may have tossed a train into the OHIO Bay.

Update on China

Not much new on the hundreds freezing to death in Afganastan
``````````````````````````````

~~~~~~~~~~~~~~~~~~~~~~~~~~~~~~~~~~~~~~~~~~~~~~~~


NHC Tropical Disscusion

Local text Products
Local Forecast Graphics.

Click to make larger



Local Hazards
Wind & Sea....Rip Current......Flash Flood.......Lightning.......Severe Hail.....Severe Winds.....Tornados





These will update automatically with conditions.
Credit~NWS More East Central FL Graphical Hazard maps & these full size are available there.
Local NWS Hazardous Weather Outlook


Watching for rain & minimum temps..

click maps to go interactive





Fronts are pretty much washing out which leaves us mostly dry. Those on the N end of FL will feel them more with better chance of rain, cooler temps & less fog. South end should be approaching warm. Beautiful weather, but watch out for the fog.



Monday~ Cool
Tuesday morning cold with 30s in the interior.
Wed the warm up begins
Thurs & Friday~ in the 80's





click maps to make bigger & animate

Surfers & Surge
cool wave watch graphic.
NOAA Wave Watch III
Storm surge threat model...Always wondered if or how vulnerable your or friend's place would be to surge? Covers Volusia, Brevard, Indian River, St Lucie & Martin Counties.
Red Tide (FL & TX)


Radar/Satellite/Microwave
Melbourne NEXRAD Radar
NOAA Satellite Services ~ I like the RGB by day, rainbow at night with some Water Vapor thrown in once in a while.
Good place to keep up with invests.

Models~
Local Meso Model (well it covers most the state)~ lots of informative blue bars, each a different model, above it to click on too. Forecasts weather for the nexr 24 hrs.
FSU Model page
Shear loop .
Comparing different models shear, steering & percipitation loops.

Click to make maps bigger.

850mb Relitive Vorticity


Click on map to enlarge, check 2 other shear maps, divergance, convergance, shear tendicy, visible winds, upper & lower winds. To get back to the steering currents click on home & click layer mean wind analysis per basin.

HAZARDS



~~~~~~~~~~~~~~~~~~~~~~~~~~~~~~~~~~~~~~~~~~~~~~~~~~~~~~~~~~~




~~~~~~~~~~~~~~~~~~~~~~~~~~~~~~~~~~~~~~~~~~~~~~~~~~~~~~~~~~~
Jan 14th La Nina Update

weekly CPC report is out.

Looks like we are at a peak in a cold phase of a Kelvin Phase, so things should begin to warm slightly in the eb & flow of the ENSO.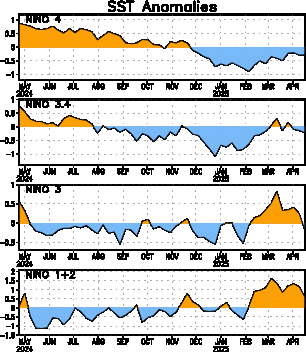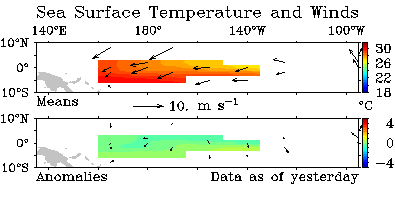 The steady & quick rise to region 1,2 viewed from the depth T-anomily & SST by the week~ Looks more like the hotter than warmer waters from the Caribbean are being blown into the cooler than normal area of the East Pacific. Looking at the T-depth anomily it's only at the surface...as if the hot water was coming in through a canal or something. I'll have to look into this later in the week. At the moment I don't see it as an indicor to the end, I agree with the CPC that the La Niña should last atleast through the spring of 2008.

most recent ENSO models run
~~~~~~~~~~~~~~~~~~~~~~~~~~~~~~~~~~~~~~~~~~~~~~~~~~~~~~~~~~~


Create your own visitor map!
~~~~~~~~~~~~~~~~~~~~~~~~~~~~

Updated: 4:29 AM GMT on February 01, 2008
About Skyepony
Featured Blogs
Local Weather
75 °F

Clear
Previous Entries for 2015
Personal Weather Stations
West Eau Gallie

Melbourne, FL

Elevation:
29 ft
Temperature:
74.7 °F
Dew Point:
70.9 °F
Humidity:
88%
Wind:
1.0 mph from the West
Wind Gust:
-

Updated: 1:48 AM EDT on October 10, 2015