April Flowers, April Beauty
APRIL FLOWERS, APRIL BEAUTY


"all the more I wish to see
in those blossoms at dawn
the face of a god"
Matsu Basho


"Silently a flower blooms,
In silence it falls away;
Yet here now, at this moment, at this place,
The world of the flower, the whole of
the world is blooming.
This is the talk of the flower, the truth
of the blossom:
The glory of eternal life is fully shining here."
- Zenkei Shibayama





(The above is a fresco from Pompei and housed in the Naples Anthropology Museum. I have seen it and it really is beautiful. It amazes me that it is still in excellent shape despite being buried in the volcano ashes and the centuries of its life.)

FLORA

"In Roman mythology, Flora was a goddess of flowers and the season of spring. While she was otherwise a relatively minor figure in Roman mythology, being one among several fertility goddesses, her association with the spring gave her particular importance at the coming of springtime. Her festival, the Floralia, was held in April or early May and symbolized the renewal of the cycle of life, marked with dancing, drinking, and flowers. Her Greek equivalent was Chloris. Flora was married to Favonius, the wind god, and her companion was Hercules. Due to her association with plants, her name in modern English also means plant life. Flora achieved more prominence in the neo-pagan revival of Antiquity among Renaissance humanists than she had ever enjoyed in ancient Rome."
- Flora (Mythology) - Wikipedia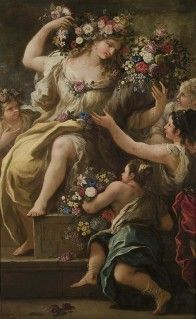 "Flora is the Roman Goddess of flowering plants, especially those that bear fruit. Spring, of course, is Her season, and She has elements of a Love-Goddess, with its attendant attributes of fertility, sex, and blossoming. She is quite ancient; the Sabines are said to have named a month for Her (which corresponds to our and the Roman April), and She was known among the Samnites as well as the Oscans, where She was called Flusia. She was originally the Goddess specifically of the flowering crops, such as the grain or fruit-trees, and Her function was to make the grain, vegetables and trees bloom so that autumn's harvest would be good. - Flora - Roman Goddess



Pear Blossoms

"An altered look about the hills;
A Tyrian light the village fills;
A wider sunrise in the dawn;
A deeper twilight on the lawn;
A print of a vermilion foot;
A purple finger on the slope;
A flippant fly upon the pane;
A spider at his trade again;
An added strut in chanticleer;
A flower expected everywhere ..."
- Emily Dickinson, Nature: April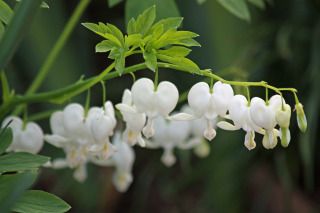 Bleeding Hearts (Dicentra)

The Bleeding Hearts

Delicate beauty….
Brilliant passionate hue.
Droplets of tears.
Drawing near to us.
The sweet scents of summer.
The bleeding hearts.
Capturing the essence of beginnings.
Possibilities to ponder.
Nature and self, to renew.
Fragile and fleeting beauty.
As with all hearts.
Brought to fruition by the deep, warm blood.
Slowly seeping;
to nourish and sustain.
The bleeding hearts.
Perfectly framed in tender green.
Captured for the moment.
Once again we savor;
their timely, graceful charms.

The Bleeding Hearts © 2008 Geraldine H. Hartman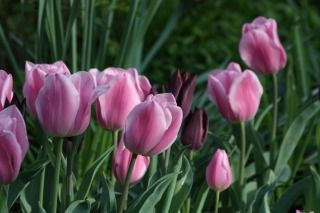 Tulips

The Legend of the Dogwoods:

The legend surrounding the symbolic meaning of a dogwood tree is intrinsically linked to Christianity. It is said that the wood of the dogwood tree is the hardest and that it was chosen to be used in the cross on which Jesus Christ was crucified. Although there are no direct accounts that this is so, it is known that dogwood grew in the areas surrounding Jerusalem during this time period, and it is entirely likely that this wood was used.


\

Dogwoods


down the dogwood path
salamanders frogs and toads
I can only hope
-Susan Taylor Brown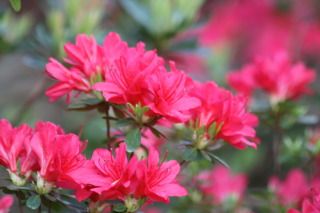 First Azaleas

After all, I don't see why I am always asking for private, individual, selfish miracles when every year there are miracles like white dogwood.
Anne Morrow Lindbergh






All flower photos by Proserpina
"There are painters who transform the sun to a yellow spot, but there are others who with the help of their art and their intelligence, transform a yellow spot into sun" Pablo Picasso
...ignites my soul.
April is the cruellest month, Breeding lilacs out of the dead land, Mixing memory and desire, Stirring dull roots with spring rain (T S Eliot)
The miracles of nature do not seem miracles because they are so common. If no one had ever seen a flower, even a dandelion would be the most startling event in the world. Author unknown.
Reader Comments
New Comment
Post Your Comments
Please sign in to post comments.
Not only will you be able to leave comments on this blog, but you'll also have the ability to upload and share your photos in our
Wunder Photos
section.
About Proserpina
| | |
| --- | --- |
| | "For last year's words belong to last year's language And next year's words await another voice. And to make an end is to make a beginning." Eli |
Tropical Blogs
Tropical Weather Stickers®
Local Weather
| | |
| --- | --- |
| | Partly Cloudy |
Previous Entries for 2014