Forever Together.....
JUANA LA LOCA, CONCLUSION (PART III)

(Parts I and II are found in the two previous blogs)






Overjoyed at the prospect of seeing her father after five years of separation, Juana prepares to meet him in Tortoles where 'together they will claim her throne'. Dressed in her best finery she meets her father who has 'come home to her'. After a brief welcoming session, Juana discovers that her father just like Philip had no intention of stepping back and let Juana assume her throne. He set spies on Juana and began intercepting her mail. It was obvious that her beloved father became a stranger, a person she did not know. Sensing danger she decided that it was time for her coronation to take place in Toledo. Fernando's response was that there would be no coronation of Juana, that her mother was dead and that he ruled now!

The final years with Philip and his web of deception came back to haunt her. This time she could not escape the depression that followed and she felt that indeed she would go mad. She had been betrayed too many times and no longer could tell what was real and what was delusional.

Indeed her father was working against her, forbidding anyone to go and see Juana, Fernando kept her isolated from anyone who might be of help to her. During this time Juana discovered that her father had married King Louis' niece, Germaine de Foix, the same woman who had disrespected Juana during the visit to France. It was obvious that Fernando wanted a new Queen to provide him with a son and hence an heir for Aragon. Juana's children would be prevented from inheriting the throne if Fernando had a son of his own.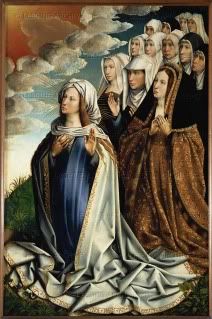 Mary interceding for Juana, altar piece.

Juana's advisor suggested that they go to war against her father and win Castile for herself and her children but she knew what she must do. The following is a quote from Gortner's book : "It had been with me all this time, the hour when I must face both my past and my future and decide my own course. I had been a pawn blown by the vagaries of fate for most of my life: an innocent girl used for a political alliance, a wife deceived and manipulated for her crown. Now at long last, I had the strength to be the woman I had always wanted to be, the queen my mother had believed I could become." There would be no war, she forbade it. Castile would come first, she would no longer run. No matter where she went her father would pursue her and he would endanger the lives of her children.

Once more Fernando tried to get rid of Juana by planning a marriage with the kind of England but Juana would not agree to such an arrangement. At this point he demanded that she 'voluntarily abdicate' but once again she declined to do her father's bidding. At this point Fernando knew what he had to do, just as Juana knew what he would do. The 'loving father' had his daughter locked in her room until a few days later when Fernando's men came for her. They brought her to Tordesillas and dumped her in a fortress. The doors shut, she never left those walls. She was finally home.

Following Juana's imprisonment in Tordesillas in 1509, her father, Fernando of Aragon ruled Spain until his death in 1516. Upon his death the throne passed to Juana's son, Charles (Carlos) of Habsburg. Charles always favored Flanders and heavily taxed Spain, but that's another story. In 1555 Charles abdicated and bequeathed Spain to his son Philip II. Philip elevated Spain to prominence and power, at a heavy cost to the people.
Juana, the titular Queen of Spain, remained a prisoner even under the reign of her son, he too was hungry for power and did not care what happened to his mother.

Betrayed by her husband, her father, the Bishop, and her son Carlos I (also known as Carlos V), Juana the rightful Queen of Castile, remained a prisoner for 46 years. Juana La Loca died April 12, 1555 at the age of 75.

Juana and Felipe are buried side by side in the Cathedral of Granada, next to Queen Isabel and King Fernando.




I have visited the tombs and am delighted to say that the Italian sculptor Domenico Fancelli, creator of the tombs, saw fit to sculpt Juana and Felipe looking away from each other. Forever together, forever unforgiven, forever unforgiving.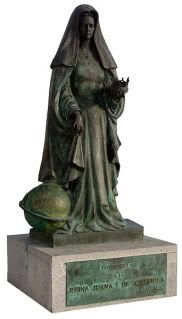 Monument in Tordesilla to honor their famous 'prisoner'.


A Few Facts - Juana, daughter of Isabel and Fernando:

Queen of Castile and León
Reign 26 November 1504 – 12 April 1555
(50 years, 137 days

Queen of Aragon
Reign 23 January 1516 – 12 April 1555
(39 years, 79 days)

Juana and Felipe's children:

Eleanor, Queen of Portugal and France
Charles V, Holy Roman Emperor
Isabella, Queen of Denmark
Ferdinand I, Holy Roman Emperor
Mary, Queen of Hungary
Catherine, Queen of Portugal


MAY THE COURAGEOUS JUANA AND HER LOVING HEART, REST IN PEACE.

I hope that the readers of this story enjoyed the slightly different kind of post.

A single rose can be my garden... a single friend, my world. - Quotes Leo Buscaglia.
Reader Comments
Comments will take a few seconds to appear.
Proserpina's WunderBlog
Local Weather
45 °F

Clear
Previous Entries for 2015
Recommended Links