For the Public good
By:

Portlight

, 6:44 PM GMT on January 24, 2014

+

1
www.portlight.org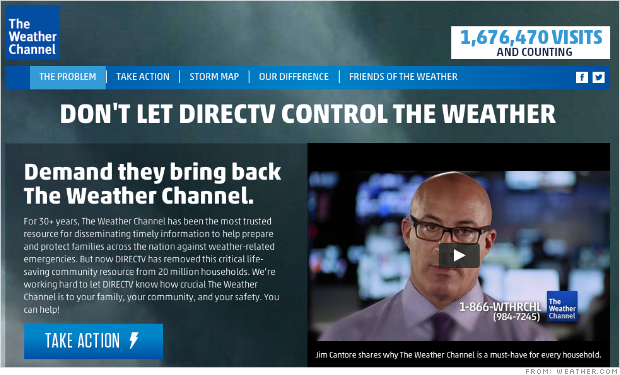 Tornado season officially starts in March, but early tornado activity has already threatened lives and communities in Illinois, Missouri and Kentucky. we are reaching out to you because I know you share with us the desire for our communities to be as prepared as possible when tornadoes and other natural disasters strike.






On January 14, DIRECTV decided to drop The Weather Channel, thereby putting its bottom line ahead of the safety of the 100 million households and businesses who were served by The Weather Channel and relied upon it as a resource during weather emergencies before DIRECTV dropped it. The make-shift weather solution they put in place of The Weather Channel leaves us all much more vulnerable to dangerous weather situations, and puts our most vulnerable citizens at even greater risk.



Vital American industries including disaster relief, emergency management, aviation, ground transportation, insurance, as well as our military, depend on The Weather Channel for real-time and reliable weather information that could affect the safety and performance of their important work. We at Portlight Strategies have depended for years on information from The Weather Channel to plan and carry out our grassroots efforts and keep our partner organizations such as your own fully informed around disasters and recovery.

The Weather Channel also partners directly with emergency response organizations like The American Red Cross, FEMA and NOAA. It supplies these groups with valuable information, and shares life-saving information about how to prepare for, survive and recover from emergencies.



We believe a concerted effort to educate the DIRECTV board of directors about the dangerous outcomes that will undoubtedly result if they don't reverse their decision.

We ask that you join us for this worthy effort.

Best regards,

Portlight Strategies






..in other Portlight news,

January 30, Portlight successfully hosted it's second "Getting It Right" event in Charleston, South Carolina. Even with the threat of winter storm Leon, the workshop had a great crowd of emergency management representatives and disability stakeholder organizations. The winter storm reduced the amount of attendees however it served as the perfect framework for the workshop.

The workshop started out with Susan Dooha from CIDNY. Susan discussed her experiences with Hurricane Irene and Sandy, and her recently victory in the lawsuit against the City of New York. Mike Patterson from the Salvation Army discussed his Emergency Planning Committee for People with Functional Needs (EPCPFN) is doing to educate and help people with disabilities. Next we heard Elliot Harkavry who discuss how to get accessibility grants for shelters. Anita Cameron then discussed her personally experiences on a CERT team as a person with a disability. Sue Pniewski, Portlight's New Jersey Coordinator, shared what Portlight has done in New Jersey since hurricane Sandy. Next Marcie Roth, FEMA Office of Disability Integration, spoke about what FEMA does to include people with disabilities. Lastly, Mary Casey-Lockyer and Valerie Cole from the American Red Cross discussed how their shelter accommodate people with disabilities.

Thank you to all who attended the workshop and presented! We will announce the next "Getting It Right" conference soon!

Holly Kasper

Portlight Strategies, Inc.




Be sure to LIKE us on Portlight/FaceBook
Reader Comments
New Comment
Post Your Comments
Please sign in to post comments.
Not only will you be able to leave comments on this blog, but you'll also have the ability to upload and share your photos in our
Wunder Photos
section.
About Portlight
Tropical Blogs
Tropical Weather Stickers®
Local Weather
| | |
| --- | --- |
| | Light Rain |
Previous Entries for 2014