Happy Winter 2009!
1/17/2009: UPDATE: It was 10 degrees outside when we woke up this morning. Luckily for us, there wasn't any of Cape Cod famous winds blowing, or it would have felt like we were sitting on the top of Mount Washington! The sun is shining and we've now crept up to 17 degrees; comparatively balmy to this morning's crisp thermometer reading. All I can say is that I hope this is the coldest weather we see this winter. I know that other areas have had much colder temperatures than we've had, but this is cold enough for me!

The good news is that even though I'd been kind of embarrassed at having to knit almost all our Christmas gifts I've been pleased that several of the recipients have told me how much use they're getting out of their hats and scarves! Hubby Lorne & I have been wearing our newly knitted hats and scarves daily, too; after six years in Florida, it's quite an adjustment to find ourselves back in the North, bundled up under layers of clothing until the closest thing to trying to walk is kind of a penguin-like shuffle. But, I'm not worried- we'll get used to it again!

Hope you're all staying warm! Put another pot of hot chocolate on the stove and another log on the fire!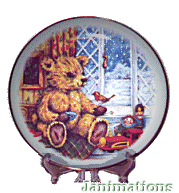 Hello, folks!

As 2008 draws to a close, I can't say that I'm terribly sorry to see it go. By rights, it ought to shamefully slink away and only be mentioned in hushed tones from now on. But, that's just from my perspective; it was a very rough year for us- the culmination of several bad years. However, since we have been able to relocate and find lucrative jobs, we have high hopes that 2009 will be the year we open a new chapter in our lives- a happy one!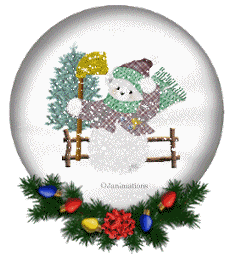 I am very grateful to all of those who stop by my blog and offer their comments, friendship and/or moral support. Thank you! Thank you! Thank you! I'm honored to know you, even those I have never met in the flesh; I feel lucky to have gotten to know you!




We're getting a good snow storm today. Both Lorne & I had to work part of the day, but we arrived home in the mid-afternoon, in time to let Sammy out for a good run in the snow! Sammy surveys the scenery.



Sammy eating snow!



Now he has to rub his face in the snow! BRRR!



After rolling in the snow, now it's time to zoom off to find some fresh snow to bathe in!



Taking a break!



HAPPY NEW YEAR AND THANKS FOR ALL YOUR POSTS!


You are now marked on my visitor map!
Create your own visitor map!
img border=0
About PeaceRiverBP
| | |
| --- | --- |
| | I've many passions but two of them are reading & camping, so naturally my camper's name is Parnassus for Christopher Morely's "Parnassus on Wheels". |
Tropical Blogs
Tropical Weather Stickers®
Local Weather
| | |
| --- | --- |
| | Clear |
Previous Entries for 2014