A City within a City
By:

Patrap

, 3:09 PM GMT on October 22, 2013

+

7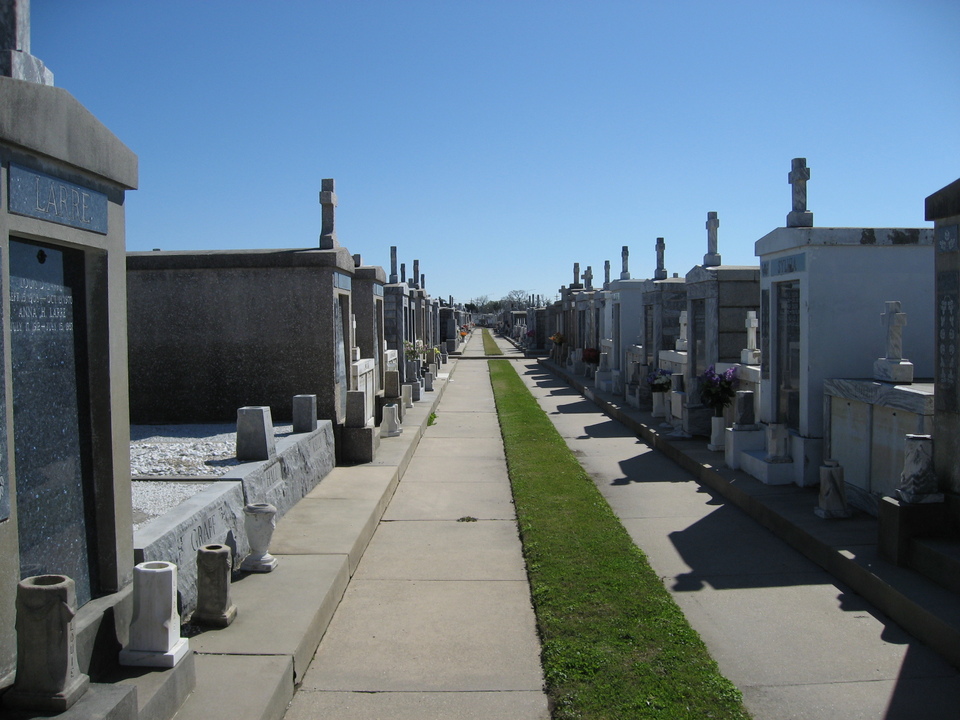 Greenwood Cemetery, New Orleans

The cemetery was opened in 1852, and is located on City Park Avenue (formerly Metairie Road) in the Navarre neighborhood.

The cemetery has a number of impressive monuments and sculptures.

Notables interred here include:


Former Mayors of New Orleans

Confederate Generals Young Marshall Moody, who died of yellow fever in 1866, Thomas M. Scott and James Argyle Smith

Confederate supporter and resister of Union occupation William Bruce Mumford, who was hanged for tearing down a United States flag during Union Army occupation of New Orleans during the American Civil War

Union Army Brigadier General and Brevet Major General William Plummer Benton, who was Collector of Internal Revenue in the City of New Orleans after the Civil War and died of yellow fever in 1867

Jazz legend Leon Roppolo

Novelist John Kennedy Toole.

There are 9 British Commonwealth service personnel, registered by the Commonwealth War Graves Commission, who are buried or specially commemorated here - 4 from World War I and 5 from World War II.

Confederate Tomb



Fireman's Tomb at Greenwood Cemetery



Mason Tomb



File:FEMA - 19194 - Photograph by Jocelyn Augustino taken on 09-04-2005 in Louisiana, post Katrina.




Front of Greenwood Cemetery with Fireman and Elks tomb monuments in sunset



Remembering Mr. Davis
By: Patrap, 2:31 PM CST on November 16, 2010


My Grandparents on my mothers side are Buried in Greenwood just off Canal Blvd on Orange Street within the Cemetery. Each Row has a street name to navigate the cemetery.Its also a nice place to teach someone to drive.

My parents are buried in the Mausoleum on the North side of the Cemetery. Dad was smart and bought High on the 5th Tier at the top. 5 feet of water was common after Katrina in the cemetery.

Caring for the burial needs of New Orleans since 1852. Centrally located at City Park Avenue and Canal Boulevard. On-site funeral home. Landmark monuments. Historic tombs. Modern Mausoleum. Affordable pricing. Owned by the Firemen's Charitable & Benevolent Association. These are just a few good reasons why Greenwood is the most popular cemetery in New Orleans.

Click on the arrow inside the video box to take a quick tour and discover why Greenwood Cemetery & Mausoleum is still the best value in town.





Click for New Orleans, Louisiana Forecast
Create your own visitor map
Reader Comments
New Comment
Post Your Comments
Please sign in to post comments.
Not only will you be able to leave comments on this blog, but you'll also have the ability to upload and share your photos in our
Wunder Photos
section.
About Patrap
Tropical Blogs
Tropical Weather Stickers®
Local Weather
| | |
| --- | --- |
| | Overcast |
Previous Entries for 2013
Personal Weather Stations
Uptown

New Orleans, LA

Elevation:

20

ft
Temperature:

72.0

°F
Dew Point:

72.0

°F
Humidity:
100%
Wind:

2.5

mph from the South
Wind Gust:

9.6

mph

Updated: 5:41 AM CST on December 06, 2013