2013 Atlantic Hurricane Season Birdseye Discussion #69
...WEDNESDAY AUGUST 14 2013 10:53 PM EDT...
Atlantic tropics remain at escalated levels as we push into the second half of August with three current areas of active weather. Two of these areas...designated as disturbances Invest 92-L and 93-L...are on the brink of becoming tropical cyclones at any time.

High probability of tropical cyclogensis in the northwestern Caribbean and or southern Gulf of Mexico in the next 24 hours. Interests in the northwestern Caribbean Sea...western Cuba...Yucatan Peninsula...Gulf of Mexico...and along the United States Gulf coast from Louisiana to the Florida panhandle should monitor this situation carefully. See Invest 92-L special feature section below for additional details.

Upper vortex southeast of Bermuda continues producing active weather as mentioned in paragraph P4...but is not expected to develop into a subtropical cyclone due to high surface pressures in the area.

Vigorous and well-organized tropical wave in the eastern Atlantic is very close to tropical cyclone status as it begins passing south of the Cape Verde Islands tonight. Based on the upper wind forecasts becoming more favorable...I have upgraded this system to a special feature. See Invest 93-L special feature section below for additional details.

...ATMOSPHERIC FEATURES BIRDSEYE CHART...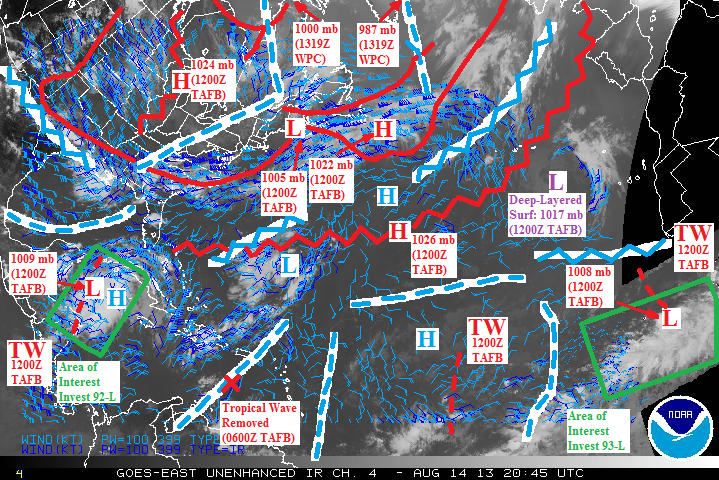 <
This chart is generated based on surface analysis from the National Hurricane Center TAFB at 1800Z, and the 1319Z-released WPC analysis.

In light blue is upper air analysis, with 200 mb wind barbs calculated by GOES satellite imagery showing the upper-level wind direction. Based on the 200 mb wind barbs, blue-dashed lines are locations of upper troughs, blue-zig-zag lines are locations of upper ridges. Blue Ls are locations of upper lows, blue Hs are locations of upper ridges.

In red is surface analysis, with solid lines indicating locations of surface fronts, dashed lines indicating locations of surface troughs, and zig-zag lines indicating surface ridge axes. Ls indicate surface lows, Hs indicate surface highs.

...THERMODYNAMICS BIRDSEYE CHART...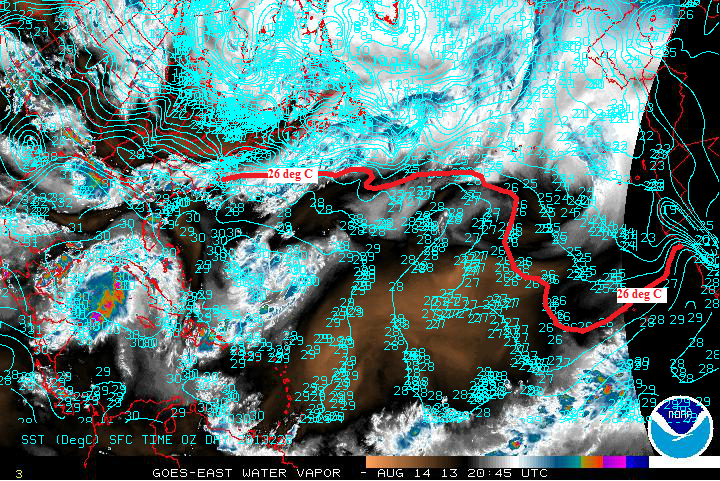 This chart is generated using GOES water vapor satellite imagery. Brown indicates dry air. White, blue, and purple indicates moist air. An increase in moisture indicates slower air parcel lapse rates with elevation and hence an increase toward instability.

Sea-surface temperatures are overlaid with light blue isotherms. The 26 deg C isotherm is highlighted in red. Waters at and south of the 26 deg C isotherm indicate low-level warmth and hence faster environmental lapse rates with elevation (more instability). Waters north of the 26 deg C isotherm indicate slower environmental lapse rates with elevation (less instability).

...SPECIAL FEATURE...CARIBBEAN TROPICAL WAVE INVEST 92-L...
Western Caribbean tropical wave and associated cyclonically turning thunderstorms has become very well organized in the last 24 hours. This is a classic case of gradual tropical development where an extensive thunderstorm region supported by surface convergence of a surface low pressure feature (in this case the tropical wave) pumps up an upper anticyclone via latent heat release...and in turn the upper outflow of the upper anticyclone supports additional surface pressure falls. I continue to forecast this system will become a tropical cyclone in the timeframe that is currently the next 24 hours as it moves into the Yucatan Peninsula/southern Gulf of Mexico region. I then currently favor the NAVGEM middle-of-the-ground solution described below which would suggest a mostly tropical system making landfall along the south-facing US Gulf coast in about 72 hours.



Figure 1: GFS upper-level (300 mb) wind forecast trends between yesterday (18Z Aug 13) and tonight (18Z Aug 14). The change in the upper wind forecasts annotated above is less favorable for Invest 92-L and more favorable for Invest 93-L.

Despite the impressive nature of this system...the GFS computer model run has decided to stop showing development...the prognosis given in Figure 1 above. In short...Figure 1 shows the GFS no longer pushing the paragraph P5 southern Gulf of Mexico upper vortex westward and out of the way such that the upper vortex shears apart this system in the next 24 hours. For now I am assuming the GFS is incorrect while potentially underplaying the currently impressive nature of the upper anticyclone which I still think is capable of pushing out the upper vortex. I will note that the thunderstorm intensity has been on the decline since this afternoon...and if thunderstorms do not recover later tonight to pump up the upper anticyclone with additional latent heat release...then maybe the GFS is on to something and I may have to issue a special update before my next blog post to cancel this system as a special feature.

Meanwhile...the current NAVGEM model run shows a moderate solution where the upper anticyclone pushes the upper vortex westward into the western Gulf where it then merges with southwestern lobe of paragraph P1 eastern US upper trough such that we have the development of a western Gulf upper trough. While the development of an upper trough normally signifies unfavorable westerly shear...in this scenario the upper trough is highly amplfied at a location west of the system's strong upper anticyclone (and a more amplified upper trough means less westerly shear)...and the upper anticyclone in this scenario covers the eastern two-thirds of this system such that shear should be light enough for additional development. This upper wind configuration suggests that this system will have eastern anticyclonic outflow as in a tropical system while simultaneously behaving as a northward-tracking low pressure system supported by eastern divergence of the upper trough as in a non-tropical system. Therefore the system in this scenario would be making landfall along the south-facing US Gulf coast in about 72 hours (3 days) as a vigorous mostly-tropical to semi-tropical system.

The current CMC solution is an extreme one whereby the upper anticyclone is strong enough to entirely squash out the southern Gulf upper vortex and keep the paragraph P1 eastern US upper trough at bay to the north such that we have a strong tropical cyclone tracking west-northwest across the southwestern Gulf of Mexico generally steered by the paragraph P1 central US surface ridge. Because CMC historically overdoes tropical cyclones....I am not considering this solution.

...SPECIAL FEATURE...EASTERN ATLANTIC TROPICAL WAVE INVEST 93-L...
While taking advantage of low shear and enhanced upper outflow beneath the eastern Atlantic low-latitude upper ridge mentioned in paragraph P5...the eastern Atlantic tropical wave continues to become better organized while on its way to pass south of the Cape Verde Islands tonight. The thunderstorm activity is biased to the south half of the low pressure spin perhaps due to the marginal water temps below 26 deg C just to the north and perhaps due to a tinge of dryness from the Saharan air layer to the northwest mentioned in paragraph P3. As the end of paragraph P5 mentions...two upper troughs due west of this system are beginning to merge in what will become a westward-retrograding upper vortex. Previous dilemna was that this westward-tracking system had the potential to phase with the southeast side of this upper vortex such that it would be supressed by southwesterly vertical shear. Based on the GFS computer model trend between yesterday and tonight shown in Figure 1 above...it appears that the southeast extent of this upper vortex will be weaker than previously thought perhaps due to the tremendous latent heat release of this system's sprawling field of thunderstorms. Coupled with the fact that GFS...CMC...Euro...and NAVGEM more or less continue to suggest additional development...I am more convinced of tropical cyclogenesis and have upgraded this system to a special feature.

With the system forecast to generally track westward while steered by south side of paragraph P3 ridge...it will be heading toward warmer sea-surface temperatures as shown by the above thermo chart. Coupled with the fact that the forecast retrograding upper vortex is no longer expected to unfavorably affect this system...it seems conditions are potentially ripe for a strong tropical cyclone. However some of the longer-range computer model runs weaken this system as it approaches the Lesser Antilles...perhaps due to the higher concentration of paragraph P3 Saharan dry air to the west as seen in the above thermo chart. For instance the tropical wave ahead of this system...mentioned in paragraph P7 below...has been gradually losing its thunderstorms while running into the greater concentration of Saharan air. We shall se...stay tuned with this system over the next few days...

...MID-LATITUDES DISCUSSION...
P1...992 mb frontal cyclone passing by the south tip of Greenland has deepened a bit to 987 mb within the last 24 hrs while tapping into eastern divergence of associated north-central Atlantic upper trough. The north-central Atlantic upper trough four days ago left behind upper trough which continues amplifying southward across the eastern US to the east of a developing western North America upper ridge. Eastern divergence of this upper trough supports surface frontal depression that has deepened from 1006 to 1005 mb in the last 24 hrs while moving into Atlantic Canada from the NE US...and the upper trough is being re-enforced by cool air advection behind 1000 mb frontal cyclone diving in from Canada's Hudson Bay. Western convergence of the upper trough supports 1024 mb surface ridge over the central US. Low-level warm air south of the aforementioned 1005 and 987 mb frontal cyclones supports southern US upper ridge which has spread northeastward into the north-central and northeastern Atlantic due to southwesterly advection of the warm air ahead of the frontal cyclones.

P2...Cut-off Azores upper vortex has been pushed southeastward into the waters west of the Canary Islands due to amplification of north-central Atlantic upper ridge mentioned in paragraph P1. Associated surface trough formerly supported by eastern divergence of this upper vortex has become a 1017 mb low stacked directly below the upper vortex.

P3...Surface ridge dominating much of the open Atlantic is anchored by 1026 mb center supported by southeastern upper convergence of north-central Atlantic upper ridge mentioned in paragraph P1. In conjunction with south side of aforementioned north-central Atlantic upper ridge...the south side of this surface ridge is advecting dry Saharan air from Africa as seen by low-latitude brown shading in the above thermo chart. However this dry air appears to be mitigated from the southeast by the thunderstorm activity associated with the strong tropical waves mentioned in paragraph P7 and in the Invest 93-L special feature section.

...TROPICAL BELT DISCUSSION...
P4...Cut-off upper vortex persists southeast of Bermuda. The west and south sides of this upper vortex continues to produce an area of thunderstorms supported by split flow upper divergence at the boundary between the upper vortex and paragraph P1 southern US/north-central Atlantic upper ridge. All surface troughing below the upper vortex has dissipated due to the high surface pressures associated with paragraph P3 open Atlantic surface ridge...and therefore am no longer monitoring this area for potential subtropical cyclone development.

P5...Southern Gulf upper vortex has weakened into a southwest-northeast oriented upper trough while becoming squashed between paragraph P1 southern US upper ridge and intensifying upper anticyclone over our special feature Invest 92-L coming in from the southeast. The upper anticyclone of Invest 92-L remains split from larger eastern Atlantic upper ridge by paragraph P4 upper vortex SE of Bermuda. Prior inverted upper trough midway between the Lesser Antilles and Cape Verde Islands is retrograding westward into the Lesser Antilles...and prior inverted upper trough west of the Cape Verde Islands is beginning to merge with southern fracture of paragraph P2 upper vortex (which is currently a central Atlantic east-west upper trough).

P6...Eastern Caribbean tropical wave has dissipated as of the 0600Z NHC TAFB analysis below suppressive non-divergent upper air environment associated with new eastern Caribbean inverted upper trough that has developed in relatively lower pressures east of the intensifying upper anticyclone of disturbance Invest 92-L.

P7...Tropical wave midway between the Cape verde Islands and Lesser Antilles continues to have limited thunderstorm activity while embedded in dry Saharan air mentioned in paragraph P3.
Reader Comments
Comments will take a few seconds to appear.
Previous Entries for 2015