2013 Atlantic Hurricane Season Birdseye Discussion #28
...SATURDAY JUNE 29 2013 9:30 AM EDT...
Tropical wave activity is on the upswing...with one approaching the Lesser Antilles with an increase in thunderstorms (and being mentioned in the NHC Tropical Weather Outlook within the last 24 hours) and yet another vigorous tropical wave about to roll off of Africa. However their is no near-term development anticipated from any tropical wave....see tropical belt discussion below for details.

As promised in my final 2012 hurricane season birdseye discussion...I have begun to release post-storm reports for the 2012 Atlantic Hurricane Season which includes evaluations of how my storm forecasts (issued on these birdseye discussions) compared with that of the official forecasts from the National Hurricane Center. As these post-storm reports come out...they can be viewed on my other blog thread at www.wunderground.com/blog/MIHurricane2009.

...ATMOSPHERIC FEATURES BIRDSEYE CHART...


This chart is generated based on surface analysis from the National Hurricane Center TAFB at 0000Z, and the 0119Z-released WPC analysis.

In light blue is upper air analysis, with 200 mb wind barbs calculated by GOES satellite imagery showing the upper-level wind direction. Based on the 200 mb wind barbs, blue-dashed lines are locations of upper troughs, blue-zig-zag lines are locations of upper ridges. Blue Ls are locations of upper lows, blue Hs are locations of upper ridges.

In red is surface analysis, with solid lines indicating locations of surface fronts, dashed lines indicating locations of surface troughs, and zig-zag lines indicating surface ridge axes. Ls indicate surface lows, Hs indicate surface highs.

...THERMODYNAMICS BIRDSEYE CHART...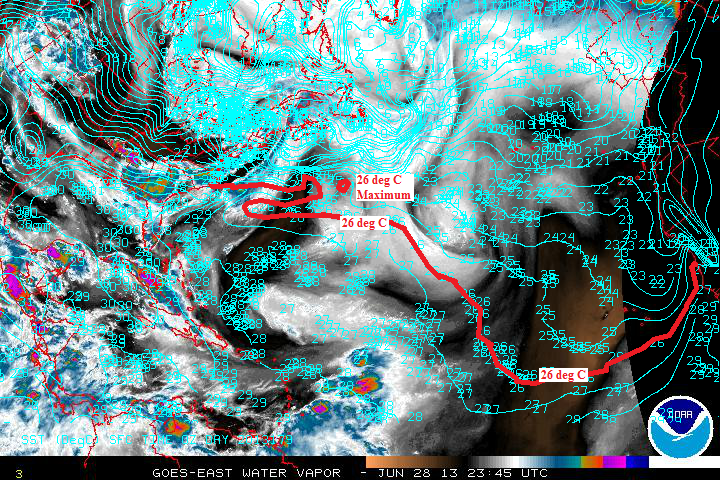 This chart is generated using GOES water vapor satellite imagery. Brown indicates dry air. White, blue, and purple indicates moist air. An increase in moisture indicates slower air parcel lapse rates with elevation and hence an increase toward instability.

Sea-surface temperatures are overlaid with light blue isotherms. The 26 deg C isotherm is highlighted in red. Waters at and south of the 26 deg C isotherm indicate low-level warmth and hence faster environmental lapse rates with elevation (more instability). Waters north of the 26 deg C isotherm indicate slower environmental lapse rates with elevation (less instability).

...MID-LATITUDES DISCUSSION...
P1...Large frontal cyclone and upper trough is parked offshore of the west US coast...with warm air advection ahead of it producing a building upper ridge over the SW US. Upper vorticity has ejected eastward from this system days ago...which is currently an upper vortex over the Great Lakes. Eastern divergence of this upper vortex supports a deepening 996 mb frontal that has moved from the NE US and onto the US/Canada border. Western convergence of this upper vortex supports a surface ridge building into the western US as shown by the red-zig-zag line in the upper-left corner of the above atmo chart. NW Atlantic upper ridge mentioned in paragraph P3 of the previous discusison has shifted northward from Bermuda while supported by warm air adevction ahead of the 996 mb cyclone.

P2...Vorticity of upper trough crossing Hudson Bay (paragraph P2 of the previous discussion) has been consumed by upper trough mentioend in paragraph P3 and Great Lakes upper vortex mentioned in paragraph P1. As a result...the associated surface frontal cyclone has been absorbed by the 996 mb cyclone mentioned in paragraph P1...with what is left of it a dissipating front north of the cyclone. 1022 mb surface ridge over Hudson Bay was formerly supported by western convergence of the absorbed upper trough.

P3...Upper trough moving into the far NW Atlantic (paragraph P3 of the previous discussion) is currently over the high seas midway between Greenland and Canada.Its eastern divergence supports a deepening 1000 mb frontal cyclone that has moved from SE Nefoundland north-northeastward to the waters just offshore of Greenland's south tip. Its western convergence supports 1024 mb ridge just E of Newfoundland.

P4...Surface troughing SSE of Newfoundland has dissipated.

P5...Large upper vortex persists in the open central Atlantic.

P6...Surface ridge dominates much of the open Atlantic basin. Its main center...currently 1036 mb...is NE of the Azores It is supported by eastern convergence of NE Atlantic upper ridge wave that is currently a northward extension of the eastern lobe of tropical upper ridging described in paragraphs P9 and P10 below. This surface ridge continues to have a westward extension currently located across the W Atlantic...Florida Straits...and Gulf of Mexico. This western extension is supported by upper convergence from a variety of upper features mentioned in paragraphs P1...including east side of NW Atlantic upper ridge and east side of SW US upper ridge.

...TROPICAL BELT DISCUSSION...
P7...Western of the two Caribbean tropical waves in paragraph P7 of the previous discussion has crossed Central America into the eastern Pacific...continuing the upheaval of eastern Pacific activity (see www.nhc.noaa.gov for latest info on eastern Pacific activity...which is not covered on this blog). Eastern of the two Caribbean tropical waves is currently in the open central Caribbean. Meanwhile...amplification of paragraph P1 Great Lakes upper vorticity has triggered a chain reaction that has made upper winds over this tropical wave less favorable. Due to the amplifcation....fragment of paragraph P1 SW US upper ridge has been pushed southward into the US Gulf coast...which has pushed the paragraph P8 Bay of Campeche upper vorticity southward...which in turn has de-amplified the western lobe of low-latitude upper ridging such that the tropical wave is currently under hostile westerly shear north of the upper ridge axis. However...the de-amplified western lobe of the upper ridge continues supporting a flare up of t-storms over Central America and to the south of this tropical wave.

P8...Upper vortex between Bermuda and the Bahamas has shifted SE such that it is now midway between Bermuda and the Lesser Antilles. Surface trough and t-storms north of the Lesser Antilles associated with this vortex's eastern divergence have diminished in the last 24 hrs. Upper vortex also persists over the Bay of Campeche.

P9...Tropical wave midway between the Lesser Antilles and Cape Verde Islands in the previous discussion is nearing the Lesser Antilles...and will be crossing the Antilles later today. As paragraph P10 below explains...the eastern lobe of this upper ridging is continuing its expansion into the open central tropical Atlantic. These favorable upper winds have reached this trpoical wave within the last day such that the associated thunderstorms have tremendously increased...and these thunderstorms are also becoming more associated with the eastern divergence of the paragraph P8 Bermuda-Lesser Antilles upper vortex. Even though the NHC mentioned this system in their tropical weather outlook during the last 24 hrs...no devleopment is expected as this tropical wave is moving into hostile SW vertical shear ahead of the Bermuda-Lesser Antilles upper vortex.

P10...Tropical wave south of the Cape Verde Islands in the previous discussion is now SW of the islands. This tropical wave is located below favorable eastern lobe of low-latitude upper ridging which currently has an anticyclonic center NNW of the Cape Verde Islands...and for the next two days models show the paragraph P5 upper vortex and pararagph P8 Leser Antilles-Bermuda upper vortex weakening enough to allow this eastern lobe of low-latitude upper ridge to expand westward into the open central Atlantic as this tropical wave arrives their. Despite forecast favorable upper winds...as expected this tropical wave has moved westward into an unfavorable batch of dry Saharan air (seen by brown shading in lower-right of above thermo chart) apparently advected from Saharan Africa by south side of paragraph P6 1036 mb ridge center and re-enforced by eastern convergence of the paragraph P6 upper ridge wave and eastern convergence of anticyclonic center NNW of the Cape Verde Islands mentioned in this paragraph.

P11...Metoesat-9 satellite imagery previously showed an impressive tropical wave over interior western Africa with a curved t-storm band NW of the axis. This tropical wave is currently marked in the lower-right corner of the above atmo chart as it is about to roll off the west African coast. Despite its early impressivenes...currently their is no computer model support for devleopment...and it could easily cough on dry air that lies ahead in its path much like the tropical wave mentioned in paragraph P10 above.
Reader Comments
New Comment
Post Your Comments
Please sign in to post comments.
Not only will you be able to leave comments on this blog, but you'll also have the ability to upload and share your photos in our
Wunder Photos
section.
About NCHurricane2009
| | |
| --- | --- |
| | NCHurricane2009 doesn't have a bio yet. |
Tropical Blogs
Tropical Weather Stickers®
Previous Entries for 2013