2012 Atlantic Hurricane Season Birdseye Discussion #140
...TUESDAY OCTOBER 23 2012...3:20 AM EDT...
Tropical disturbance Invest 99-L in the central Caribbean Sea has become tropical depression eighteen...and then Tropical Storm Sandy...in the last 24 hours. Sandy has a risk of strengthening rapidly...and is a threat to Jamaica...eastern Cuba...Haiti...and the Bahamas. See the Sandy special feature section below for additional details on this potentially severe situation. In the event Sandy begins to show signs of rapid intensification before I release my next full discussion...I will be releasing special updates.

Disturbance Invest 90-L in the open Atlantic...associated with an upper vortex interacting with a tropical wave...has organized into tropical depression nineteen in the last 24 hours. The new tropical cyclone is expected to stay over open waters. See the tropical depression nineteen special feature section for additional details.

...ATMOSPHERIC FEATURES BIRDSEYE CHART...


This chart is generated based on surface analysis from the National Hurricane Center TAFB at 1800Z, and the 1929Z-released HPC analysis.

In light blue is upper air analysis, with 200 mb wind barbs calculated by GOES satellite imagery showing the upper-level wind direction. Based on the 200 mb wind barbs, blue-dashed lines are locations of upper troughs, blue-zig-zag lines are locations of upper ridges. Blue Ls are locations of upper lows, blue Hs are locations of upper ridges.

In red is surface analysis, with solid lines indicating locations of surface fronts, dashed lines indicating locations of surface troughs, and zig-zag lines indicating surface ridge axes. Ls indicate surface lows, Hs indicate surface highs.

...THERMODYNAMICS BIRDSEYE CHART...


This chart is generated using GOES water vapor satellite imagery. Brown indicates dry air. White, blue, and purple indicates moist air. An increase in moisture indicates slower air parcel lapse rates with elevation and hence an increase toward instability.

Sea-surface temperatures are overlaid with light blue isotherms. The 26 deg C isotherm is highlighted in red. Waters at and south of the 26 deg C isotherm indicate low-level warmth and hence faster environmental lapse rates with elevation (more instability). Waters north of the 26 deg C isotherm indicate slower environmental lapse rates with elevation (less instability).

...SPECIAL FEATURE...TROPICAL STORM SANDY...
Central Caribbean disturbance Invest 99-L has put on an impressive show over the last 24 hours while evolving into Tropical Storm Sandy of 45 mph max winds as of 11 PM EDT. Because of the potential for Sandy to reach severe intensity...it is paramount interests in Jamaica...Haiti...eastern Cuba...and the Bahamas to carefully monitor Sandy...and under the guidance of local officials begin preparations for a severe storm if and when your area undergoes a watch or warning. Under the guise of impact statement (b) in Figure 1 below...the Dominican Republic may also get heavy rains from Sandy thanks to her eastern outer rain bands. Jamaica and Haiti are currently under a tropical storm watch. Latest watches and warnings are found under the public advisory for Sandy at www.nhc.noaa.gov.

Track-wise for Sandy...comparing the 200 mb wind barbs in the above atmo chart with the 18Z GFS model shows that the paragraph P2 cut-off upper trough is both more amplified and further east than expected...and based on its current amplitude I expect it to evolve into a cut-off upper vortex just east of the Isle of Youth of western Cuba. Computer models agree on an initial NNE trajectory toward Jamaica...but since this trajectory has yet to start as seen on satellite animation...my forecast track is a little slower than the NHC's from the get-go as seen in Figure 1. Since the computer models accelerate Sandy NNE in response to the amplifying cut-off upper trough...and since the upper trough is already more amplified than the models are showing...my forward pace catches up to the NHC forecast...but I am initially to the right of the NHC to account for my aforementioned observation of the upper trough being a bit further east than shown in the models. On my expectation that the cut-off upper trough evolves into an upper vortex just east of the Isle of Youth...by 72 hrs (11 PM Thu) and 96 hrs (11 PM Fri) I hook Sandy northward then NNW around such an upper vortex such that I develop a left bias with respect to NHC by that time. A catalyst for a more NNW track by 72 hrs is that the 18Z GFS shows the paragraph P2 SE US surface ridge N of Sandy at peak strength by that time (the strength of the ridge also makes me keep Sandy south of the NHC's forecast by 72 hrs). In advance of the paragraph P1 weather system...this surface ridge quickly erodes by 96 and 120 hrs in the 18Z GFS...becoming replaced by a strong surface ridge across much of North America that blocks Sandy from continuing NNW toward the US. Rather...the 18Z GFS shows Sandy hooking more eastward while attracted to the paragraph P2 cyclone which is shown to be east of Sandy by that time...and my forecast track by 120 hrs agrees with this general idea presented by 18Z GFS.

Intensity-wise for Sandy...despite the aforementioned observation of a possible cut-off upper vortex forming near the Isle of Youth...Sandy does not seem bothered as evidenced by good upper outflow in her NW quadrant. More disconcerting is her ever-improving satellite appearance as the strong t-storm clouds continue to evolve into a spiral band structure with a central-dense-overcast (CDO). Moreover...Sandy should be over very warm sea-surface temps thru the forecast period...and the 18Z GFS for the first 96 hrs suggests excellent upper outflow over the east half of the storm...probably enough to compensate for whatever outflow blockage the Isle of Youth upper vortex may bring. In addition...some of the most intense October Atlantic tropical cyclones are those that originate in the Caribbean much like Sandy. Therefore my intensity forecast in Figure 1 is a lot more bullish than the 11 PM NHC's. By 24 hrs (11 PM Tue)...I bring Sandy into a hurricane (75 mph max winds)...and then I briskly strengthen Sandy into a major hurricane (115+ mph max winds)...coordinating my major hurricane intensity forecast with land disruptions from Jamaica and eastern Cuba. I finally allow Sandy to weaken below major hurricane force by 120 hrs as the 18Z GFS shows the upper anticyclonic outflow over Sandy transition into upper SW shearing winds ahead of the paragraph P1 upper trough.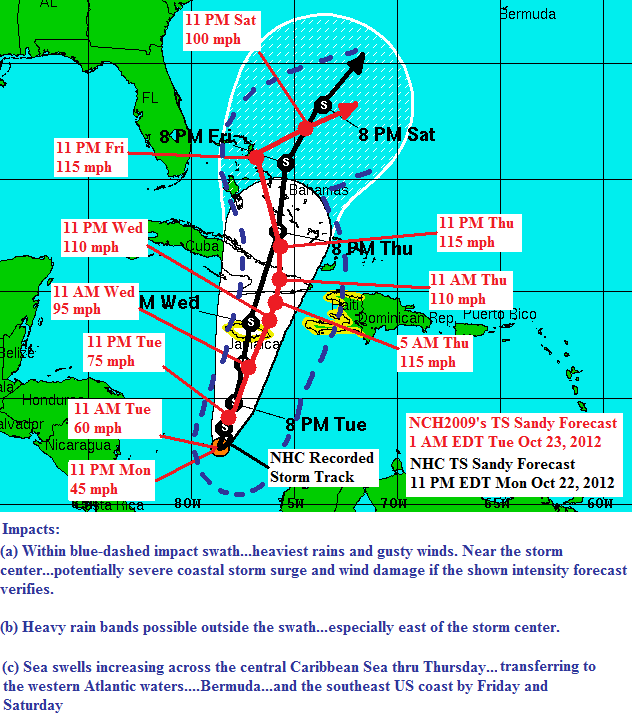 Figure 1: Tropical Storm Sandy Forecast



Figure 2: Impact swath initialization in Figure 1 based on 0415Z Sandy satellite image as of 0415Z this morning

My impact swath initialization in Figure 1 is based on the red circled area in Sandy's 0415Z infrared satellite image shown in Figure 2. This red circled area includes Sandy's central-dense overcast and adjacent spiral band where I believe Sandy will establish her tropical storm and hurricane force winds as well as her heaviest rain. As seen in Figure 2...their are also sprawling rain bands on the east side of Sandy and outside the swath...which is why impact statement (b) in Figure 1 is written. Such far-reaching rain bands are less likely on the west side of Sandy due to the suppression by the developing upper vortex near the Isle of Youth. The red-circled area in Figure 2 has an east bias with respect to the current location of the storm center...an effect also due to the upper vortex. Since I expect this upper vortex to be present thru much of the forecast period...I maintain this east bias with my impact swath when compared to my forecast track.

...SPECIAL FEATURE...TROPICAL DEPRESSION NINETEEN...
The surface tropical wave/low centered near 50W-20N in the previous discussion...formerly known as Invest 90-L...has spun up into tropical depression nineteen within the last 24 hrs. Its t-storm latent heat release has punched out a good chunk of the upper vortex above into a favorable warm core upper anticyclone.

The new tropical depression is tracking northward while in southerly flow ahead of the paragraph P2 deep-layered cyclone. Immediately...my forecast in Figure 3 below is in disagreement with the NHC's and the GFS model...showing a more north and faster track. This is because the NHC and GFS I believe have under-estimated how fast the tropical depression is already tracking to the north...using the NHC recorded storm track which in Figure 3 shows only 6 hours worth of northward motion...and using current infrared satellite which shows the center already approaching 25N latitude before sunrise. I do agree with the hook to the right as the paragraph P2 deep-layered cyclone barges in from the NW...but my northward bias in track means that I predict the depression to hit westerly shearing winds from the paragraph P2 upper trough sooner...and merge with the cold front of the cyclone sooner. Therefore my intensity forecast in Figure 3 is quiet weaker than the NHC's...as I forecast the system to barely become a tropical storm of 40 mph max winds before the westerly shear hits it. I do not show the system weakening under shear as I believe it has potential to interact with the eastern divergence of the paragraph P2 upper trough as it merges with the cold front.



Figure 3: Forecast for Tropical Depression Nineteen

Impact swath in Figure 3 is based on the sprawling field of scattered t-storm clouds seen on infrared satellite. This field of clouds is already biased to the right of the storm center from the incoming westerly shear...and I extrapolate this nature of the cloud field along my forecast track to create the impact swath.

...MID-LATITUDES DISCUSSION...
P1...Next surface frontal system in the mid-latitudes continues entering from SW Canada and the western US in the upper-left corner of the above atmo chart. In the upper-levels...the system has two impulses...with the western convergence of the first upper trough driving a 1023 mb ridge over southern Manitoba...and vast divergence east of the second upper trough driving a few frontal depressions across the western and central US. Low-level warm air advection ahead of the frontal depressions supports an upper anticyclone that has moved from Hudson Bay into the east coast of Canada...and supports an upper ridge persisting over the central US.

P2...994 mb deep-layered cyclone/upper trough centered over SE Canada is shifting eastward into the western Atlantic. In the last 24 hrs...the surface center has strengthened from 994 to 987 mb while tapping into split flow divergence between the upper vortex of the upper trough and paragraph P1 upper anticyclone on the east coast of Canada. Southern portion of the upper trough has cut-off over the NW Caribbean Sea. Upper convergence on the west side of the deep-layered cyclone and cut-off upper trough supports Gulf of Mexico and W Atlantic dry air...as well as surface ridge (currently 1023 mb) over the SE US. Warm air advection ahead of the deep-layered cyclone supports an upper ridge shifting into the central Atlantic.

P3...Upper trough in the NE Atlantic has amplified into an upper vortex stacked over the surface gale that is the remnant of Rafael...thanks to cool air advection on the back side of the remnant gale. Upper convergence on the west side of the upper vortex supports dry air and 1016 mb central Atlantic surface ridge. The remnant surface gale of Rafael continues on a southeast track in deep-layer NW flow on the back side of the upper vortex and east of the aforementioned 1016 mb ridge...and was centered just north of the Azores as of 1800Z this evening. The gale has weakened from 988 to 990 mb in the last 24 hours while beneath the non-divergent upper vortex.

P4...Weakening east Atlantic surface ridge...mentioned in paragraph P4 of the previous discussion...is becoming assimilated into the 1016 mb ridge mentioned in paragraph P3 above...and therefore is no longer a distinct feature.

...TROPICAL BELT DISCUSSION...
P5...Upper ridge in the eastern tropical Atlantic persists. Tropical wave W of the Cape Verde Islands in the previous discussion is seeing its t-storm activity enhanced by the outflow of the upper ridge...but so far has no signs of organization. Another tropical wave has recently exited from Africa...currently located over and south of the Cape Verde Islands.
Reader Comments
Comments will take a few seconds to appear.
Post Your Comments
Please sign in to post comments.
Not only will you be able to leave comments on this blog, but you'll also have the ability to upload and share your photos in our Wunder Photos section.