2012 Atlantic Hurricane Season Birdseye Discussion #49
...JULY 11 2012...11:20 PM EDT...
Tropical cyclone formation in the eastern Gulf of Mexico is possible beginning 24 hours from now. See paragraph P7 for details.

...ATMOSPHERIC FEATURES BIRDSEYE CHART...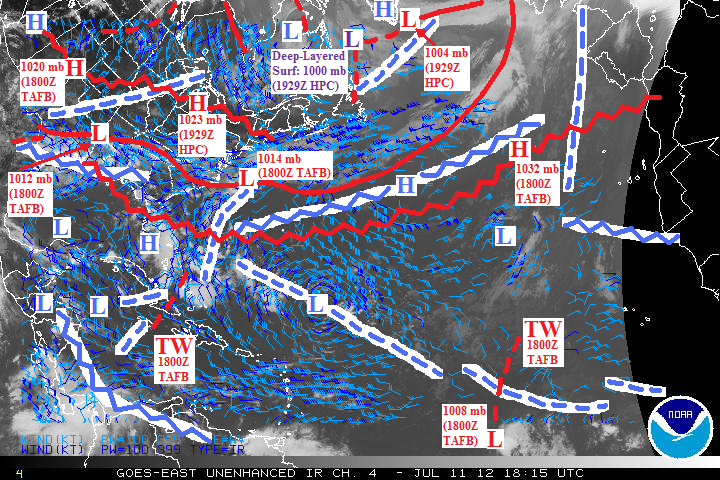 This chart is generated based on surface analysis from the National Hurricane Center TAFB at 1800Z, and the 1929Z-released HPC analysis.

In light blue is upper air analysis, with 200 mb wind barbs calculated by GOES satellite imagery showing the upper-level wind direction. Based on the 200 mb wind barbs, blue-dashed lines are locations of upper troughs, blue-zig-zag lines are locations of upper ridges. Blue Ls are locations of upper lows, blue Hs are locations of upper ridges.

In red is surface analysis, with solid lines indicating locations of surface fronts, dashed lines indicating locations of surface troughs, and zig-zag lines indicating surface ridge axes. Ls indicate surface lows, Hs indicate surface highs.

...THERMODYNAMICS BIRDSEYE CHART...


This chart is generated using GOES water vapor satellite imagery. Brown indicates dry air. White, blue, and purple indicates moist air. An increase in moisture indicates slower air parcel lapse rates with elevation and hence an increase toward instability.

Sea-surface temperatures are overlaid with light blue isotherms. The 26 deg C isotherm is highlighted in red. Waters at and south of the 26 deg C isotherm indicate low-level warmth and hence faster environmental lapse rates with elevation (more instability). Waters north of the 26 deg C isotherm indicate slower environmental lapse rates with elevation (less instability).

...MID-LATITUDES DISCUSSION...
P1...Warm air advection ahead of frontal system from western Canada is re-building upper ridging over the western US.

P2...Westerly warm air advection south of the NW Atlantic cyclone in paragraph P2 has spread North America upper ridge across much of the north Atlantic. Some of this upper ridge is left behind along the US Gulf coast.

P3...Northwest Atlantic surface cyclone has moved offshore from eastern Canada with a diffuse surface center of 1000 mb as of 1929Z. The surface center continues decaying while beneath the less divergent core of its supporting longwave upper trough. Upper convergence behind the longwave upper trough supports a 1023 mb surface ridge over the Great Lakes. Split flow upper divergence between the SW edge of the longwave upper trough and north edge of the upper ridge in paragraph P1 supports t-storms...a long surface front...and frontal depressions across the SE US and west Atlantic...all trailing from the surface cyclone.

P4...Northeast Atlantic upper trough persists. It leaves behind a cut-off upper vortex southwest of the Azores that is currently retrograding westward around the upper ridge in paragraph P2.

P5...Open Atlantic surface ridge still has a strong center...1032 mb over the Azores as of 1800Z...which is supported by upper convergence on the back side of the NE Atlantic upper trough (paragraph P4). South side of this surface ridge is helping to waft Africa desert dry air westward across the Atlantic tropics.

...TROPICAL BELT DISCUSSION...
P6...Central America upper ridge persists...with divergence on its southwest side supporting t-storm activity over the Panama area.

P7...Caribbean upper vorticity has elongated into a few features while wedged between the Central America upper ridge in paragraph P6 and North Atlantic upper ridge in paragraph P2. This upper vorticity still extends to an upper low in the southern Gulf of Mexico...and upper trough near the Bahamas...with a divergent upper ridge between the two supporting t-storms across Florida that appear to have organized into a mid-level low pressure spin. Tropical wave that was over Hispaniola in the previous discussion is now over eastern Cuba and headed toward the mid-level low. Although the mid-level low's t-storms have pulsed down this evening...I would be cautious in discounting development due to the very favorable upper winds and good surface structure thanks to the incoming tropical wave and mid-level low. Therefore...I believe tropical cyclone development is possible in the eastern Gulf of Mexico beginning 24 hours from now. GFS model does not show development...but the NAM model hints at it. Model runs suggest the Great Lakes surface ridge in pagragraph P3 will merge with the paragraph P5 surface ridge...the SW quad of the merged ridge steering this tropical cyclone northwestward toward the US Gulf coast. A turn toward the west does not appear possible as the west Canada frontal system in paragraph P1 will cause a ridge weakness as it passes well to the north.

P8...Large scale upper vorticity exists across much of the eastern tropical Atlantic...an effect due to relatively lower pressures south of the upper ridge in paragraph P2. A large upper vortex is ejecting westward and passing north of the Lesser Antilles while retrograding about the upper ridge in paragraph P2. However...there is still an upper ridge toward the west coast of Africa...in relatively higher pressures south of the NE Atlantic upper trough (paragraph P4).

P9...Tropical wave west of the Cape Verde Islands is now midway between those islands and the Lesser Antilles...suppresed by dry air mentioned in paragraph P5. Southern inflow into the upper vorticity in paragraph P8 is enhancing the poleward upper outflow over the south end of this tropical wave...which has allowed the south end of the tropical wave to develop a 1008 mb surface low and t-storms in the last 24 hours. The westerly upper winds ahead of the tropical wave...generated by the same upper vorticity...are more stiff...and so I expect the new 1008 mb low to not develop as it will track into westerly vertical shear.
Reader Comments
Comments will take a few seconds to appear.
Previous Entries for 2015