Hurricane Jova....A wild ride on the Mexican Coast...IN THE DARK !!
A wild ride on the Mexican Coast....IN THE DARK !!!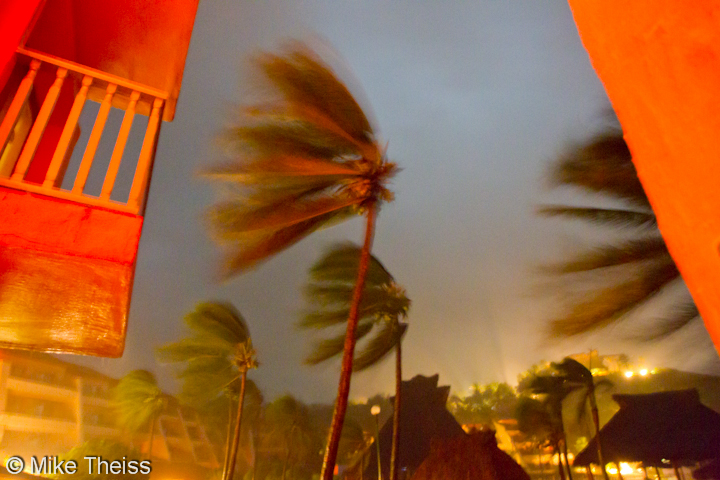 My first Pacific Hurricane chase is in the books. Overall it was an intense experience and I learned a lot about this part of Mexico for future Hurricane chases. I'm disappointed I was not able to document more of it to share with everyone. This chase reminds me of Cat 4 Hurricane Emily in Playa del Carmen, Mexico because all of it happened in the darkness of the night. If Jova had sped up or slowed down in forward speed it might have struck during daytime and I was hoping for this not only for documentation reasons but also a Hurricane at night is way more dangerous for the local people simply because they can't see what's happening. At least if its daylight outside people might be able to react to flying debris, mudslides and rockslides etc...

The Hurricane force wind field of this storm was very compact. At dusk there was very little wind or rain and I kept looking at the satellite images and couldn't figure out where was the wind??.....It was so strange, once the sun set and it was dark outside the winds suddenly picked up fiercely and started pounding the building I took shelter in. The surf ran way up on the beach and the waves were pounding the buildings and spraying up over everything at the pool. The wind was screaming and howling and the glass was flying. The Spanish tiles were getting ripped off the roof and all the glass light fixture were popping like balloons. The audio was insane and the fact that it was pitch black outside was ripping me apart. I wanted to document this event so badly in good quality but just couldn't make it work. If you look at the photo I included in this blog it looks like there were lots of lights but in fact this is a still photo with a super duper high ISO and long exposure so the little bit of light that was available made for a decent still photo, grainy but decent. But as far as video, it was a no-go from this location. Ma Nature did not want me to get video of her wind during Jova. I shot some video for the audio that I will be posting in a few days...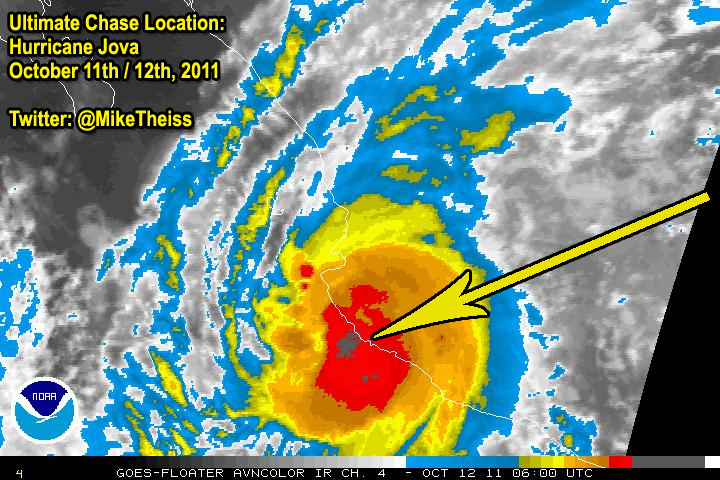 Daybreak...The wind completely STOPPED just before morning light and it was only raining outside like a tropical rain storm. So the plan was to head out at daybreak and get video of possible mudslides/rockslide and try to document some aspect of Jova. Problem was all this rain created massive flooding at our location and we were trapped. There was no way out via automobile. We waited and waited and waited. Watching the water slowly drain was as painful as watching paint dry. There was no power, internet, cellphone or anything ! A man came down the hill to our location and told us he rode out the Hurricane roughly 20 minutes to our North on highway 200 and he was in the calm eye that lasted for 30 minutes. I knew I was close but wasn't sure how close since I had no internet, phone or power for over 14 hours at that point. At my location I recorded a barometric pressure of 986mb. I was in a resort area in between the towns of La Manzanilla and Emiliano Zapata. I was in a building right on the beach in the tip of land that sticks out called Tenacatita...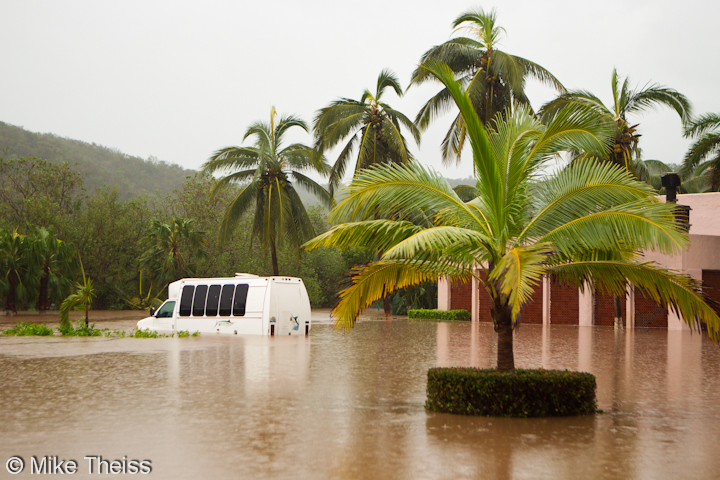 Eventually by late afternoon the water receded enough to allow us to make a break for it. We made it out of this flooded area only to find many mudslides and rockslides. The Army was out in the streets clearing the roads and assessing the damage. We carefully drove 10 hours from our location to Guadalajara to catch our plane and fly home.....

As far as damage, I think on a widespread scale the mudslides were the big issue as rivers swelled and washed away roadways. We witnessed many giant rocks in the road that could crush a car like a tin can. There was a stretch on highway 200 with trees ripped to shreds from the eyewall of Jova and lots of flooding.

We pray for the residents of these areas hit by Hurricane Jova......

Mike Theiss
Twitter Updates: @MikeTheiss

BELOW are More Photos from Mike Theiss: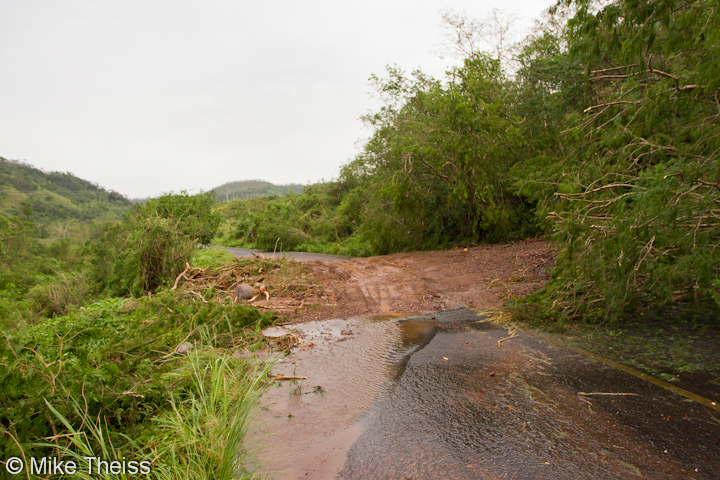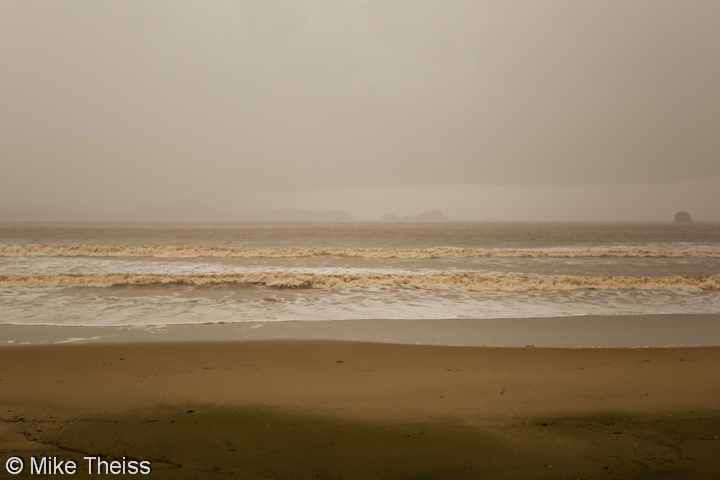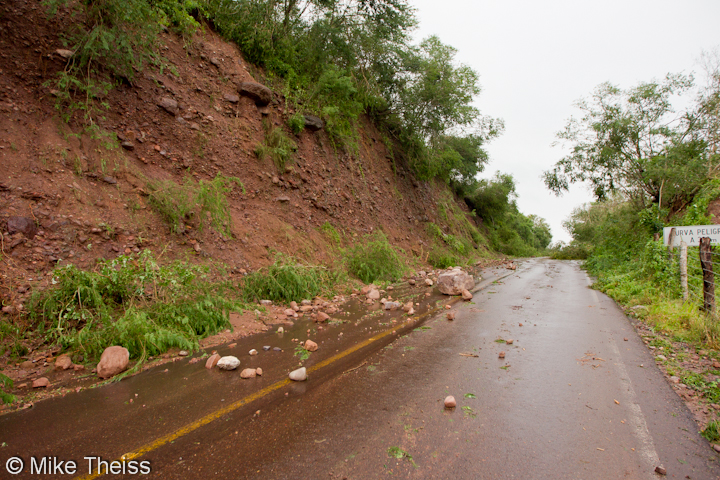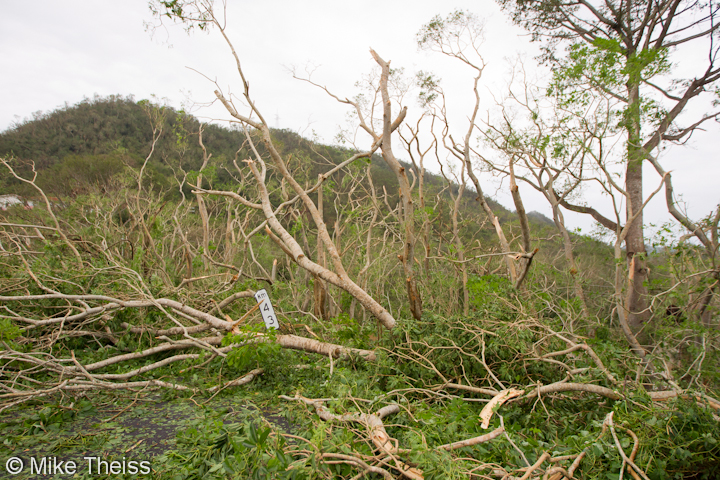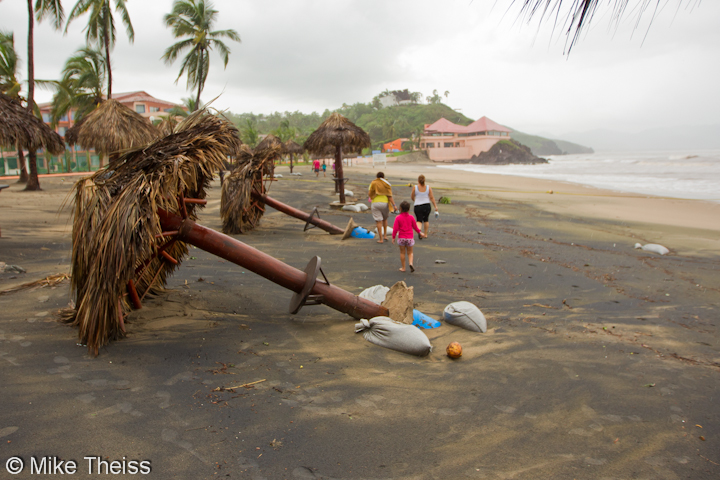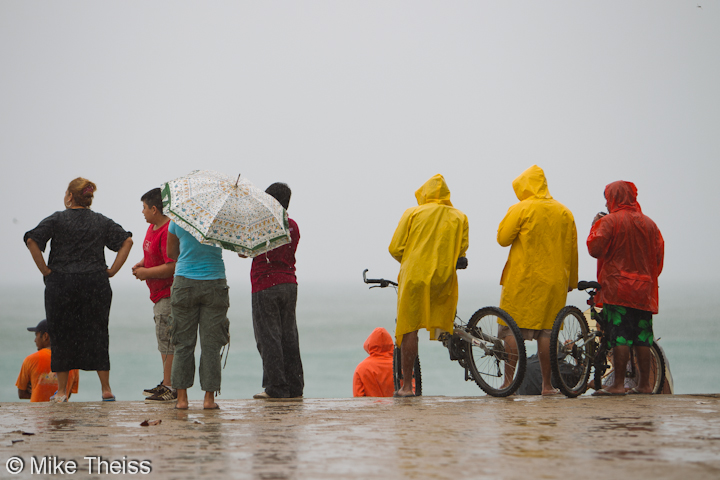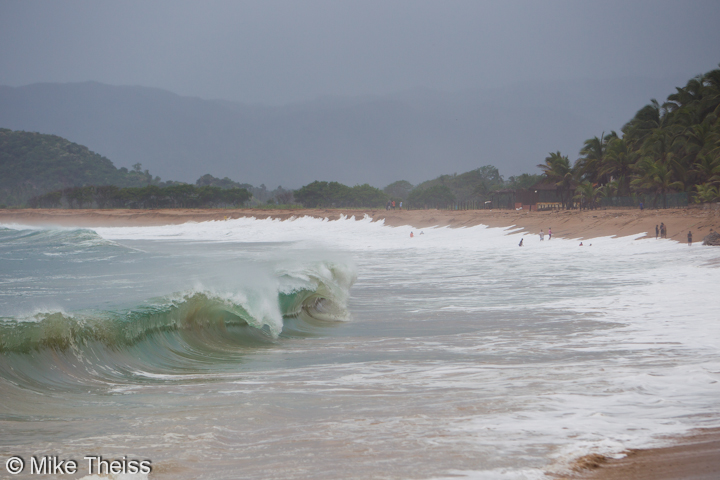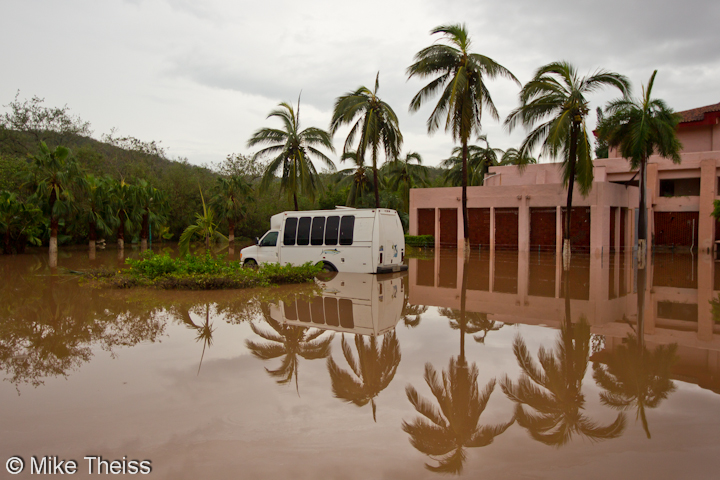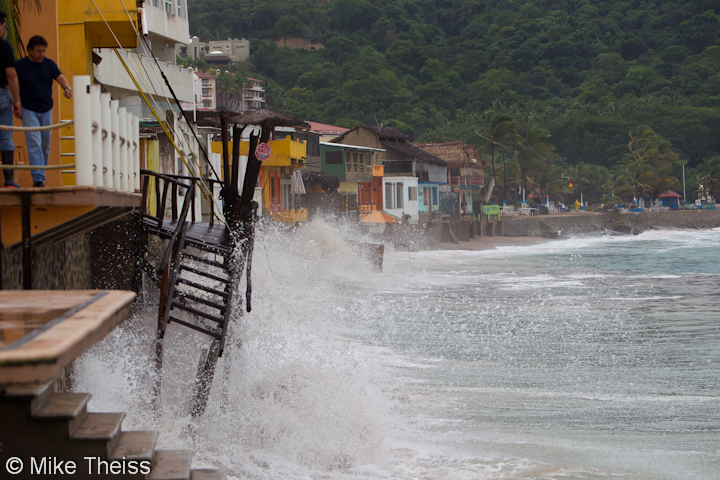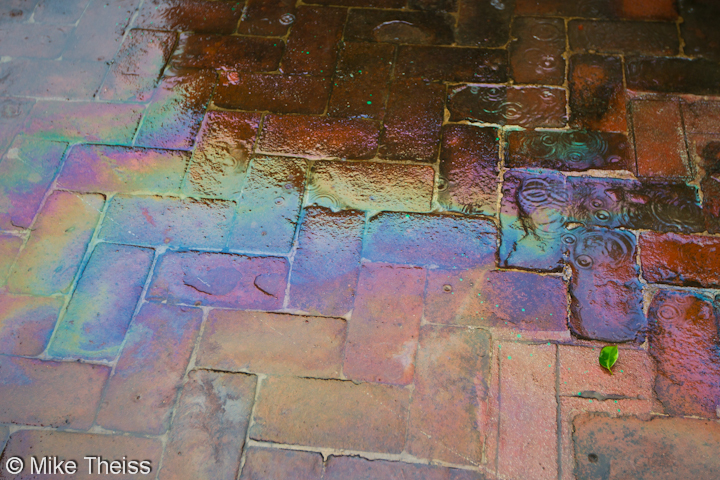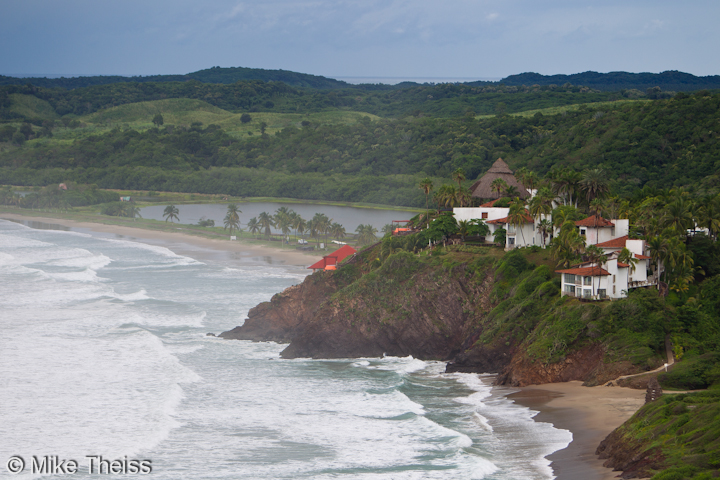 Follow Mike Theiss Twitter Updates: @MikeTheiss

www.UltimateChase.com
www.ExtremeNature.com

***Please Subscribe to the Ultimate Chase Channel on YouTube to watch the newest videos first! Over 50 extreme weather videos in archive for viewing including over 17 different Hurricanes !

Reader Comments
New Comment
Post Your Comments
Please sign in to post comments.
Not only will you be able to leave comments on this blog, but you'll also have the ability to upload and share your photos in our
Wunder Photos
section.
About MikeTheiss
| | |
| --- | --- |
| | Mike Theiss, President of Ultimate Chase, has documented over 25 Hurricane landfalls since 1987 and penatrated the calm eye of 8 of these Hurricanes ! |
Tropical Blogs
Tropical Weather Stickers®
Local Weather
| | |
| --- | --- |
| | Mostly Cloudy |
Previous Entries for 2013