Lua a Threat to Australia
It's been a little while since my last blog, as the weather has been quite tranquil around the world. The tropics have come back to life in the Southern Hemisphere however with Tropical Cyclone Lua. Lua is currently located northwest of Australia with maximum sustained winds estimated at 50 knots by the Joint Typhoon Warning Center. Lua is meandering right now, with its latest movement listed as NE at 5 mph. Lua is expected to change dircetion and turn more SE, taking it into Northwest Austrlia in 2-3 days. JTWC currently forecasts the storm to peak at 90 knot intensity, or Category 2 hurricane strength, right around landfall, so residents in Northwest Australia should closely monitor the situation. I personally think Lua will at least get to 90 knots becuase of the favorable environment it is in. In fact, I would not be surprised to see Lua go through a period of rapid intensification as it nears landfall, kind of like what we sometimes see with systems making landfall on the Gulf Coast. Intensity will also depend on exactly how long Lua stays over water. One good thing about Lua is that it is a small storm, so impacts will be more localized.


IR image of Lua. The storm has fairly good banding. It has occasionally shown an eye feature but never actually gotten one together



This image highlights the fact that Lua is in a moist environment, favorable for tropical systems.

Else where in the tropics, an area northeast of Lua has been trying to get its act together, but so far it hasn't managed to.

Other Weather:
Spring is now one week away, and the Climate Prediction Center (CPC) continues to forecast unseasonable wamrth for much of the country for the next 2 weeks. There are also worrying signs that the Texas "Death Ridge" may be coming back into play soon, which would be very bad news as the much of the state is still in a drought despite some recent heavy rain.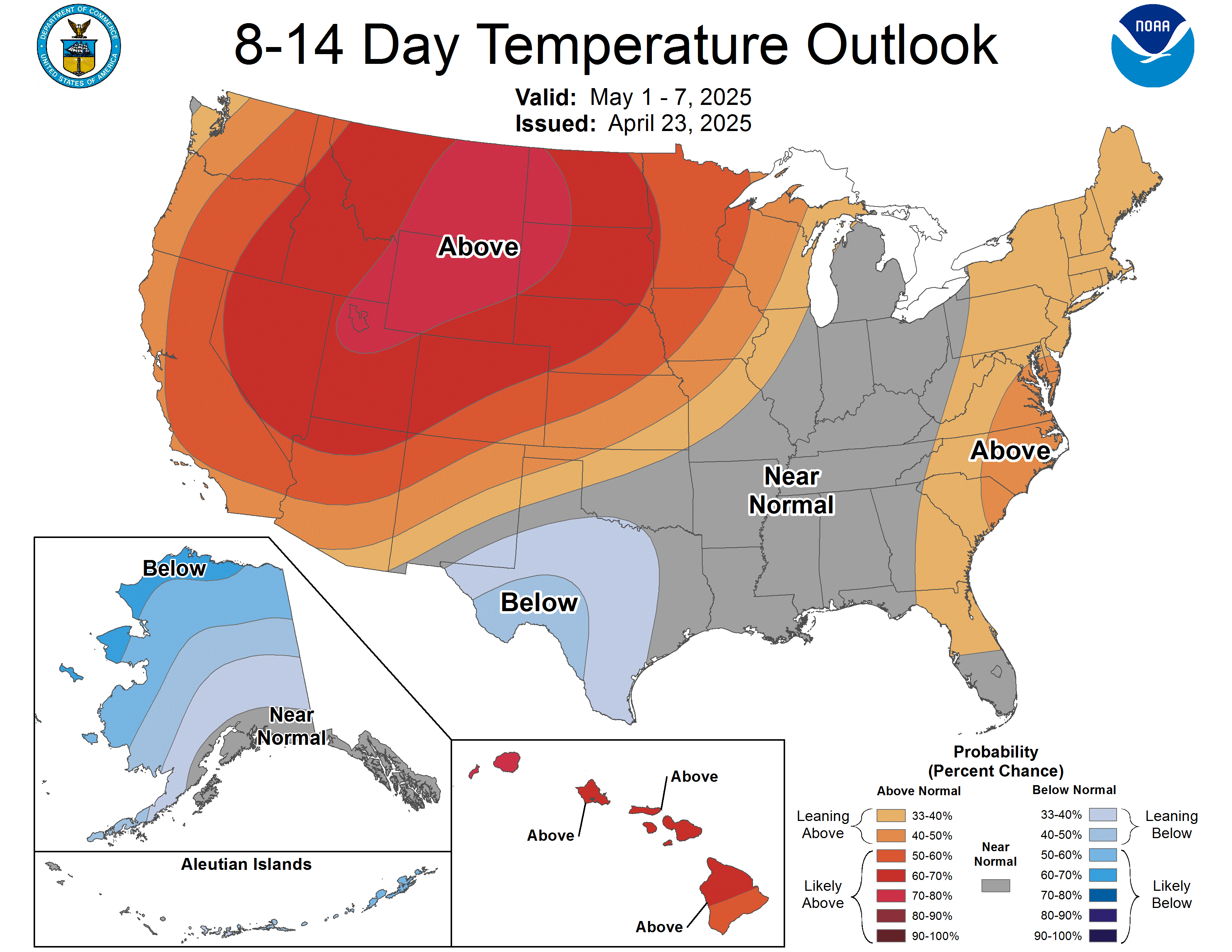 CPC 8-14 day temperature Outlook

If you're desperate for snow, head out West, as higher elevations in Washington State have 1-2 feet of snow on the way!

Severe Weather:
The SPC has a small slight risk area in its Severe Weather Outlook for today. The area mostly includes Southern Illinois and Southern Indiana. The main threat will be damaging winds. The SPC has also highlighted a threat area for the Great Plains on Day 5. This will have to be watched, but right now strong squall lines with very strong winds appear to be the biggest threat.

Earthquake Shakes Japan:
Early this morning, an earthquake with Magnitude 6.8 struck off the east coast of Honshu, Japan, close to where the devestaing quake of last year was centered. This quake comes just 3 days after Japan marked the one year anniversary of the quake/tsunami of March 11, 2011. A small tsunami (10-20cm) was observed in Japan after today's quake, but no damage occured. The quake itself was widely felt, but it produced no/minimal damage. Several aftershocks, the largest so far being a 6.1, have hit the area.

Sun Still Active:
The Sun has remained active in the past week as yesterday Sunspot 1429 produced an M7.9 class solar flare. 1429 is the same area that produced the massive X5.4 flare recently. A new sunspot, 1432, produced an M 2.8 flare today.

As always, thanks for reading, and enjoy the rest of your week!
Reader Comments
New Comment
Post Your Comments
Please sign in to post comments.
Not only will you be able to leave comments on this blog, but you'll also have the ability to upload and share your photos in our
Wunder Photos
section.
About MAweatherboy1
| | |
| --- | --- |
| | Just an average 18 year old weather nerd. I work as an observer at the Blue Hill Meteorological Observatory in Milton, MA. |
Tropical Blogs
Tropical Weather Stickers®
Local Weather
| | |
| --- | --- |
| | Overcast |
Previous Entries for 2014