2013 Atlantic Hurricane Season Forecast
Although it seems as if the 2012 Atlantic Hurricane Season has just ended, we are now over halfway through the climatological offseason of December-May, which in my opinion makes it a good time to start taking the first serious look ahead to what we might be able to expect in this year's Atlantic Season. There are still many more things that will influence this season that we can't know at this point than we can, but we are close enough to begin observing some general trends. As I've stated before, I'm not a big fan of long range weather forecasting; it is extremely difficult, a lot of it is guesswork, and it rarely turns out correctly. Last year's hurricane season is a perfect example, as a season that was initially expected to be near to below average in activity exploded for a whopping 19 storms, including one of the most devastating of all time, Hurricane Sandy. Storms like Sandy are a reason why I especially dislike long range hurricane season forecasting, because although we can make at least somewhat educated predictions for general activity trends, we can never predict what impacts will be like for the US and other land areas. Nonetheless, I do want to get my early thoughts on the season out.
I foresee a season that will see near to above average activity. One of the main factors we look at to determine this is the ENSO, which involves the temperature of waters in the Pacific Ocean. Warm Pacific waters, called El Nino if the anomaly is greater than 0.5 degrees Celsius, tend to suppress activity in the tropical Atlantic, while cooler than average Pacific waters, called La Nina if the anomaly is greater than 0.5 degrees Celsius, tend to enhance activity. One of the main reasons last year's season was forecast to be fairly inactive was that El Nino was expected to form, and while it did get close, it was not strong enough or long lasting enough to have a dominating effect on the Atlantic. This year, I am expecting a very neutral ENSO, with average, season-long (June 1-November 30) Pacific water temperatures that are in the key regions likely not averaging more than 0.2 degrees Celsius above or below average, although I would favor the cooler end of that range if anything. The Southern Oscillation Index (SOI) is an important component in determining ENSO. Positive SOI values promote cooler Pacific waters, and vice versa. SOI values have been mostly negative this winter, though not by much, and I do not foresee any huge changes in this. Neutral conditions like this tend to promote near normal, or in some cases above normal activity. The record breaking 2005 hurricane season was primarily influenced by neutral ENSO conditions.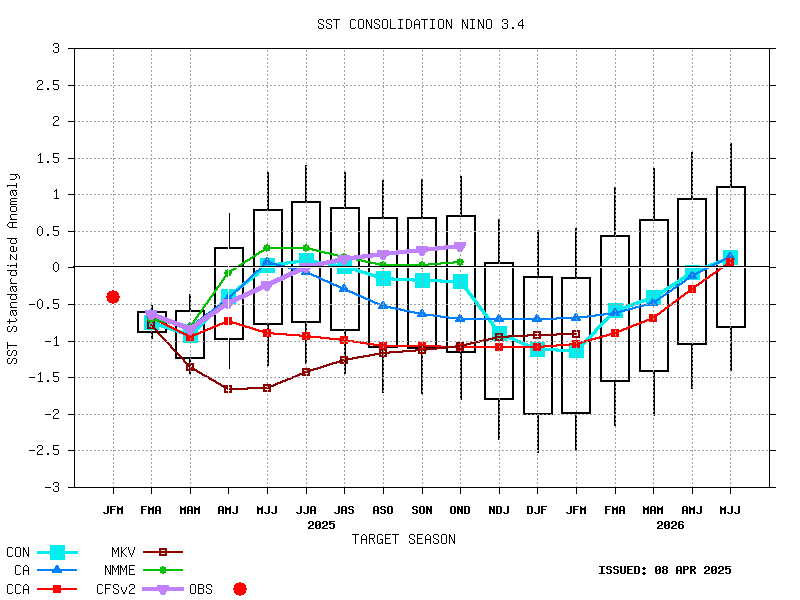 Figure 1: Nino 3.4 outlook graph. It shows that, as time goes on, models generally want to bring slightly cooler than average anomalies to this important ENSO region during the upcoming season.

In addition to ENSO, which is more of a full season, long term, slowly changing factor, we look at more variable factors, such as wind shear, instability, and sea surface temperatures across the Atlantic. What these factors will be like during the season is very hard to pin down months in advance. However, here are a few trends I'm noticing.
1. Low Caribbean and Tropical Atlantic instability. So far this year, instability in both the Caribbean and Tropical Atlantic, particularly the latter of those two, is running below average. A lack of instability, obviously, will hinder development. Early on in the season, the majority of development occurs in the Caribbean or Gulf of Mexico (where instability has been near average). Low Caribbean instability could contribute to a slow start to the season, which may take a storm or two off the overall totals. Likewise, a lack of instability in the Atlantic can cause problems in the middle of the season when storms typically develop farther east. If this lack of instability persists, storm totals may decrease.
2. Most other things are comparable to average. There aren't any other glaring anomalies that I can find that would favor significant abnormalities in this hurricane season. Sea surface temperatures in the Atlantic, Caribbean, and Gulf appear to be slightly above average overall, which would be a positive factor for development, but there are certainly no glaring, basin wide anomalies. The NAO has been persistently negative lately, which has led to the majority of the warming I mentioned. If the NAO persists as negative, then Atlantic SST anomalies could increase and lead to enhanced activity. Negative NAO values can also lead to decreased shear values in the Caribbean, which would be favorable for development.


Figure 2: Tropical Atlantic instability graph. This clearly shows instability running persistently below average, a trend that will need to be carefully watched.


Figure 3: Caribbean shear graph. It shows that shear, in general, has been near average in the Caribbean (though a period of above average shear has been observed recently), just as many other factors are comparable to average.

With all of this said, my predicted storm totals for the 2013 season are as follows:
*15 named tropical storms (winds of 39mph or greater)
*8 hurricanes (winds of 74mph or greater)
*3 major hurricanes (winds of 111mph or greater)
Accumulated Cyclone Energy (ACE): 142
As I've already stated, the major disclaimer is that neither my forecast nor an expert's forecast has any skill whatsoever in determining the potential effects of these systems to land areas. Here are a couple of things my gut is telling me we will see this year though, not based on science:
1. A long track Cape Verde hurricane will directly affect the United States this year. We are overdue for a storm like this, and by long track I mean something from way out east, like Ivan or Frances from 2004, not necessarily in terms of strength, but in terms of track, particularly location of development. My feeling is that the US Northeast Coast will get a break this year after back to back years of major storms. I would also tend to favor locations in the Gulf of Mexico for landfalls over the Southeast coast, as I feel that Cape Verde storms will mostly go out to sea, with the exception of one or perhaps two like I have mentioned. The past few years have favored a pattern of mostly recurving storms. This year, I think we will see our fair share of recurves, but I foresee a rather variable dominant steering pattern over North America and the Atlantic that will provide occasional opportunities for US impacts.
2. Activity development will likely follow a fairly climatological pattern. Not a very daring prediction, I know, but what I mean by this is that I don't expect such an active start to the season this year. I'm thinking we'll likely see something like 0 preseason storms, 1 June storm, 2 July storms, 4 August storms, 5 September storms, 2 October storms, 1 November storm, and 0 post-season storms.
I am really looking forward to this hurricane season, as I have a lot more knowledge going into the season than I did last year. With Sandy still fresh in the minds of many, there will certainly be many eyes watching the tropics this year, which will make forecasts more important than ever. I'm very excited to see the blog get back in high gear mode, even though the slower pace of the offseason is quite relaxing.

Less than 3 months left.

MAweatherboy1

Reader Comments