Watching the Sun Today
I'm watching the potential for some interesting solar weather today. The most imminent threat to Earth is a potential geomagnetic storm that is possible later today and into tomorrow. A pair of relatively weak coronal mass ejections (CMEs) were released from the Sun on November 9th and 10th. Both of these plasma clouds were sent somewhat in the direction of Earth. Ordinarily a fairly weak CME giving Earth only a glancing blow would be a barely noticeable geomagnetic disturbance, however the two CMEs are expected to merge before they reach Earth, providing the potential for minor geomagnetic storming. This will provide an opportunity for auroras to be seen further south than usual, though the odds of them making it to the northern United States seem quite remote at this point. Unfortunately, we know very little about predicting this phenomenon, mostly because we are not very good at predicting the geomagnetic storms that drive them. I will provide updates in the comments section of this blog throughout the day if any major changes are detected. The main factors we will be looking at to determine impacts are the solar wind and Bz component of the magnetic field. A spike in solar wind or a negative Bz component typically indicate a storm is imminent. Currently (8:30AM EST), solar wind is low and the Bz component is nearly neutral, with just a slight positive tilt, indicating everything is normal right now.

Increasing Chance of Solar Flares Today
The weakest solar maximum ever recorded has certainly been living up to the (lack of) hype in the past couple weeks, as the Sun has struggled to muster any large, complex sunspots capable of producing powerful flares.



Figure 1: Sunspot number graph. The red line is the predicted values from NOAA's Space Weather Prediction Center, while the black line/dots are observed values. Solar Cycle 24 has long been expected to be extremely weak, but as this graphic shows it is currently falling well short of even these meager expectations.

The Sun may finally be waking up, however. A moderate M1 class solar flare was recorded Saturday evening from a moderate size new sunspot, numbered 1614, that has rotated into view. Several days before that, a slightly stronger flare was observed in a similar location courtesy of sunspot 1611. 1611 has remained quiet since then, however it has changed little in structure and still poses some risk for an M class flare. Likewise, 1614 has remained quiet since its eruption late Saturday, but it is slowly growing and also poses some risk for an M class event. The other sunspot I'm watching is probably the most interesting. Numbered 1610, this region didn't even exist a few days ago. It has grown rapidly in the last three days, however, and is now a sprawling sunspot that certainly looks capable of producing a powerful flare. So far, however, it has remained very quiet. 1610 is almost directly facing Earth right now, so a CME from an eruption is likely to come our way, though this may be mitigated somewhat by the spot's location on the southern surface of the Sun. Forecasters estimate a 35% chance of an M class flare today, with a 5% chance of an X class flare, the most powerful kind. I put these odds a bit higher at a 45% chance for an M class flare and a 10% chance of an X class event. I will provide further updates on the regions I mentioned in the comments section if necessary, along with information about the possible geomagnetic storm.



Figure 2: 3 day X-ray chart. The chart shows numerous low level C class flares, which are relatively weak, as well as one stronger M class flare.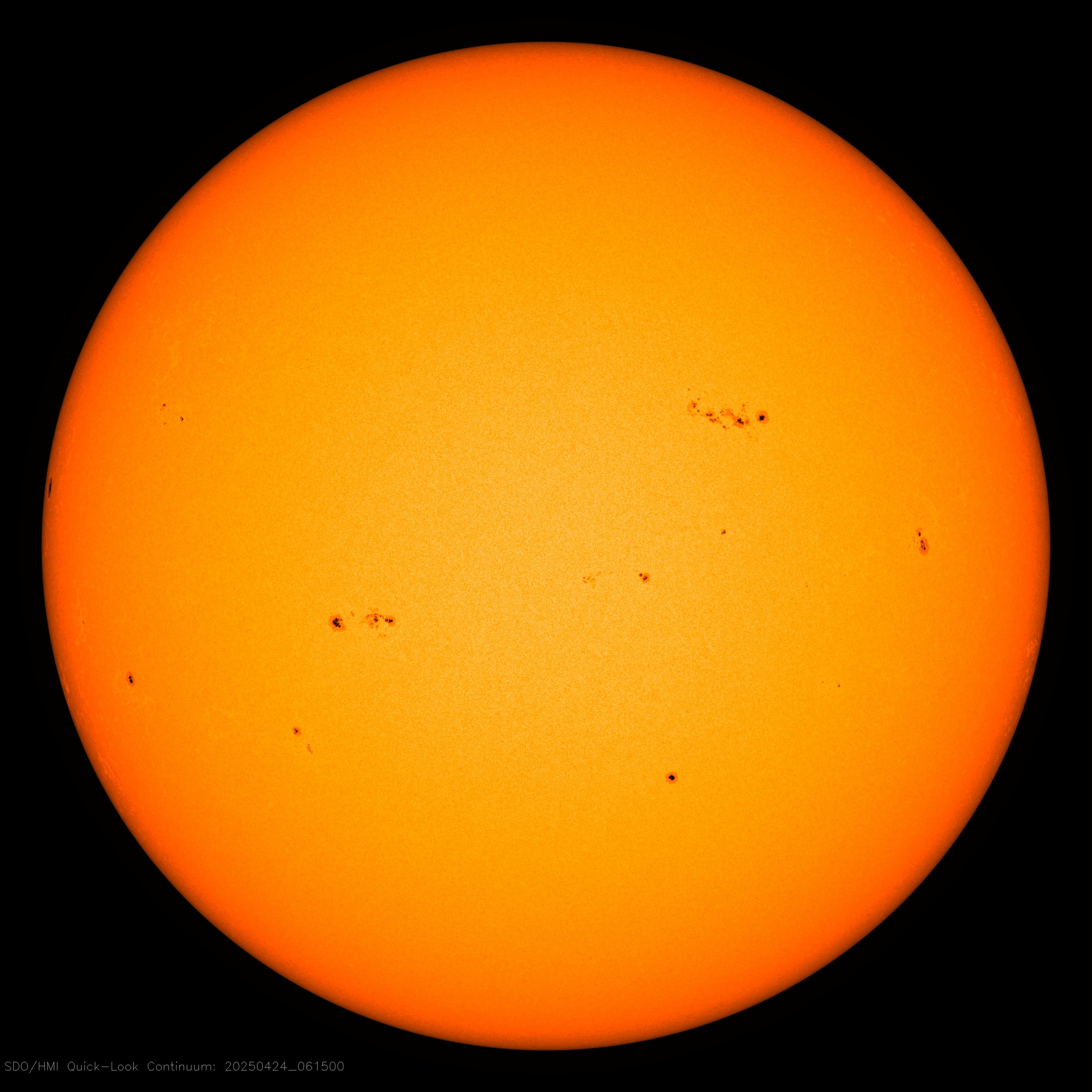 Figure 3: The Earth facing side of the Sun. The sunspot in the upper left portion of the picture is 1614, responsible for the lone M class flare of the past three days. In the bottom left of the picture of 1613, which appears to be growing now, although it is still far too magnetically simple to produce a solar flare. Sunspots 1611 and 1612 are in close proximity in the left/center portion of the Sun. 1610 is the large region near the south central portion of the picture. The barely visible dot SE of 1614 is tiny sunspot 1615.

Some good links:

Link

Link

Link

Thanks for reading, and have a nice day!
Reader Comments
New Comment
Post Your Comments
Please sign in to post comments.
Not only will you be able to leave comments on this blog, but you'll also have the ability to upload and share your photos in our
Wunder Photos
section.
About MAweatherboy1
| | |
| --- | --- |
| | Just an average 18 year old weather nerd. I work as an observer at the Blue Hill Meteorological Observatory in Milton, MA. |
Tropical Blogs
Tropical Weather Stickers®
Local Weather
| | |
| --- | --- |
| | Mostly Cloudy |
Previous Entries for 2014