Two Atlantic Invests; Prapiroon Organizes
We are watching two invests in the Atlantic basin this evening. The first is invest 97L. 97L is a sprawling system, with convection starting in the east central Bahamas and extending a couple hundred miles east. As of now, none of the reliable computer models develop this disturbance, and with upper level winds becoming even less favorable, development is highly unlikely. The National Hurricane Center is currently giving 97L a 10% chance of development in the next 48 hours, and I agree with this. While development is unlikely, enhanced shower and thunderstorm activity is likely for the Bahamas and surrounding areas for the next day or two.



Figure 1: Invest 97L, showing a large but very disorganized cluster of showers and thunderstorms. These should steadily weaken and become more disorganized in the next couple days.

98L May Develop Eventually
The other invest being tracked right now is 98L, which was designated this morning. 98L is currently located about 1500 miles ESE of the Lesser Antilles and is moving WNW at 15-20mph. 98L is definitely the more interesting of the two invests as several models are indicating some development of the system. One of the more aggressive models has been the GFS. As of right now, the National Hurricane Center gives 98L a 10% chance of development in the next 48 hours. I do not foresee any chance development in the next 48 hours, but beyond that things could get interesting. Right now 98L is mostly embedded in the ITCZ, and it is also at a very low latitude. Being stuck in the ITCZ prevents 98L from really gaining its own identity as a system and developing. The low latitude prevents the system from gaining spin and developing. I believe both of these issues will eventually be solved, and it will depend on upper level conditions to determine whether the system develops. It is currently too far out to know specifics, but here are two possible scenarios if development occurs.
1. 98L organizes faster than expected, skirts the northern Caribbean islands, then sharply turns out to sea as it intensifies. The GFS has been showing this solution.
2. 98L is slow to organize but does not dissipate and gets into the Caribbean further south. Beyond here several things could happen, ranging from dissipation due to unfavorable upper level conditions to significant intensification over warm waters with a helpful MJO pulse.
As of right now, I would say there is a 40% chance of no development, a 35% chance of scenario 1, and a 25% chance of scenario 2.



Figure 2: The East Atlantic, with 98L at the bottom left of the image.

West Pacific Remains Active
In the West Pacific, the main feature right now is Tropical Storm Prapiroon. Prapiroon currently has maximum 1 minute sustained winds of 60kts, or about 70mph, according to the Joint Typhoon Warning Center. Prapiroon has been organizing steadily today, but not rapidly. The official JTWC forecast indicates steady strengthening for the next 3 days, with a peak intensity of 100kts, followed by slight weakening on days 4 and 5. I find this intensity forecast to be quite difficult. On the one hand, basically every West Pacific storm over favorable conditions like Prapiroon is has rapidly intensified. On the other hand, microwave imagery is not suggesting any organized eyewall forming, which would indicate only slow strengthening is likely. My thinking is that strengthening will be slow for the next 12-24 hours, followed by a burst of rapid intensification as an eyewall does form. My estimated peak intensity is 110kts, a bit higher than the official forecast. The track forecast is also a challenge. The JTWC is currently hinting at a continued W/WNW motion for the next 2-3 days, followed by a sharp northeast turn out to sea as the ridge steering it breaks down. I think the scenario JTWC is showing is way to far out to sea. I anticipate a slower turn, bringing the system closer to Japan. I don't expect direct impacts, but high surf and rip currents will be a concern. There's plenty of time to watch this one and a lot will change, so stay tuned.



Figure 3: Official JTWC forecast track of Prapiroon.



Figure 4: Latest microwave image of Prapiroon. I do not see any rapidly developing eyewall that would suggest RI is imminent.

Also in the West Pacific, the remnants of Gaemi have essentially dissipated. A few days ago I mentioned there was a slight chance at regeneration in the Bay of Bengal as some GFS runs had suggested, but this will not be the case.

Other
* All other basins, including the East Pacific, are quiet, with no development expected in the next 5 days.
* A severe weather event is possible for the central US towards the end of the week. The Storm Prediction Center has not highlighted any risk areas for this period yet, but that should not come as a surprise as confidence is low this far out. I'll provide more details if necessary in a couple days.
* The chunk of cold weather that brought numerous record low temperatures to the central US over the past couple days is pushing eastward, losing some of its punch as it goes. It will not be long before it pushed out of the country, and as Figure 5 shows warm air is likely to take its place.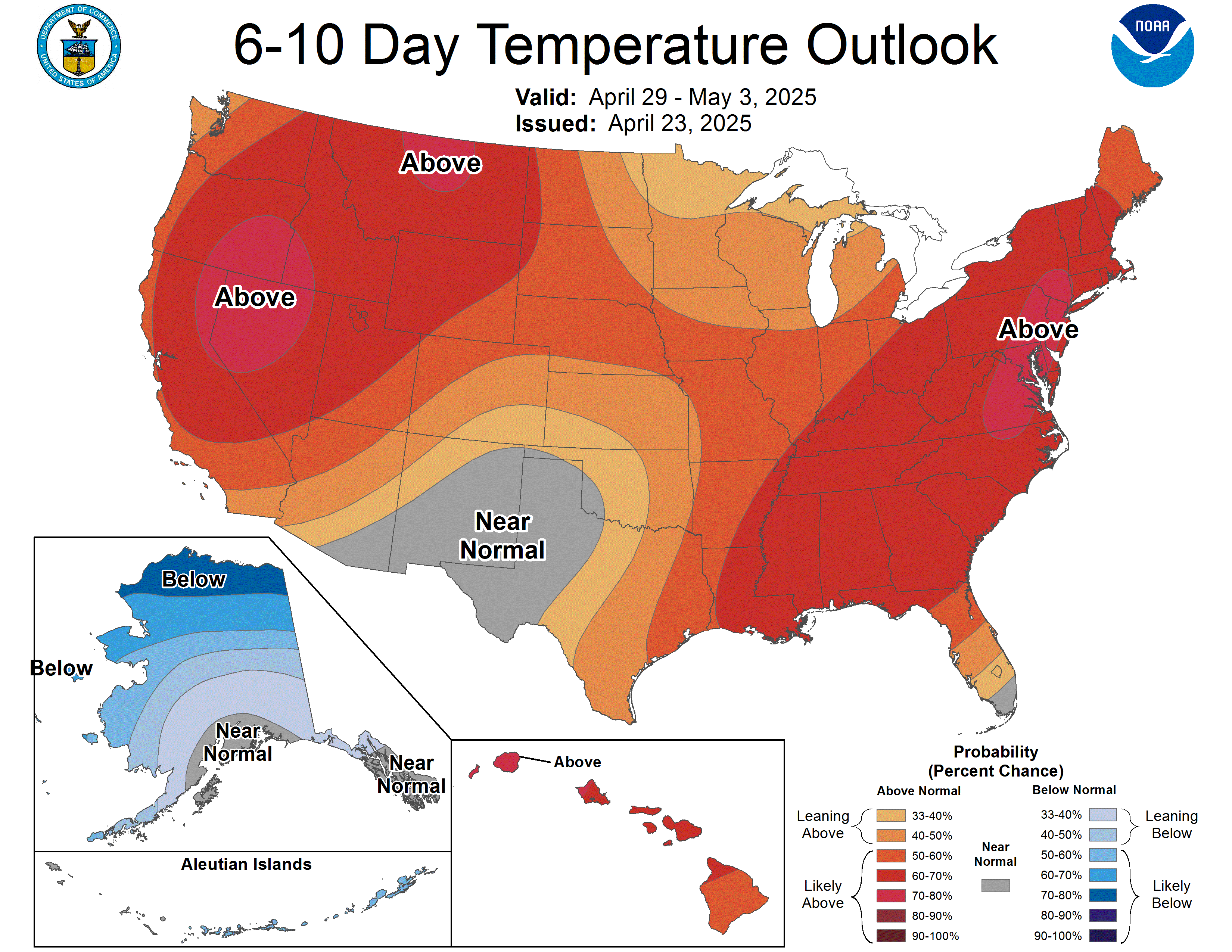 Figure 5: Climate Prediction Center 6-10 day temperature outlook, showing the current cold blast leaving and warmer than average temperatures returning for most.
* There was some interesting solar weather last night and this morning. A CME produced by a solar flare a few days ago hit Earth last night and produced a moderate geomagnetic storm. The worst is over but residual minor storming is still possible. We also saw an M2.3 class solar flare produced by a sunspot off the NE limb of the Sun, not yet visible to us. It has fallen quiet since, possible a temporary lull or possibly a sign the spot is beginning to decay. We'll get a much better idea when the spot rotates into view in the next couple days. Another sunspot is hiding off the SE limb and appears to be growing more active as it just produced a C class flare. Again, we'll know more about it when we can actually see it.



Figure 6: The sunspot off the NE limb lights up after producing an M class solar flare.

Thank you for reading, and have a great week!
Reader Comments
New Comment
Post Your Comments
Please sign in to post comments.
Not only will you be able to leave comments on this blog, but you'll also have the ability to upload and share your photos in our
Wunder Photos
section.
About MAweatherboy1
| | |
| --- | --- |
| | Just an average 17 year old weather nerd. I work as an observer at the Blue Hill Meteorological Observatory in Milton, MA. |
Tropical Blogs
Tropical Weather Stickers®
Local Weather
| | |
| --- | --- |
| | Overcast |
Previous Entries for 2013