Tropical Outlook for the Next 2 Weeks
Nearing the midway point of the first official month of the 2012 Atlantic Hurricane Season, we have yet to see one June storm to follow up on our rare two May storm, Alberto and Beryl. We also haven't yet seen any activity in the East Pacific this month. There is a real chance that will change in the coming two-three weeks however.




As the above figure shows, an MJO pulse is on the way for the Atlantic. This is an indication that conditions in the basin will be conducive for development for the next 10 days or so at least. Over the past week or so the models have struggled to decide on what to do with these favorable conditons. Among some of the possibilities they have shown are a weak Caribbean storm, mostly supported by the GFS, a weak storm off the East Coast, supported by several models, a storm northeast of the Bahamas, also supported by multiple models, and a Gulf of Mexico storm which has mostly been supported by the NOGAPS but has occasionally seen hints of support from other models.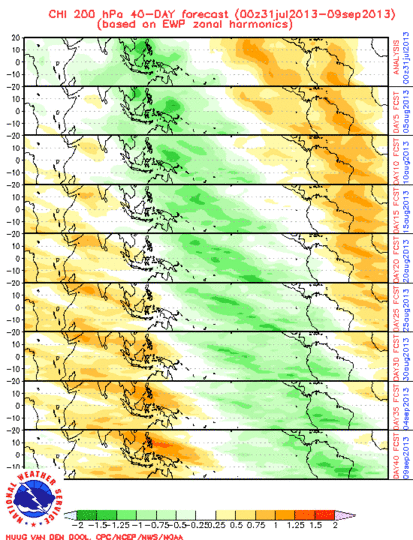 It's not easy to decipher the truth from these models, but here's my best attempt at it:
1. The potential storm off the East Coast and the potential storm northeast of the Bahamas have the most model support, so I think we have our best chance of getting Chris and/or Debby out of this area. One potential issue we could have with these storms would be whether they are tropical or non-tropical since the models have been bouncing back and forth on that issue.
2. For about the past week the GFS has been persistently showing a weak storm forming in the Caribbean and fading out before it really does anything. This solution has not seen much support from other models but I think a low will form in the Caribbean and most likely be strong enough to at least get a TD based on the fact that conditions will be conducive for development there.
3. While it did not do this during today's 18z run, the generally unreliable NOGAPS model has been consistently shwoing a strong tropical storm/weak hurricane in the Gulf of Mexico towards the end of its runs for the past 2 days. No other models have supported anything like this, but some have shown a few hints of weak low pressure possible in the Gulf arounnd that time. At this point I think it's an outside chance we get anything in the Gulf during the next 2 weeks, but anything that does form there should be watched as conditions would be conducive for some further development.

So, my official prediction is that in the next 2 weeks we will see two storms: Chris off the East Coast in 2-4 days and Debby in the Caribbean in 4-6 days, with neither storm surpassing an intensity of 50mph and neither posing a significant threat to land area, though the Caribbean system could present minor flooding concerns. My reasoning is as follows: It's very likely a low will emerge off the East Coast and most indications are that it will be strong enough to earn a name, leaving only the question of warm core vs. cold core. I think SST's and overall atmospheric conditions will be favorable enough for at least a subtropical system. And I think the Caribbean system has a good chance simply because conditions will be favorable there so any low that forms should strengthen into a tropical storm.

Conditions also appear conducive for development in the East Pacific over the next two weeks, and indeed we have two invests out there right now. There is also a tropical storm in the West Pacific that is likely to become a typhoon. However, as I have final exams to be studying for right now, I will elect to write a new blog on these areas tomorrow or Thursday if I can.

Thanks as always for reading, and enjoy the rest of your week!
Reader Comments
New Comment
Post Your Comments
Please sign in to post comments.
Not only will you be able to leave comments on this blog, but you'll also have the ability to upload and share your photos in our
Wunder Photos
section.
About MAweatherboy1
| | |
| --- | --- |
| | Just an average 18 year old weather nerd. I work as an observer at the Blue Hill Meteorological Observatory in Milton, MA. |
Tropical Blogs
Tropical Weather Stickers®
Local Weather
| | |
| --- | --- |
| | Overcast |
Previous Entries for 2014