ISS Flyovers (see comment 204) ••••• Venus SW after Sunset
By: LowerCal, 10:02 PM GMT on December 21, 2008
Today - SpaceWeather.com
***** Earth & Sky | Tonight
***** 365 Days of Astronomy
This Week - SkyandTelescope.com - This Week's Sky at a Glance
***** Jack Horkheimer - Star Gazer, Current Scripts
This Month - SkyandTelescope.com - Sky Tour Podcasts
***** International Year of Astronomy Monthly Discovery Guides

Visible Satellites:
Simplest - Satellite Flybys by SpaceweatherPhone.com
More satellites and more info - Heavens-Above.com

Launches - Spaceflight Now - Worldwide Launch Schedule
Reentries - Center for Orbital and Reentry Debris Studies - Upcoming & Recent Reentries

All events described below can be viewed with your naked eye. Occasionally simple binoculars will improve the view and that will be noted. Scroll down for future dates, farther down for past dates.

Summaries of Sky Events for the Year
2009
SkyandTelescope.com - Observing Highlights - Eclipses in 2009
SkyandTelescope.com - Observing Highlights - Meteor Showers in 2009


***** Past Dates *****

Venus, Jupiter, Mercury & Moon
Late December - Early January
Brilliant Venus and bright Jupiter continue to appear in the SW after sunset. The two planets are drawing apart. Venus appears higher each evening and Jupiter appears closer to the horizon each evening. The planet Mercury is waiting low in the SW-WSW for a close meeting with Jupiter on the last two days of the year. Binoculars will help in spotting Mercury in the bright twilight soon after sunset.

Spotting Mercury
December 21-27
Use binoculars to slowly scan along the line from Venus to Jupiter. On the evening of the 21st continue past Jupiter for nearly the same distance. By the 27th Mercury will be within or nearly within the same binocular field as Jupiter. Mercury is a golden point of light not as bright as Jupiter. You may be able to see Mercury with your naked eyes once you know exactly where to look after spotting it with your binoculars.

Image of the SW Sky after Sunset December 23 from SkyandTelescope.com - This Week's Sky at a Glance.

Crescent Moon Joins the Planets
December 28
The thin crescent moon will begin climbing the pathway of the planets and make a very tight trio with Jupiter and Mercury this evening.

Image of the SW Sky after Sunset December 28 & 29 from SkyandTelescope.com - This Week's Sky at a Glance.

Jupiter & Mercury Meet
December 30 & 31
Jupiter and Mercury are at their closest low in the SW while Venus and the crescent moon stand to the upper left.

Image of the SW Sky after Sunset December 30 & 31 from SkyandTelescope.com - This Week's Sky at a Glance.

Mercury Rises Over Jupiter
Jan 1-10
Each evening Mercury moves higher than (but stays near) Jupiter very low in the SW after sunset.

Image of the SW Sky after Sunset January 3 from SkyandTelescope.com - This Week's Sky at a Glance.

Image of the SW Sky after Sunset January 9 from SkyandTelescope.com - This Week's Sky at a Glance.


Outline of Sky Events for the Year
2008
SkyandTelescope.com - Observing Highlights - Sky Highlights of 2008


Quadrantid Meteor Shower
Early Morning January 3
The best viewing time is the predawn hours. Fortunately the Moon sets around midnight. The best viewing hours and peak of the shower (January 3, 1250 GMT with 60-200 per hour for ideal circustances) most closely coincide for western North America, the North Pacific and eastern Russia.

IMO Meteor Shower Calendar 2009 | International Meteor Organization
Quadrantids
.... The waxing crescent Moon will set near local midnight for the maximum of the Quadrantids at northern hemisphere sites, from many of which, the shower's radiant is circumpolar, in northern Boötes. As this area attains a useful elevation only after local midnight, rising higher in the sky towards morning twilight, this is excellent news. However, the expected peak's timing falls poorly for land-based observers, except for those in the extreme western areas of North America, on islands in the North Pacific Ocean, and the extreme east of Russia. An interesting challenge is to try spotting the occasional long-pathed shower member from the southern hemisphere around dawn, but sensible Quadrantid watching cannot be carried out from such places. ....
The American Meteor Society
Meteor Activity Outlook for
December 27, 2008 - January 4, 2009
The Quadrantids (QUA) reach maximum activity near 1300 UT on January 3. This timing is good for the west coast of North America. The exact maximum is difficult to catch under perfect conditions where the shower peaks with the radiant located high in the sky. Most observers will do well seeing rates of fifty Quadrantids per hour. From high northern latitudes some Quadrantid activity may be seen during the evening hours but during 2009 the moon will be above the horizon during the evening hours. A few Quadrantids may be seen from the equator and low southern latitudes during the small window of time between the rise of the radiant and the start of morning twilight. At higher southern latitudes the radiant does not rise until the sky is too bright so no Quadrantid activity is visible south of approximately 30 degrees south latitude. The first quarter moon will set near midnight allowing the more active morning hours to be free of interfering moonlight. ....
Perihelion Day
January 4
(at 15
Z
)
Earth's not quite circular orbit passes closet to the Sun this day. Earth is 3.4% closer than it's farthest from the Sun (aphelion) and experiences 6.9% more radiation and gravitation from the Sun (
inverse square law
).
For the Northern Hemisphere more solar radiation in winter and less in the summer makes the Northern Hemisphere's climate more moderate than it would otherwise be. However the Southern Hemisphere has more moderate climates than the Northern Hemisphere (at corresponding latitudes) except for Antarctica! Why is this? The Northern Hemisphere has twice as much land as the Southern Hemisphere, 40% land vs. 20% land and land both heats up and cools down faster than water.
The extra gravitational influence of the Sun on the Earth will prove significant in about a week from this date.
Perigee Moon & Tides
WunderPhoto:
December 2008 Full Moon by Astronight Friday December 12, 2008
January 10/11
Perigee at January 10 1053 GMT
Full moon at January 11 0327 GMT
Perigee is the point of the Moon's noncircular orbit that is closest to Earth. On average it is 10.5% closer than the Moon's farthest point from Earth (apogee) and it's gravitational pull is 22% stronger (
inverse square law
).
The Moon accounts for about 2/3 of the influence on Earth's tides with the Sun accounting for the remaining 1/3. When the gravitational pull of the Moon and Sun are aligned at the new and full moons the tidal range is highest and called "spring" tides. When the gravitational pull of the Moon and Sun are at right angles at the first and last (or third) quarter moons the tidal range is lowest and called neap tides.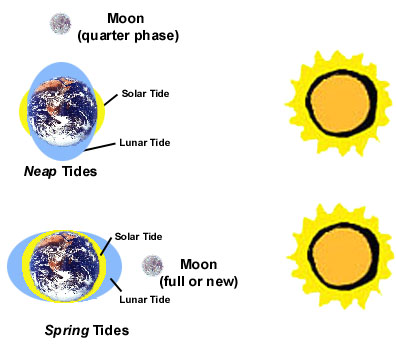 Image from:
Australian Cooperative Research Centre for Renewable Energy
(The Sun is to the right.)
Image from:
Range variation: springs and neaps, Tide - Wikipedia, the free encyclopedia
The timing of this month's full moon so soon after perigee and perihelion (see the
January 4
section of the blog entry) will create even more extreme tidal ranges similar to last month's perigee moon.
Also see
NASA - Biggest Full Moon of the Year: Take 2
.
NRO Launch 26
Mission:
National Reconnaissance Office
Launch 26 (NROL-26)
Launch Vehicle:
Delta IV
Heavy
Launch from
Cape Canaveral AFS
, Florida
January 13
Time classified until about T-minus 24 hours.
7:00pm - 12:00 midnight EST.
7:49pm EST plus up to 4 hours of allowable hold.
January 14
7:45pm EST? (plus up to 4 hours of allowable hold).
January 15
7:45pm EST (plus up to 4 hours of allowable hold).
New launch date not set.
January 17
7:33pm EST (plus up to 4 hours of allowable hold).
Launch status updates at
Spaceflight Now | Tracking Station | Worldwide launch schedule
.
Launch blog now up at
Spaceflight Now | Delta Launch Report | Mission Status Center
.
As the launch date grows closer you can find more information and possibly a live webcast of the launch at
United Launch Alliance
.
Create your own visitor map!
Updated: 5:39 PM GMT on January 18, 2009
Venus & Jupiter SW after Sunset
By: LowerCal, 10:36 PM GMT on December 02, 2008
Today - SpaceWeather.com
This Week - SkyandTelescope.com - This Week's Sky at a Glance
This Month - SkyandTelescope.com - Sky Tour Podcasts

Visible Satellites:
Simplest - Satellite Flybys by SpaceweatherPhone.com
More satellites and more info - Heavens-Above.com

Launches - Spaceflight Now - Worldwide Launch Schedule
Reentries - Center for Orbital and Reentry Debris Studies - Upcoming & Recent Reentries

All events described below can be viewed with your naked eye. Occasionally simple binoculars will improve the view and that will be noted. Scroll down for future dates, farther down for past dates.


Outline of Sky Events for the Year
2008
SkyandTelescope.com - Observing Highlights - Sky Highlights of 2008

SkyandTelescope.com - Meteors - Meteor Showers in 2008

The question, "How could I make a valuable contribution to the science of astronomy as a simple naked eye observer?" is answered in
SkyandTelescope.com - Stargazing - The Scientific Value of Visual Observing
which may lead you to the following, in order:
SkyandTelescope.com - Meteors - Meteors: A Primer,
SkyandTelescope.com - Meteors - Basics of Meteor Observing and
SkyandTelescope.com - Meteors - Advanced Meteor Observing.


***** Past Dates *****

Venus, Jupiter and Crescent Moon Converge
November 29 - December 1
The bright planets Venus and Jupiter will be at their closest above the SW horizon after sunset November 30 and December 1. From much of Europe the Moon will actually pass in front of and hide Venus on the evening of December 1!

A picture of the line up November 29 - December 1
from SkyandTelescope.com - This Week's Sky at a Glance.

Astronomy.com - Sky-event alert: Venus joins Jupiter after sunset

SkyandTelescope.com - Observing Highlights - The "Venus & Jupiter" Show

SkyandTelescope.com - Press Releases - Dazzling Planet Duo Beckons in Evening Twilight


Vandenberg Missile Launch
December 5
Launch Site: Vandenberg Air Force Base (AFB), CA
Launch Vehicle: Missile Defense Agency (MDA) Interceptor
Launch Period: Noon-4 PM PST






Create your own visitor map!
Updated: 8:07 PM GMT on December 21, 2008
About LowerCal
Featured Blogs
Local Weather
84 °F

Clear
Previous Entries for 2015
Personal Weather Stations
At Gonzales Drive

Woodland Hills, CA

Elevation:
984 ft
Temperature:
86.3 °F
Dew Point:
61.2 °F
Humidity:
43%
Wind:
Calm
Wind Gust:
0.0 mph

Updated: 7:12 PM PDT on July 30, 2015