Subtropical development early next week may be potent, but not a dangerous surprise
By: Levi32 , 2:42 PM GMT on October 06, 2011
Please note that these tidbits do NOT reflect the official forecasts of the National Hurricane Center, and should not be taken as such. While tropical cyclones exist in the Atlantic, the official NHC forecasts will be posted in the lower part of this blog. Please refer to those when making decisions, and heed the advisories and evacuation statements of your local National Weather Service Office.

If you can, playing the video in HD makes it much easier to see things. The video will play in low quality by default. If HD quality isn't available, then it will be in a few minutes. Let me know if you have problems with the video, and please feel free to ask me any questions regarding what I talk about in these tidbits, or about the weather in general. You can post in either of my blogs or on Youtube. I will do my best to answer. Thanks for stopping by!

Find me on Youtube          Find me on Facebook (also on Twitter)



Our focus this weekend and early next week will be possible subtropical development in the Florida area. Right now there is not much going on in the region, but the models all show an upper trough amplifying over the Florida area in a couple of days that will start incubating the region and allowing thunderstorms to develop. Right now it appears that some sort of low pressure area will form, very possibly organized enough to be declared a subtropical storm, but until we actually physically see something start developing, we won't be able to confidently forecast whether it will be named.

The models are in a battle, mainly between the GFS and the ECMWF, on where the surface low will be in relation to the upper trough. The GFS makes more sense with the low near the eastern edge of the trough axis just east of Florida, while the Euro sticks it under the western side over the Gulf of Mexico. Even if we start out with a broad low transitioning over the Gulf of Mexico, I think secondary development would try to occur over or just east of the Florida Peninsula, where the focus of the rainfall will be. Don't expect to see a large amount of rainfall in the Gulf of Mexico. Florida, and perhaps Georgia and South Carolina, will likely get drenched for a few days straight in this scenario, with a strong onshore flow no matter what happens. Regardless of which side of Florida the low forms on, it will eventually move northward into the mainland around the western periphery of a mid-level ridge to the north.

With the upper trough axis trending sharper and thinner on the models today, the upper-level setup doesn't look quite as favorable for significant strengthening of a potential system. However, we are likely still going to be looking at a potent low with decent pressure falls over the area, and the potential for tropical storm force winds near Florida and perhaps the other southeastern states as well if the low does move northward along the gulf stream. I don't expect this situation to blow up into a surprise hurricane, but don't be shocked if some folks see potent tropical storm conditions from a more focused low pressure area. Overall, it will likely be a few days of very blustery weather, but probably nothing too dangerous. Mor.e details will come around once we see low pressure start getting incubated later into this weekend

We shall see what happens!

Tropical Atlantic Visible/IR2 Satellite (click image for loop):




Atlantic Tropical Surface Analysis:




200mb Vertical Velocity Potential (green areas represent upward motion associated with the MJO):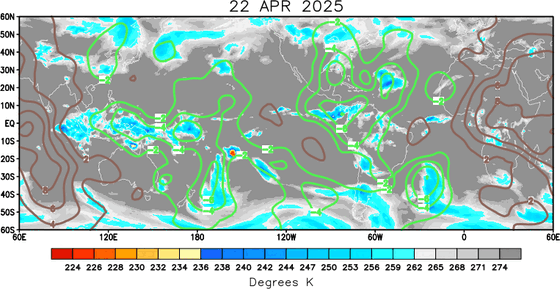 ---
Reader Comments
Comments will take a few seconds to appear.
About Levi32
Featured Blogs
Local Weather
70 °F

Scattered Clouds