Ophelia becomes a Cat 3; Double major typhoon hit for Luzon within a 5 day period
By:

Levi32

, 4:24 PM GMT on September 30, 2011

+

6
Please note that these tidbits do NOT reflect the official forecasts of the National Hurricane Center, and should not be taken as such. While tropical cyclones exist in the Atlantic, the official NHC forecasts will be posted in the lower part of this blog. Please refer to those when making decisions, and heed the advisories and evacuation statements of your local National Weather Service Office.

If you can, playing the video in HD makes it much easier to see things. The video will play in low quality by default. If HD quality isn't available, then it will be in a few minutes. Let me know if you have problems with the video, and please feel free to ask me any questions regarding what I talk about in these tidbits, or about the weather in general. You can post in either of my blogs or on Youtube. I will do my best to answer. Thanks for stopping by!

Find me on Youtube          Find me on Facebook (also on Twitter)



Hurricane Ophelia, despite wind shear and dry air impeding on her, has strengthened into a Category 3 hurricane, the 3rd major of the 2011 hurricane season. This was a bit unexpected due to the seemingly only marginal conditions around her. This is another lesson in how the cores of hurricanes are still fairly unpredictable. A semi-clear eye has popped out, and the storm's structure looks as healthy as ever. Ophelia shouldn't be able to strengthen much more and should weaken slightly as she moves into increasingly higher shear to the north. The good news is that she should pass off to the east of Bermuda without a direct hit, though she could still spread tropical storm conditions over the island.

Tropical Storm Philippe looks like nothing important and is moving northwest out over the central Atlantic. He is being caught underneath the ridge to the east of Ophelia and will be forced to move WSW eventually in a couple of days. This will bring Philippe uncomfortably far south, but he should still recurve sharply out to sea due to several troughs transitioning through the eastern seaboard during the next 10 days. Bermuda again may have to keep an eye on this storm due to his westerly track. The United States should see no threat from Philippe.

Out in the western Pacific, Luzon, the most populated island of the Philippines, is bracing for its 2nd direct hit from a major typhoon less than 5 days after Nesat roared ashore. Typhoon Nalgae is a Cat 3 that will make landfall near the exact same location and take nearly the same track westward. The good news is that the cold water wake left by Nesat should keep Nalgae from strengthening into a supertyphoon, but this is still a very bad situation for Luzon. Nalgae will go on to hit China in a similar place to Nesat, but a massive pool of cold water left by Nesat's several days of churning should make it very difficult for Nalgae to regain anything above Cat 1 strength in the South China Sea.

Looking ahead in the Atlantic...the models are starting to look more and more mischievous in the Caribbean and Bahamas areas starting by 8 days from now, due to high pressure building over New England and the eastern United States. Such high pressure tends to incubate the Caribbean, especially in October. The MJO is finally on the move, and since the move is now tangible instead of forecasted, I think it will finally start its journey across the Pacific, eventually ending up in the Atlantic, which will enhance upward motion and turn the Caribbean into a much wetter place. The eastern Pacific might try to get a storm out of this pattern as well before it is the Atlantic's turn. With the MJO finally coming, and in tandem with high pressure to the north of the Caribbean, we will have to look for tropical mischief during the 2nd week of October.

We shall see what happens!



Tropical Atlantic Visible/IR2 Satellite (click image for loop):




Atlantic Tropical Surface Analysis:
200mb Vertical Velocity Potential (green areas represent upward motion associated with the MJO):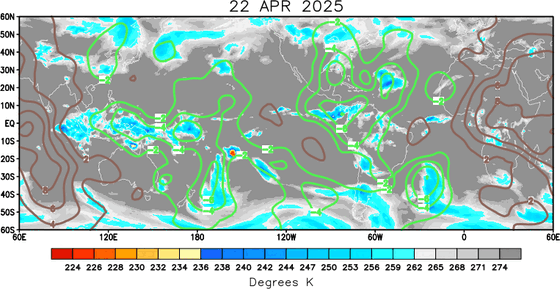 ---
Reader Comments
New Comment
Post Your Comments
Please sign in to post comments.
Not only will you be able to leave comments on this blog, but you'll also have the ability to upload and share your photos in our
Wunder Photos
section.
About Levi32
| | |
| --- | --- |
| | Levi Cowan has been tracking tropical systems since 2002, and is currently working on his bachelor's degree in physics at UAF. |
Tropical Blogs
Tropical Weather Stickers®
Local Weather
| | |
| --- | --- |
| | Overcast |
Previous Entries for 2013
Personal Weather Stations
MesoWest NERRS METEOROLOGICAL SITE AT KAC AK US

Fritz Creek, AK

Elevation:

32

ft
Temperature:

17.0

°F
Dew Point:
-
Humidity:
79%
Wind:

17.0

mph from the NE
Wind Gust:

21.0

mph

Updated: 12:30 AM AKST on December 18, 2013
Overlooking Peterson Bay

Homer, AK

Elevation:

27

ft
Temperature:

41.6

°F
Dew Point:

40.0

°F
Humidity:
94%
Wind:
Calm
Wind Gust:

0.0

mph

Updated: 8:04 AM AKDT on October 06, 2013
RAWS HOMER AK US

Homer, AK

Elevation:

854

ft
Temperature:

4.0

°F
Dew Point:

-3.0

°F
Humidity:
72%
Wind:

2.0

mph from the NW
Wind Gust:

4.0

mph

Updated: 2:54 AM AKST on December 18, 2013