98L slowly organizing; Pattern favors threat from the NW Caribbean in early October
By: Levi32 , 4:52 PM GMT on September 20, 2011
Please note that these tidbits do NOT reflect the official forecasts of the National Hurricane Center, and should not be taken as such. While tropical cyclones exist in the Atlantic, the official NHC forecasts will be posted in the lower part of this blog. Please refer to those when making decisions, and heed the advisories and evacuation statements of your local National Weather Service Office.

If you can, playing the video in HD makes it much easier to see things. The video will play in low quality by default. If HD quality isn't available, then it will be in a few minutes. Let me know if you have problems with the video, and please feel free to ask me any questions regarding what I talk about in these tidbits, or about the weather in general. You can post in either of my blogs or on Youtube. I will do my best to answer. Thanks for stopping by!

Find me on Youtube          Find me on Facebook (also on Twitter)



We're still watching invest 98L in the central Atlantic. The system became larger overnight as it absorbed a secondary mid-level center, and the broad circulation needs to tighten up a bit now before it can close off fully and be declared a tropical depression. It doesn't have that much to do to get there though, and we will likely see a tropical depression or storm within the next couple of days. The environment supports some strengthening until about 55W, where wind shear increases. Direct evidence of this is old 99L's circulation being obviously sheared by upper-level westerlies. This shear will likely remain around the northeast Caribbean for the next week, making it difficult for 98L to strengthen much beyond a moderate tropical storm, similar to Maria. A hurricane seems unlikely, though folks in the Antilles should keep a close eye on 98L.

The track of 98L is fairly straight forward. A WNW track towards the leeward Antilles to the south of the subtropical ridge should be the rule for the next few days, with a more NW turn occurring west of 65W, probably taking 98L into the areas of Puerto Rico, Hispaniola, and the Bahamas. This would be bad news for Puerto Rico, as they don't need anymore rain. Even in the Bahamas 98L may not find a favorable environment for strengthening, and may get absorbed northward into an elongated frontal boundary. In other words, 98L may be another dud storm in terms of intensity.

Looking ahead...there is still concern about the upcoming pattern for early October in the western Caribbean. Originally this concern was for late September, but the pattern is taking a little bit longer to evolve. However, everything points to it eventually evolving to a point where as the MJO comes back into the Caribbean in 10-15 days, high pressure over eastern North America will stimulate surface convergence in the western Caribbean and allow a storm to try to form, which could move north or northeast into the eastern gulf, Florida, or Cuba/Bahamas area. Such a storm would be a guaranteed land threat and this pattern should be monitored closely, though we are likely still 10 days or more away from potential development.

We shall see what happens!

Tropical Atlantic Visible/IR2 Satellite (click image for loop):




Atlantic Tropical Surface Analysis:




200mb Vertical Velocity Potential (green areas represent upward motion associated with the MJO):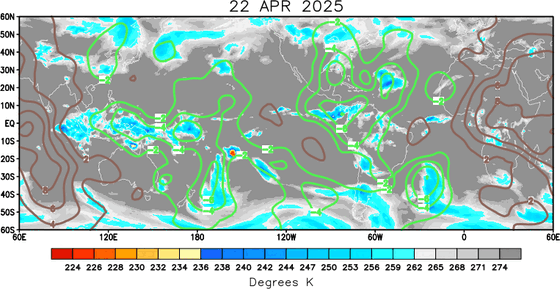 ---
Reader Comments
Comments will take a few seconds to appear.
About Levi32
Featured Blogs
Local Weather
66 °F

Light Rain