Maria to stay fairly weak; Still looking at potential mischief in the Caribbean
By: Levi32 , 4:39 PM GMT on September 14, 2011
Please note that these tidbits do NOT reflect the official forecasts of the National Hurricane Center, and should not be taken as such. While tropical cyclones exist in the Atlantic, the official NHC forecasts will be posted in the lower part of this blog. Please refer to those when making decisions, and heed the advisories and evacuation statements of your local National Weather Service Office.

If you can, playing the video in HD makes it much easier to see things. The video will play in low quality by default. If HD quality isn't available, then it will be in a few minutes. Let me know if you have problems with the video, and please feel free to ask me any questions regarding what I talk about in these tidbits, or about the weather in general. You can post in either of my blogs or on Youtube. I will do my best to answer. Thanks for stopping by!

Find me on Youtube          Find me on Facebook (also on Twitter)



Tropical Storm Maria remains sheared from the southwest and is apparently unable to take advantage of the slightly better ventilation that she is receiving from the upper trough that is recurving her, and is instead still giving into the southwesterly shear. She seems unlikely to reach hurricane status at this point. She will be passing close enough to Bermuda to bring tropical storm conditions, and may brush New Foundland as well as she merges with an extratropical low. Both of these areas can deal with a weak tropical storm, and hopefully no one will be endangered too much by this storm. She shouldn't be too big of a deal.

Looking ahead...We're still on the lookout for mischief in the Caribbean next week or beyond. Right now the area is dead because Maria is sitting north of it, but after she leaves and cold air envelops the eastern half of the United States, pressures should rise there and allow convergence to begin in the western Caribbean, increasing thunderstorms and precipitation there. The NOGAPS supports a storm in 7 days, but that's the NOGAPS, not very trustworthy. The GFS is alternating between showing a storm and not showing a storm, and the ECMWF has dropped significant hints at development. This is good news since we don't want a storm developing close to land, but what could be happening is that the models may be shifting the timeline back a little bit, favoring development 5 days or so later than they were before. The GFS shows the Caribbean much juicier-looking in 15 days than 8 days. The reason for this may be that without a tropical wave to stimulate development, the cool pattern over the eastern U.S. may need more time to induce low pressure in the Caribbean.

The various ensembles are also starting to hint more at a trough over New England in the 11-15 day period, which corresponds to a pattern that is seen almost every time a late-season storm develops in the western Caribbean and move north into the eastern gulf, Florida, or Bahamas area. I show a bunch of these storms in today's video and the pattern that they developed in, with similarities to the forecasted pattern in 10-15 days. The time period for development may be shifting out to the 20th through the 30th instead of 15th through 25th, but a 5-day shift isn't that bad for how long we've been talking about this. This is still a very long way out and we'll just have to watch this pattern to see if stuff starts to bubble in the Caribbean.

We shall see what happens!

NHC Official Forecast for Tropical Storm Maria:




Tropical Storm Maria Model Track Forecasts:




Caribbean/East Pacific Visible/IR2 Satellite (click image for loop):




Central Atlantic Visible/IR2 Satellite (click image for loop):




Atlantic Tropical Surface Analysis:




200mb Vertical Velocity Potential (green areas represent upward motion associated with the MJO):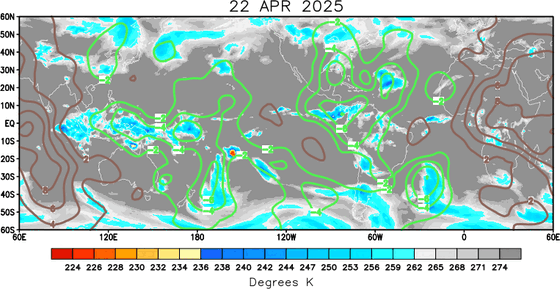 ---
Reader Comments
Comments will take a few seconds to appear.
About Levi32
Featured Blogs
Local Weather
72 °F

Scattered Clouds