Maria still struggling; West Caribbean and SW Atlantic to host mischief next week
By: Levi32 , 4:29 PM GMT on September 13, 2011
Please note that these tidbits do NOT reflect the official forecasts of the National Hurricane Center, and should not be taken as such. While tropical cyclones exist in the Atlantic, the official NHC forecasts will be posted in the lower part of this blog. Please refer to those when making decisions, and heed the advisories and evacuation statements of your local National Weather Service Office.

If you can, playing the video in HD makes it much easier to see things. The video will play in low quality by default. If HD quality isn't available, then it will be in a few minutes. Let me know if you have problems with the video, and please feel free to ask me any questions regarding what I talk about in these tidbits, or about the weather in general. You can post in either of my blogs or on Youtube. I will do my best to answer. Thanks for stopping by!

Find me on Youtube          Find me on Facebook (also on Twitter)



Tropical Storm Maria continues to struggle with wind shear, and remains lopsided. The new trough ahead of her may both help and hinder her by both ventilating and shearing her, so she may strengthen a little bit, but it may be too hard for her to even reach hurricane status. We will have to see. Either way, she will not be a huge deal. She may make a close enough pass to Bermuda to generate tropical storm conditions there, and she may brush New Foundland on her way out as well, but for both areas she will not be a horrible storm.

The eastern Atlantic will continue to be monitored for future development, as some new tropical waves will be coming off in a few days that may try to stir up trouble.

The next concern for development close to land will be the pattern for next week that I have been talking about for a long time now. The models are starting to at least periodically support my idea that we will see tropical development in the western Caribbean area sometime next week. The base reasoning for this remains the same. We will all be hearing about the record cold over the central-eastern U.S. over the next several days. This cold is raising surface pressures in the areas that have seen low pressure all summer. We know from experience that when big highs move over New England that we have to watch south of them for tropical mischief. The result of this is that air will start converging into the western Caribbean for the first time in a while, and with the eastern Pacific dead quiet, there will likely be monsoonal support with no competition from the Pacific side. Thus, the cards seem to be stacked for development.

The models are having a hard time picking up development on every run because we aren't getting it from a pre-existing disturbance like a tropical wave. In other words, this is what I have heard some people call "pattern-induced" development, where the overall pattern favors upward motion in a certain tropical region, and then development occurs, seemingly out of thin air. This is a situation that the models find hard to grasp, and that is why the GFS has been alternating from hurricanes to nothing in the 8-12 day period. The ECMWF hasn't really caught on yet but keeps hinting at it. It would be nice to get some solid model support for this idea that I've been pushing.

The models are also hinting at home-grown mischief occurring off of North Carolina in this pattern south of the New England high, and this is a possibility. We will have to see if a development farther north tries to steal the show from the Caribbean, or whether we get two different developments. I still think the Caribbean will try to fire something up either way. We shall see. Overall, this is a pattern under which people should be watchful to the south and east of the SE U.S. coast, because tropical development is likely to be at least attempted sometime next week, and it could move northward to affect the coastline.

We shall see what happens!

NHC Official Forecast for Tropical Storm Maria:




Tropical Storm Maria Model Track Forecasts:




Caribbean/East Pacific Visible/IR2 Satellite (click image for loop):




Central Atlantic Visible/IR2 Satellite (click image for loop):




Atlantic Tropical Surface Analysis:




200mb Vertical Velocity Potential (green areas represent upward motion associated with the MJO):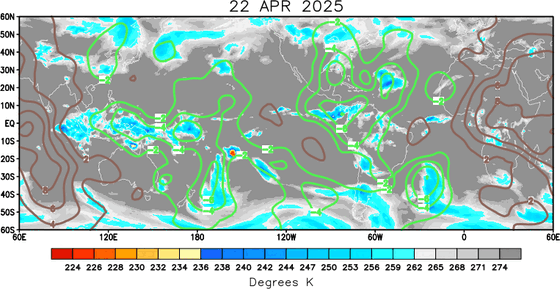 ---
Reader Comments
Comments will take a few seconds to appear.
About Levi32
Featured Blogs
Local Weather
74 °F

Partly Cloudy