93L a headache - could be a big deal; Katia struggling but could threaten Bermuda
By: Levi32 , 3:27 PM GMT on September 01, 2011
Please note that these tidbits do NOT reflect the official forecasts of the National Hurricane Center, and should not be taken as such. While tropical cyclones exist in the Atlantic, the official NHC forecasts will be posted in the lower part of this blog. Please refer to those when making decisions, and heed the advisories and evacuation statements of your local National Weather Service Office.

If you can, playing the video in HD makes it much easier to see things. The video will play in low quality by default. If HD quality isn't available, then it will be in a few minutes. Let me know if you have problems with the video, and please feel free to ask me any questions regarding what I talk about in these tidbits, or about the weather in general. You can post in either of my blogs or on Youtube. I will do my best to answer. Thanks for stopping by!

Find me on Youtube          Find me on Facebook (also on Twitter)



The video went kind of long today, but there is a lot to talk about. Invest 93L is going to be a headache for forecasters this weekend and early next week, as it will likely meander around the northwest Gulf of Mexico for a few days before moving inland. A move straight NW into the heart of Texas is unlikely due to the ridge there, and a deflection either WSW or northeast along the periphery of the ridge is likely. The big question is which direction will it choose and when will it choose it. A shortwave trough moving into the eastern U.S. in 3-4 days will try to tug 93L northeast, but it may or may not succeed. I ramble about a lot of stuff in the video regarding the pattern, but the main point is that much is going to depend on how strong 93L is and how it influences its own environment. 93L's strongest outflow channel is going to be to the southeast towards the NW Caribbean during its life, and if it strengthens substantially into a strong storm, that outflow will help strengthen the ridge to the southeast of 93L, between itself and Hurricane Katia to the east. This ridge would then increase the southwesterly steering flow over the Gulf of Mexico, and thus 93L would help propel itself northeastward into Louisiana. Because I think 93L has a chance to get fairly strong while sitting over very hot water for 4-5 days, I think the eventual end-game will be a northeast move into the Louisiana/MS area, after an initial loop to the WSW off the Texas coast and then back northward. This forecast has a larger than normal amount of uncertainty due to the complex pattern involved with weak steering currents, and the computer models are solidly divided in half between an eventual northeast movement and a WSW movement into south Texas or northern Mexico.

The benefit from 93L may be that with several days in the NW gulf it is sure to bring coastal Texas at least some showers periodically, which would be welcomed by many. However, if 93L doesn't move inland quickly this weekend, that kind of time over the 31C waters of the gulf could allow it to strengthen significantly, and a hurricane would be likely if 93L is still over water come Monday. This is the concerning part of this situation. The ECMWF shows a worst-case scenario by having 93L miss the first trough and sit still in the NW gulf for 8 days, strengthening into a major hurricane before moving into Louisiana in response to a 2nd trough. While the Euro is the outlier showing this solution, it illustrates the fragility of this pattern and just how hard it is going to be to make 93L go anywhere. Don't be surprised if my track forecast has to change during the coming days, and everyone along the gulf coast from northern Mexico to the western Florida panhandle should keep a very close eye on 93L.

Hurricane Katia is finally eating too much dry air this morning, and she may no longer be a hurricane for the moment, as her low-level center is nearly exposed. Eventually she should overcome this and strengthen again, but probably not beyond Cat 3 during her lifetime. The models still point at Bermuda, and although I still think the track will shift west between Bermuda and Cape Hatteras, folks on that island should keep a close eye on Katia. An eventual move up towards the Canadian Maritimes as a weakening tropical storm could occur as well. Chances of affecting the U.S. are slim right now, especially if we have Lee in the Gulf of Mexico after this weekend, as the ridge that he should build between himself and Katia would help force her northward as well.

We shall see what happens!

Invest 93L Model Track Forecasts:




Official NHC Forecast for Tropical Storm Katia:




Tropical Storm Katia Model Track Forecasts:




Caribbean/East Pacific Visible/IR2 Satellite (click image for loop):




Central Atlantic Visible/IR2 Satellite (click image for loop):




Atlantic Tropical Surface Analysis:




200mb Vertical Velocity Potential (green areas represent upward motion associated with the MJO):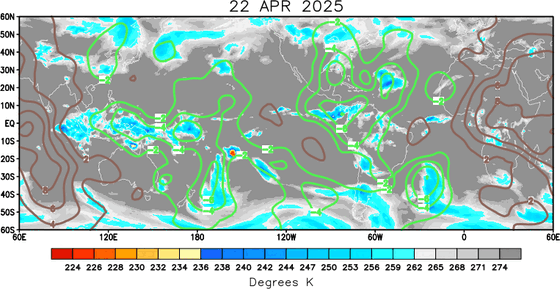 ---
Reader Comments
Comments will take a few seconds to appear.
About Levi32
Featured Blogs
Local Weather
66 °F

Overcast