Watching for Lee to develop in the gulf; Katia may need to be watched by Bermuda
By: Levi32 , 4:49 PM GMT on August 31, 2011
Please note that these tidbits do NOT reflect the official forecasts of the National Hurricane Center, and should not be taken as such. While tropical cyclones exist in the Atlantic, the official NHC forecasts will be posted in the lower part of this blog. Please refer to those when making decisions, and heed the advisories and evacuation statements of your local National Weather Service Office.

If you can, playing the video in HD makes it much easier to see things. The video will play in low quality by default. If HD quality isn't available, then it will be in a few minutes. Let me know if you have problems with the video, and please feel free to ask me any questions regarding what I talk about in these tidbits, or about the weather in general. You can post in either of my blogs or on Youtube. I will do my best to answer. Thanks for stopping by!

Find me on Youtube          Find me on Facebook (also on Twitter)



The biggest threat to land areas right now is the area of disturbed weather in the NW Caribbean and southern Gulf of Mexico as a tropical wave interacts with a frontal boundary. A surface low may be trying to form in its embryonic stages NNW of the Yucatan Channel. This low will be moving NW over the next couple of days, being steered by a high over the southeastern U.S., and will likely try to deepen in the northwest Gulf of Mexico this weekend. Waters are very warm in here, and there is no competition from the eastern Pacific, which means that there is a lot of energy available that this system will be able to hog all to itself. There is some wind shear over the central gulf, associated with an elongated upper trough over the northern gulf, but this will eventually have to shift north or split as the heat surge from the Caribbean muscles its way northwest. I believe we have a good chance of seeing a tropical depression develop in the box from 25N-30N and 90W-95W, likely during this weekend.

This system will be moving northwest for the next 2-3 days, but as an upper shortwave trough which is currently moving into the Pacific Northwest comes across the mid-west in a few days, the Texas ridge will re-strengthen over northern Texas and the 4-corners region, which should block the system's progress before it quite reaches the Texas coast. The shortwave trough may then dig in over the Great Lakes region and exert a northeastward tug on our gulf system, trying to pull it into Louisiana. It may succeed in doing this, and the GFS shows a similar solution by bringing a storm into the Florida Panhandle, but I think this may be overdone due to the typical GFS bias of strengthening troughs too much over the eastern seaboard this season. Chances are that our system will stall out for a while over the NW gulf and then eventually find a way to the north gulf coast, closer to the ECMWF solution.

Overall, what we're hoping for here is a weak Lee to develop and bring Texas some rain. Chances are that even if the storm moves into Louisiana, given its location of development, it is likely to give at least a few showers to coastal Texas anyway. The bad news is that the pattern favors it having to sit down there for a while over very hot water, and that could turn it into a potent system if atmospheric conditions allow. We'll have to monitor it closely, as home-grown development in the western gulf is notorious for meaning business. The central gulf coast all the way down to northern Mexico should keep an eye on this system this weekend and next week.

Tropical Storm Katia continues to chug along WNW. Dry air is present from the north to the west of the system, but she seems to be doing a good job keeping it out of her core. I have no big issues with the NHC forecast here, and Katia should be a major hurricane early next week in the central Atlantic north of the Antilles islands. I feel pretty confident that she will avoid the Antilles due to a weakness in the Bermuda High ahead of Katia which is great news for the islands. While she's still a long way out, I'm leaning towards the idea that she will miss the U.S. and recurve out to sea a bit west of Bermuda. The models are targeting Bermuda strongly today, and although I think they will shift a bit west eventually, Bermuda may need to keep a very close eye on this storm for early next week.

We shall see what happens!

Official NHC Forecast for Tropical Storm Katia:




Tropical Storm Katia Model Track Forecasts:




Caribbean/East Pacific Visible/IR2 Satellite (click image for loop):




Central Atlantic Visible/IR2 Satellite (click image for loop):




Atlantic Tropical Surface Analysis:




200mb Vertical Velocity Potential (green areas represent upward motion associated with the MJO):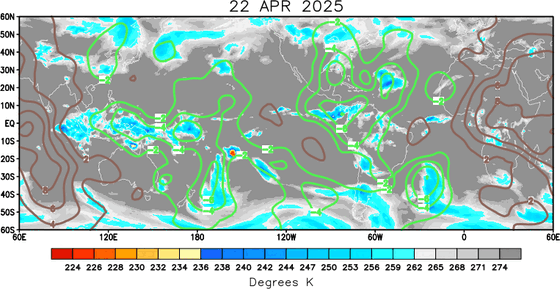 ---
Reader Comments
Comments will take a few seconds to appear.
About Levi32
Featured Blogs
Local Weather
68 °F

Overcast