Harvey nearing landfall as a moderate tropical storm; 97L likely to be a big problem
By:

Levi32

, 4:09 PM GMT on August 20, 2011

+

6
Please note that these tidbits do NOT reflect the official forecasts of the National Hurricane Center, and should not be taken as such. While tropical cyclones exist in the Atlantic, the official NHC forecasts will be posted in the lower part of this blog. Please refer to those when making decisions, and heed the advisories and evacuation statements of your local National Weather Service Office.

If you can, playing the video in HD makes it much easier to see things. The video will play in low quality by default. If HD quality isn't available, then it will be in a few minutes. Let me know if you have problems with the video, and please feel free to ask me any questions regarding what I talk about in these tidbits, or about the weather in general. You can post in either of my blogs or on Youtube. I will do my best to answer. Thanks for stopping by!

Find me on Youtube          Find me on Facebook



Tropical Storm Harvey still has a pressure of 999mb, with no change in strength since yesterday afternoon. Proximity to land and lack of vertical stacking of the center has kept the storm under hurricane intensity, as outlined yesterday, and the landfall forecast of up to 60mph looks good, as Harvey should not significantly change in strength before moving into Belize later today. This will be mainly a rainfall event for them, though folks should still stay safe even though it is only a tropical storm, as 60mph sustained winds are still dangerous. Harvey will dissipate over central America after moving inland.

Invest 97L is going to be a big-ticket item next week. Thunderstorm activity is increasing in coverage over a broad area of low pressure east of the lesser Antilles islands this morning. The system is not quite as broad and elongated as it was yesterday, but it is still very large, and if there is any kind of a circulation center, it's way down to the south near 12N where some weak westerlies are being seen on visible satellite imagery. The surface center that finally winds up could develop anywhere between this area and 15N, and this will be very important for the future track. A center forming farther south could result in 97L tracking south of the major Caribbean islands, eventually landing in the eastern Gulf of Mexico with lots of time over water. A center forming farther north could take the track directly over the Greater Antilles or just north of them, resulting in a weaker intensity but directly affecting more people.

For now, my track will be based off of the main center eventually forming where low-level vorticity and convergence are greatest, which is currently near 14N, 56W, moving WNW. The main steering feature over the next 4 days will be a trough currently diving out of northern Canada, and will be digging in over New England in 48-72 hours. On Tuesday, this trough will reach maximum amplification near 75W before butting up against the big west Atlantic ridge, at which point it will lift out in a hurry. This positions the weakness in the ridge along 75W, meaning that 97L should gain a bit of latitude and move more NW than WNW for a short time near Hispaniola, possibly enough to take the system across the island and then just north of it. As the upper trough leaves, the ridge builds in strongly from the east, which would push 97L back to a WNW track into the Bahamas and southeast Florida, as the weakness in the ridge retrogrades westward into the eastern Gulf of Mexico. The storm would then curve north into this weakness somewhere along the length of Florida or just a hair on either side of the peninsula.

This track would knock down the system in strength due to interaction with Hispaniola, but it would have some time over water between there and Florida to strengthen into a potent system. The global models constantly strengthen this storm regardless of how much land it runs into. Even the GFS and ECMWF, which take it directly over Hispaniola AND the length of Cuba, still strengthen it as time goes on. These two models actually show the storm being stronger inland over Florida and Georgia than it is when it makes landfall. This says a lot about how favorable conditions are in that area of the world, and this is reason to be concerned, even if Hispaniola and/or Cuba take the brunt of the storm first for the United States.

Overall, there is still a lot of uncertainty on the exact track due to the fact that we don't have a defined center for 97L yet, and thus the intensity forecast has uncertainty as well due to potential land interaction, or lack thereof. What IS certain is that this storm is going to directly impact the Greater Antilles, and then the southeast United States, with Florida being at greatest risk. We could easily be dealing with a hurricane eventually, again depending on land interaction. The lesser Antilles will only be impacted by gusty winds and showers today. Puerto Rico could still get a close pass from this system, though it should pass by to the south, and thus they should be prepared for possible tropical storm conditions, as should Hispaniola. Jamaica, Cuba, and the Bahamas should all be preparing for a tropical cyclone as well. If 97L were to slip south of Hispaniola instead of over it, Cuba would likely have to deal with a hurricane. Florida, despite having Caribbean island guards, may get a potent system from 97L, and should also be getting ready for a tropical cyclone in 4-5 days, possibly a hurricane.

We shall see what happens!


Official NHC Forecast for Tropical Storm Harvey:




Official NHC Public Advisory for Tropical Storm Harvey:

000
WTNT33 KNHC 201453
TCPAT3

BULLETIN
TROPICAL STORM HARVEY ADVISORY NUMBER 7
NWS NATIONAL HURRICANE CENTER MIAMI FL AL082011
1000 AM CDT SAT AUG 20 2011

...HARVEY MOVING WESTWARD TOWARD BELIZE WITH LITTLE CHANGE IN
STRENGTH...


SUMMARY OF 1000 AM CDT...1500 UTC...INFORMATION
-----------------------------------------------
LOCATION...16.8N 87.6W
ABOUT 65 MI...100 KM SE OF BELIZE CITY
ABOUT 70 MI...110 KM ENE OF MONKEY RIVER TOWN BELIZE
MAXIMUM SUSTAINED WINDS...60 MPH...95 KM/H
PRESENT MOVEMENT...W OR 280 DEGREES AT 12 MPH...19 KM/H
MINIMUM CENTRAL PRESSURE...998 MB...29.47 INCHES


WATCHES AND WARNINGS
--------------------
CHANGES WITH THIS ADVISORY...

THE GOVERNMENT OF HONDURAS HAS DISCONTINUED THE TROPICAL STORM
WARNING FOR THE BAY ISLANDS AND FOR THE NORTHERN COAST OF HONDURAS
EAST OF PUNTA SAL.

SUMMARY OF WATCHES AND WARNINGS IN EFFECT...

A TROPICAL STORM WARNING IS IN EFFECT FOR...
* THE COAST OF HONDURAS FROM PUNTA SAL WESTWARD
* THE COAST OF GUATEMALA
* THE COAST OF BELIZE

HURRICANE CONDITIONS ARE POSSIBLE ALONG A PORTION OF THE COAST OF
BELIZE LATER TODAY.

A TROPICAL STORM WARNING MEANS THAT TROPICAL STORM CONDITIONS ARE
EXPECTED SOMEWHERE WITHIN THE WARNING AREA...IN THIS CASE WITHIN
THE NEXT 24 HOURS.

FOR STORM INFORMATION SPECIFIC TO YOUR AREA...PLEASE MONITOR
PRODUCTS ISSUED BY YOUR NATIONAL METEOROLOGICAL SERVICE.


DISCUSSION AND 48-HOUR OUTLOOK
------------------------------
AT 1000 AM CDT...1500 UTC...THE CENTER OF TROPICAL STORM HARVEY WAS
LOCATED NEAR LATITUDE 16.8 NORTH...LONGITUDE 87.6 WEST. HARVEY IS
MOVING TOWARD THE WEST NEAR 12 MPH...19 KM/H...AND THIS MOTION IS
EXPECTED TO CONTINUE FOR THE NEXT DAY OR TWO. ON THE FORECAST
TRACK...THE CENTER OF HARVEY WILL MOVE INLAND OVER BELIZE THIS
AFTERNOON...THEN MOVE INTO NORTHERN GUATEMALA TONIGHT.

REPORTS FROM AN AIR FORCE RESERVE HURRICANE HUNTER AIRCRAFT INDICATE
THAT MAXIMUM SUSTAINED WINDS ARE NEAR 60 MPH...95 KM/H...WITH
HIGHER GUSTS. SOME STRENGTHENING IS POSSIBLE TODAY...AND HARVEY
COULD BECOME A HURRICANE BEFORE LANDFALL IN BELIZE. STEADY
WEAKENING IS FORECAST AFTER LANDFALL.

TROPICAL STORM FORCE WINDS EXTEND OUTWARD UP TO 45 MILES...75 KM
MAINLY TO THE NORTH OF THE CENTER.

THE MINIMUM CENTRAL PRESSURE ESTIMATED FROM THE HURRICANE HUNTER
AIRCRAFT DATA IS 998 MB...29.47 INCHES.


HAZARDS AFFECTING LAND
----------------------
WIND...TROPICAL-STORM-FORCE WINDS ARE EXPECTED ALONG THE NORTHERN
COAST OF HONDURAS IN THE WARNING AREA THROUGH THIS AFTERNOON.
TROPICAL-STORM-FORCE WINDS ARE ALSO EXPECTED ALONG THE COASTS OF
GUATEMALA AND BELIZE BY THIS AFTERNOON. HURRICANE-FORCE WINDS ARE
POSSIBLE ALONG A PORTION OF THE COAST OF BELIZE THIS AFTERNOON.

RAINFALL...HARVEY IS EXPECTED TO PRODUCE TOTAL RAINFALL
ACCUMULATIONS OF 3 TO 6 INCHES ACROSS HONDURAS...GUATEMALA...
BELIZE...AND THE YUCATAN PENINSULA OF MEXICO...WITH POSSIBLE
ISOLATED MAXIMUM AMOUNTS OF 10 INCHES. THESE RAINS COULD PRODUCE
LIFE-THREATENING FLASH FLOODS AND MUDSLIDES...ESPECIALLY OVER
HIGHER TERRAIN.

STORM SURGE...A STORM SURGE WILL RAISE WATER LEVELS BY AS MUCH AS 2
TO 4 FEET ABOVE NORMAL TIDE LEVELS ALONG THE COAST NEAR AND TO THE
NORTH OF WHERE HARVEY MAKES LANDFALL. NEAR THE COAST...THE SURGE
WILL BE ACCOMPANIED BY LARGE AND DAMAGING WAVES.


NEXT ADVISORY
-------------
NEXT INTERMEDIATE ADVISORY...100 PM CDT.
NEXT COMPLETE ADVISORY...400 PM CDT.

$$
FORECASTER BEVEN





Tropical Storm Harvey Visible/IR2 Floater:




Invest 97L Visible/IR2 Floater:
Invest 97L Track Forecast Models:
Caribbean/East Pacific Visible/IR2 Satellite (click image for loop):
Central Atlantic Visible/IR2 Satellite (click image for loop):
Atlantic Tropical Surface Analysis:
200mb Vertical Velocity (green areas represent upward motion associated with the MJO):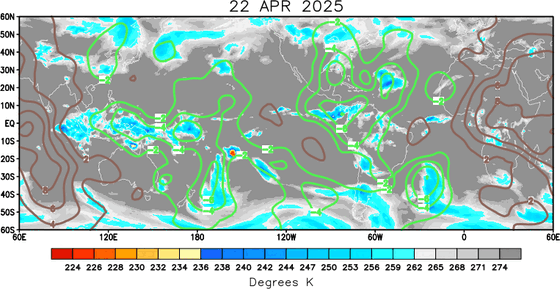 ---
Reader Comments
New Comment
Post Your Comments
Please sign in to post comments.
Not only will you be able to leave comments on this blog, but you'll also have the ability to upload and share your photos in our
Wunder Photos
section.
About Levi32
| | |
| --- | --- |
| | Levi Cowan has been tracking tropical systems since 2002, and is currently working on his bachelor's degree in physics at UAF. |
Tropical Blogs
Tropical Weather Stickers®
Local Weather
| | |
| --- | --- |
| | Clear |
Previous Entries for 2013
Personal Weather Stations
MesoWest NERRS METEOROLOGICAL SITE AT KAC AK US

Fritz Creek, AK

Elevation:

32

ft
Temperature:

37.0

°F
Dew Point:

33.0

°F
Humidity:
87%
Wind:

17.0

mph from the NE
Wind Gust:

21.0

mph

Updated: 3:30 AM AKST on December 05, 2013
Overlooking Peterson Bay

Homer, AK

Elevation:

27

ft
Temperature:

41.6

°F
Dew Point:

40.0

°F
Humidity:
94%
Wind:
Calm
Wind Gust:

0.0

mph

Updated: 8:04 AM AKDT on October 06, 2013
RAWS HOMER AK US

Homer, AK

Elevation:

854

ft
Temperature:

35.0

°F
Dew Point:

34.0

°F
Humidity:
98%
Wind:

3.0

mph from the NNE
Wind Gust:

7.0

mph

Updated: 2:54 AM AKST on December 05, 2013