93L could threaten the Yucatan as a storm; African wave may be trouble down the road
By: Levi32 , 4:37 PM GMT on August 16, 2011
Please note that these tidbits do NOT reflect the official forecasts of the National Hurricane Center, and should not be taken as such. While tropical cyclones exist in the Atlantic, the official NHC forecasts will be posted in the lower part of this blog. Please refer to those when making decisions, and heed the advisories and evacuation statements of your local National Weather Service Office.

If you can, playing the video in HD makes it much easier to see things. The video will play in low quality by default. If HD quality isn't available, then it will be in a few minutes. Let me know if you have problems with the video, and please feel free to ask me any questions regarding what I talk about in these tidbits, or about the weather in general. You can post in either of my blogs or on Youtube. I will do my best to answer. Thanks for stopping by!

Find me on Youtube          Find me on Facebook



Invest 93L continues to fire thunderstorms in the eastern Caribbean this morning. It actually looks decent given that it is embedded in the "dead zone" of fast trade winds in the central-eastern Caribbean, which generally doesn't allow development of undeveloped systems, and 93L should be no exception here. There is no sign of a surface circulation, and pressures are riding rather high at 1012-1013mb. However, once farther west in the western Caribbean, the trade winds slow down, allowing air to pile up and rise, and thus 93L may have a chance to develop over all of that warm water. The ECMWF for a couple runs in a row now has started to develop 93L just before reaching the Yucatan Peninsula, and having support from this model, which has been conservative all year, means that this should be watched. The Texas ridge should keep 93L on a mainly westward or WNW track towards the Yucatan, and although there is a weakness in the ridge over Florida and the eastern Gulf of Mexico, 93L would have to rapidly develop into a strong hurricane to significantly feel the effects of this weakness and move northward. Therefore, a track straight into the Yucatan seems likely here, with a possible double-hit on Mexico when 93L crosses the Bay of Campeche. Interests along the eastern Yucatan coasts of Mexico and Belize should monitor this system to see if it develops in a couple of days.

A new African wave is exhibiting a defined area of low pressure just southwest of the Cape Verde Islands, and will be our next feature to watch as it journeys westward. Dry Saharan air is wrapping into this feature, but so far all of this dry air has actually been forcing these waves to develop farther west and become more threatening to land areas, due to the fact that storms that wait to develop tend to track farther west before recurving. The models are all hyped up about this system, with even the ECMWF showing its first hurricane of the season passing near the northeastern Caribbean in 6-8 days. It is a long way out to be talking about the potential track of this system if it does indeed develop, but the pattern that we have been discussing for weeks now is taking shape for the peak of the hurricane season, and a storm passing near the NE Caribbean islands could be not only a threat to them, but a threat to the United States as well down the road. We will obviously know more as more time passes, but there is concern about this pattern, and with the MJO bringing upward motion back to the Atlantic right as this peak period begins, we may be in for several threats to the U.S. and Caribbean areas during the coming weeks.

We shall see what happens!

Invest 93L Visible/IR2 Floater:




Invest 93L Track Forecast Models:




Caribbean/East Pacific Visible/IR2 Satellite (click image for loop):




Central Atlantic Visible/IR2 Satellite (click image for loop):




Atlantic Tropical Surface Analysis:




200mb Vertical Velocity (green areas represent upward motion associated with the MJO):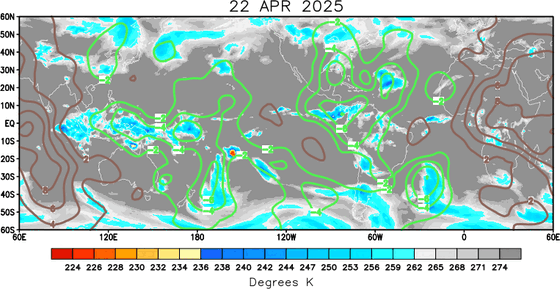 ---
Reader Comments
Comments will take a few seconds to appear.
About Levi32
Featured Blogs
Local Weather
89 °F

Scattered Clouds