Franklin develops; Reasons to keep watching 93L
By: Levi32 , 5:26 PM GMT on August 13, 2011
Please note that these tidbits do NOT reflect the official forecasts of the National Hurricane Center, and should not be taken as such. While tropical cyclones exist in the Atlantic, the official NHC forecasts will be posted in the lower part of this blog. Please refer to those when making decisions, and heed the advisories and evacuation statements of your local National Weather Service Office.

If you can, playing the video in HD makes it much easier to see things. The video will play in low quality by default. If HD quality isn't available, then it will be in a few minutes. Let me know if you have problems with the video, and please feel free to ask me any questions regarding what I talk about in these tidbits, or about the weather in general. You can post in either of my blogs or on Youtube. I will do my best to answer. Thanks for stopping by!

Find me on Youtube          Find me on Facebook

*Notice* 8-14-11: I may or may not get a video out today. Internet is down for a few hours at the dorms. The bottom line is that TD 7 may become Gert, but shouldn't significantly strengthen and is not a dangerous concern for Bermuda. Former 93L looks more alive than yesterday, and is a clear feature headed for the Caribbean. Models have dropped it, but it may still have to be monitored for the reasons outlined yesterday.



Invest 95L ended up being classified as TD #6 yesterday by the NHC, and then Franklin later on. This system does deserve the name, as it is clearly warm-core, though it is debatable whether it is still attached to the frontal boundary, in which case it would be some kind of subtropical hybrid. Either way, it would be named Franklin, and thus this is a deserved name. We have 6 named storms now, and 3 of them have been from fronts, which is interesting. Such features do not really represent the level of tropical activity in the Atlantic, but we do have them anyway.

Invest 94L and 92L may make passes close to Bermuda as they curve out to sea, and shouldn't be a significant threat to anyone, as the environment does not support significant strengthening. 94L has a circulation today, so if it pops some more convection, we may get another tropical depression. Who knows lol. It is the daughter of Emily, so persistence is to be expected from that system.

Invest 93L looks the worst of all of the systems out there today, and is barely noticeable approaching 40W. However, the system is still a clear perturbation in the flow near the monsoon trough, and is embedded in a deceptively deep layer of moisture along the monsoon trough. This could allow it to remain a defined-enough entity that we may hear more from it later. As we have been discussing, immediate development of this was never expected, and that it may wait several days before doing much. Once it gets into the warmer waters east of the lesser Antilles, we may see it try to flare up a little bit. Due to its weak state now, it looks like it will run into the Caribbean, which changes the ball game because right off the bat it means that land areas are threatened. The ocean heat content is sky high in this region, and thus it is worth keeping an eye on this if it remains defined as it enters the Caribbean. The GFS winds this up into a hurricane in the western Caribbean in 8 days.

The future track of this is still something that requires us to look 8-10 days down the road, and thus we can't know a lot of details right now. However, there are some key features showing up in the pattern. The models are in general agreement on a very strong trough over the Gulf of Alaska in 6-8 days, which argues for a pumping of the heights (ridging) over western Canada. This would tend to draw the Texas ridge west of where it has been, closer to the rockies. In turn, the weakness over the eastern seaboard between this ridge and the Atlantic ridge would shift west as well, more over the eastern gulf coast. If a storm were to come in from the east, north of the Caribbean, it wouldn't make it into the Gulf of Mexico. However, if we get a storm in the Caribbean during this time, possibly from 93L, it would tend to curve up into the gulf, something we have not seen a real chance for all season. We had Don, but we all knew that would be a weakling, and wasn't really a big deal. However, if we get a deep tropical system coming out of the Caribbean under favorable conditions, it wouldn't take much to get it to become a hurricane, and that area of the world including the gulf, Florida, the Bahamas, the Yucatan, and the Caribbean islands may have to keep a close eye on 93L if it tries to flare up in the Caribbean. For now, it is not an immediate concern, and it may never develop, but chances are it will try to sneak up on us in several days, and if it does, it may be an issue.

We shall see what happens!

Tropical Storm Franklin Visible/IR2 Floater:




Invest 93L Track Forecast Models:




Caribbean/East Pacific Visible/IR2 Satellite (click image for loop):




Central Atlantic Visible/IR2 Satellite (click image for loop):




Atlantic Tropical Surface Analysis:




200mb Vertical Velocity (green areas represent upward motion associated with the MJO):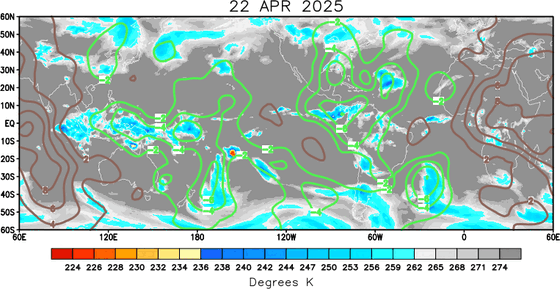 ---
Reader Comments
Comments will take a few seconds to appear.
About Levi32
Featured Blogs
Local Weather
67 °F

Overcast