Bret leaving; 99L may develop; CATL wave possibly a problem down the road
By: Levi32 , 3:12 PM GMT on July 20, 2011
Please note that these tidbits do NOT reflect the official forecasts of the National Hurricane Center, and should not be taken as such. While tropical cyclones exist in the Atlantic, the official NHC forecasts will be posted in the lower part of this blog. Please refer to those when making decisions, and heed the advisories and evacuation statements of your local National Weather Service Office.

If you can, playing the video in HD makes it much easier to see things. The video will play in low quality by default. If HD quality isn't available, then it will be in a few minutes. Let me know if you have problems with the video, and please feel free to ask me any questions regarding what I talk about in these tidbits, or about the weather in general. You can post in either of my blogs or on Youtube. I will do my best to answer. Thanks for stopping by!

Find me on Youtube          Find me on Facebook



The Atlantic remains a fairly active place for mid-late July. Tropical Storm Bret continues to hold his own, despite being sheared and injected with dry air, and is slow to weaken as he moves northeast, though he will continue to weaken and eventually fizzle as he integrates into the mid-latitude westerlies. A passing shower or two may touch Bermuda, but he is no real threat to anyone.

A feature that I neglected to mention over the last few days is the old competing circulation that was initially just northeast of Bret along the frontal boundary that spawned them both, and this low is now quite far out to the northeast of Bret, looking very well-defined and tropical in nature, perhaps more so than Bret. This feature has been tagged invest 99L, and now has a high chance of development from the NHC. This is another random middle-of-nowhere situation where the system could have been classified a while ago, but won't be unless it persists for quite a long time, due to the fact that it is in the middle of nowhere. We may get TD 3 or Cindy out of this, but it will be a subjective decision by the NHC as to whether we do or not.

The bigger story that may develop next week is the large tropical wave in the central Atlantic. This wave, despite lacking convection, has a deceptively deep moisture field with it, and although there is dry air wrapping in from the northwest, this moisture field will have a chance to consolidate into a stronger area of low pressure once the wave gets farther west. The models are all hinting at this wave consolidating a bit more just north of the Caribbean in 5-7 days. A part of this wave may go into the Caribbean while the northern part continues north of the Caribbean, but either way, the energy will need to bundle before this wave can have a shot at development. As mentioned yesterday, a trough is forecasted to be over the western Atlantic around the time when this wave gets north of the Caribbean, which could recurve any system that tries to develop. However, as I also mentioned, this pattern is rather fragile, and the trough will not be in that position for very long before lifting out. In fact, some of the latest model runs, including the ECMWF and the CMC, show the system getting caught beneath the U.S. ridge as it builds northeastward, bringing the system westward towards the U.S. coast and the Bahamas.

With a fragile pattern like this, as always, timing will be everything. Whether we get development north of the Caribbean will also play a role in whether the wave recurves. I show in the video how one of the top analogs for the 500mb pattern coming up in 8-10 days is that of Hurricane Allen in 1980, which came across the northern Caribbean and Gulf of Mexico into southern Texas as a Cat 4. While this doesn't mean our wave will be anything like Allen, the big point is that this kind of a pattern can favor a storm coming underneath the big U.S. ridge when it makes one of its August moves northeastward. If this pattern does indeed set up this way, it is reminiscent of the pattern I have warned about that could develop at times this season and bring storms to the coast. There are a lot of ifs still to be resolved with this wave, and it may never develop, but it may also be a problem to watch next week, and thus will be monitored closely.

We shall see what happens!


---
Tropical Storm Bret Official NHC Track Forecast:
Invest 99L Visible/IR2 Floater (click image for loop):
Caribbean/East Pacific Visible/IR2 Satellite (click image for loop):
Central Atlantic Visible/IR2 Satellite (click image for loop):
Atlantic Tropical Surface Analysis:
200mb Vertical Velocity (green areas represent upward motion associated with the MJO):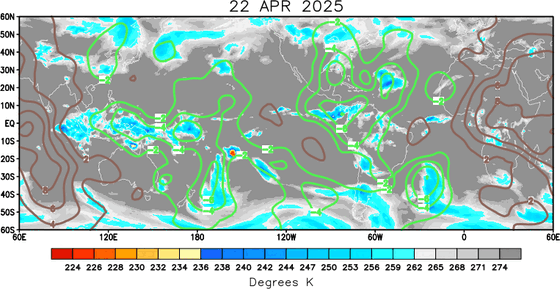 ---
Reader Comments
Comments will take a few seconds to appear.
About Levi32
Featured Blogs
Local Weather
65 °F

Overcast