Please note that these tidbits do NOT reflect the official forecasts of the National Hurricane Center, and should not be taken as such. While tropical cyclones exist in the Atlantic, the official NHC forecasts will be posted in the lower part of this blog. Please refer to those when making decisions, and heed the advisories and evacuation statements of your local National Weather Service Office.

If you can, playing the video in HD makes it much easier to see things. The video will play in low quality by default. If HD quality isn't available, then it will be in a few minutes. Let me know if you have problems with the video, and please feel free to ask me any questions regarding what I talk about in these tidbits, or about the weather in general. You can post in either of my blogs or on Youtube. I will do my best to answer. Thanks for stopping by!

Find me on Youtube          Find me on Facebook



There are a couple of little features to watch today. A weak circulation just east of Nicaragua will be monitored for further development, though it will be soon moving inland and likely not posing a threat for development on the Atlantic side of central America. However, it may develop in the eastern Pacific.

A 2nd feature to watch, as I have been mentioning for the past few days, is at the tail-end of a front off of the SE U.S. coastline, where an area of weak low pressure may develop during this weekend and very early next week. This area will be around for the next 3-4 days at least, and may have to be monitored for home-grown development. Environmental conditions are marginally favorable, and the setup is classic, but model support is lacking. However, features like this are not always caught by the models, and thus this area will be closely monitored due to its proximity to the coast.

In the western Pacific...Typhoon Ma-on is now a Cat 3, but still struggling wickedly with dry air being punched into his north side. The latest microwave pass shows an open eyewall with no spiral bands insulating it from the hostile, dry environment to the north. Ma-on will not be able to attain Category 4 status until that eyewall is allowed to close. It will have an opportunity to as Ma-on rounds the more diffluent SW periphery of the upper ridge that is responsible for the upper confluence which is creating the dry air. Ma-on will have this short opportunity to strengthen, but will start to weaken again before landfall in Japan. The JTWC forecasts Ma-on to be a low-end Cat 3 at landfall in southern Japan, which makes sense to me, assuming the storm reaches a Cat 4 peak. This would be a major typhoon making landfall, and hopefully folks in Japan are prepared for a storm that will be taking a little bit of time to cross the country compared to most.

We shall see what happens!


---
Caribbean/East Pacific Visible/IR2 Satellite (click image for loop):
Central Atlantic Visible/IR2 Satellite (click image for loop):
Atlantic Tropical Surface Analysis:
200mb Vertical Velocity (green areas represent upward motion associated with the MJO):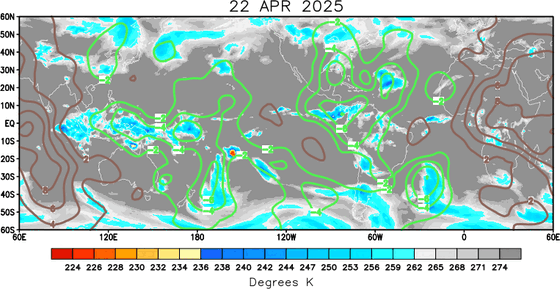 ---