Invest 96L; Tropical Wave east of South America
By: Levi32 , 1:34 PM GMT on July 07, 2011
Please note that these tidbits do NOT reflect the official forecasts of the National Hurricane Center, and should not be taken as such. While tropical cyclones exist in the Atlantic, the official NHC forecasts will be posted in the lower part of this blog. Please refer to those when making decisions, and heed the advisories and evacuation statements of your local National Weather Service Office.

If you can, playing the video in HD makes it much easier to see things. The video will play in low quality by default. If HD quality isn't available, then it will be in a few minutes. Let me know if you have problems with the video, and please feel free to ask me any questions regarding what I talk about in these tidbits, or about the weather in general. You can post in either of my blogs or on Youtube. I will do my best to answer. Thanks for stopping by!

Find me on Youtube          Find me on Facebook



There a couple of areas of interest to mention in the Atlantic today. Just recently at 12z, invest 96L was labeled west of Key West, Florida, in the eastern Gulf of Mexico. An area of low-level vorticity, or spin, has developed over the last few hours in this area, and convection is developing on its northeast side. Convection will likely remain confined to the north and east of the system due to southwesterly wind shear being imposed on it by an upper low over the northern Gulf of Mexico that will not be moving very much over the next two days. Any surface low pressure that tries to develop will likely remain weak, and move north into the Florida Panhandle without significant development. This system will bring tropical rains farther north into the SE US, which should be welcome to most people.

The other feature worth watching this morning is the tropical wave that was mentioned yesterday east of South America, now near 50W. Vorticity is pronounced with this wave up through the 500mb level, and an ASCAT pass last night revealed a well-defined area of surface convergence and decent cyclonic turning about the wave axis. This wave will likely be running at least partially into northeastern South America, namely Venezuela and Trinidad. It is unclear how much this interaction may disrupt the wave's organization, but any dance with land will only be short-lived, as steering currents should lift this wave into the Caribbean Sea shortly after it encounters the continent. The wave will then travel WNW across the breadth of the Caribbean, posing as a feature to be watched through next week, despite no models showing any tropical development with it. Conditions will be decent once it gets into the western Caribbean, and thus this system will be monitored through its life cycle.

We shall see what happens!

Invest 96L Model Tracks:


---
Caribbean/East Pacific Visible/IR2 Satellite (click image for loop):
Central Atlantic Visible/IR2 Satellite (click image for loop):
Atlantic Tropical Surface Analysis:
200mb Vertical Velocity (green areas represent upward motion associated with the MJO):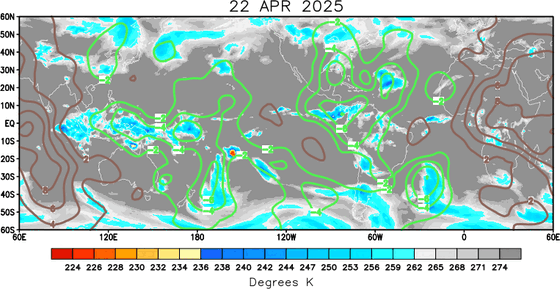 ---
Reader Comments
Comments will take a few seconds to appear.
About Levi32
Featured Blogs
Local Weather
67 °F

Overcast