Tropics fairly quiet, though pattern supports activity for the next 10 days
By: Levi32 , 3:01 PM GMT on July 06, 2011
If you can, playing the video in HD makes it much easier to see things. The video will play in low quality by default. If HD quality isn't available, then it will be in a few minutes. Let me know if you have problems or questions about the video. Please feel free to ask me any questions regarding what I talk about in the video, or about the weather in general. You can post in either of my blogs or on Youtube. I will do my best to answer.

Find me on Youtube          Find me on Facebook



The tropical Atlantic (and really the global tropics) remain fairly quiet today. As expected, despite all the thunderstorm activity near and just north of the Caribbean over the 4th of July holiday, the area of energy was too broad to allow anything significant to develop out of it. The only feature I would watch for any possibility of development would be a disturbance within the ITCZ, currently in the central Atlantic near 40W, which will be moving towards the Trinidad area in about 3 days, and into the Caribbean from there. Right now it is at a fairly low latitude, and will thus have a hard time gaining significant spin, but once it starts to gain latitude, it may be worth watching. Such features following behind tropical waves can be sneaky at times. It is not an immediate threat, but may be worth watching next week in the Caribbean, as conditions could allow something to brew.

Other than that, there are no other current threats. The Atlantic will be favored for activity by the MJO for about the next 10 days before the models show this current upward motion pulse moving on into the Indian Ocean, allowing a greater portion of sinking air to return to the Atlantic, suppressing activity for the latter portion of July. This month should be a fairly quiet month overall, though I could see us getting one development out of it. Folks should keep in mind that June and July are generally not great indicators of what the peak of the hurricane season (August-October) will be like. Last year, we had a deadly quiet July, with only Tropical (Rainstorm) Bonnie forming, and yet we went on to have 19 named storms when it was all said and done. A quiet July should be no reason to let down your guard for this hurricane season. We have a long way to go, so let's enjoy the quiet while it lasts.

We shall see what happens!


---
Caribbean/East Pacific Visible/IR2 Satellite (click image for loop):
Central Atlantic Visible/IR2 Satellite (click image for loop):
Atlantic Tropical Surface Analysis:
200mb Vertical Velocity (green areas represent upward motion associated with the MJO):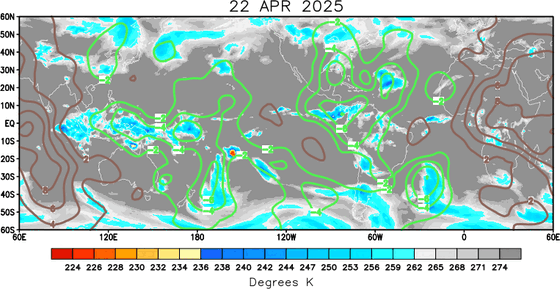 ---
Reader Comments
Comments will take a few seconds to appear.
About Levi32
Featured Blogs
Local Weather
67 °F

Overcast