Tropical development still possible in the Bay of Campeche this week
By: Levi32 , 5:33 PM GMT on June 26, 2011
If you can, playing the video in HD makes it much easier to see things. The video will play in low quality by default. If HD quality isn't available, then it will be in a few minutes. Let me know if you have problems or questions about the video. Please feel free to ask me any questions regarding what I talk about in the video, or about the weather in general. You can post in either of my blogs or on Youtube. I will do my best to answer.

Find us on Youtube          Find us on Facebook



An area of disturbed weather over the Yucatan and western Caribbean continues to be the main feature of interest this afternoon. This feature remains disorganized, and will be moving over the Yucatan Peninsula later today, halting any attempts at organization. The NHC mentions it in the TWO as having a 20% chance of development within the next 48 hours. While most of the models have completely dropped the system due to keeping it inland over central America, I still feel those solutions are too far south, and this will be able to remain over the waters of the Bay of Campeche for a short time as it crosses over to the central Mexican coastline, roughly in the area of Tampico. This means that this system still has a shot at development, albeit a low one. The only model that has come to agree with my forecast is the ECMWF, which now shows a 1003mb low making landfall near Tampico in 96 hours. If I had to choose one model to agree with my forecast above the others, it would be the ECMWF, so this increases my forecast confidence somewhat.

I show in the video why the upper-level environment should become conducive for development while our system is in the Bay of Campeche. With the upper trough over the Gulf of Mexico leaving and splitting off, a piece will be backing southwest and ventilating the western gulf. An upper low in the eastern Caribbean will also be providing an equatorward outflow channel to the east, further ventilating the area, allowing the heat buildup from the monsoonal circulation to balloon into an upper anticyclone that would provide favorable conditions aloft over the southern Gulf of Mexico.

Overall, I believe this system has a low chance of development, but it still has a chance, and will be coming in farther north than most of the models currently have it. Heavy rains will be the only real concern with this system, as if it develops it will be hard-pressed to get any stronger than a tropical depression. Central America and Mexico will have to be aware of potential flooding as this system moves slowly across the area over the next few days.

We shall see what happens!


---
Caribbean/East Pacific Visible/IR2 Satellite (click image for loop):
Central Atlantic Visible/IR2 Satellite (click image for loop):
Atlantic Tropical Surface Analysis:
200mb Vertical Velocity (green areas represent upward motion associated with the MJO):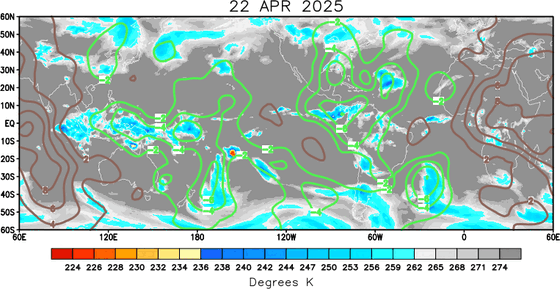 ---
Reader Comments
Comments will take a few seconds to appear.
About Levi32
Featured Blogs
Local Weather
88 °F

Scattered Clouds