Southwest Caribbean getting active; Central America to take the brunt
By: Levi32 , 1:25 PM GMT on June 24, 2011
If you can, playing the video in HD makes it much easier to see things. The video will play in low quality by default. If HD quality isn't available, then it will be in a few minutes. Let me know if you have problems or questions about the video. Please feel free to ask me any questions regarding what I talk about in the video, or about the weather in general. You can post in either of my blogs or on Youtube. I will do my best to answer.

Find us on Youtube          Find us on Facebook



The southwest Caribbean is starting to look a little more active this morning as the tropical wave we have been talking about is starting to interact with the monsoon trough near central America, and cyclonically curved convective bands are now developing north of Panama. Wind shear is still high over the area, but as convection fires, the released heat is expected to form high pressure aloft over the area and balloon northwest in the path of the system, providing a more favorable environment for tropical development. Some of the convection is on the Pacific side, which will make it harder for this system to fully consolidate in the Caribbean without getting tied up with central America right away. We will have to see if and where a center of low pressure tries to develop, but this system may not get a whole lot of time over water before running into the Yucatan.

After crossing the Yucatan, most of the models show weak development in the Bay of Campeche, though almost all of the models have shifted quite far south since yesterday, keeping it in the extreme southern Gulf of Mexico. I feel they may have shifted a little bit too far, but again it's hard to say without a defined system yet. Minus being tied up with land, the environment will be supportive of tropical development, and with enough time over water, it's possible we could get tropical depression #1 out of this system, and possibly even Arlene if it is not too slow to organize, though these monsoonal systems usually are. One can see how this pattern is coming together for this last week of June as we have been discussing, and evidence of mischief is already showing up. Central America will have to watch this system closely for heavy rainfall and possible flooding over the next several days.

We shall see what happens!


---
Caribbean/East Pacific Visible/IR2 Satellite (click image for loop):
Central Atlantic Visible/IR2 Satellite (click image for loop):
Atlantic Tropical Surface Analysis:
200mb Vertical Velocity (green areas represent upward motion associated with the MJO):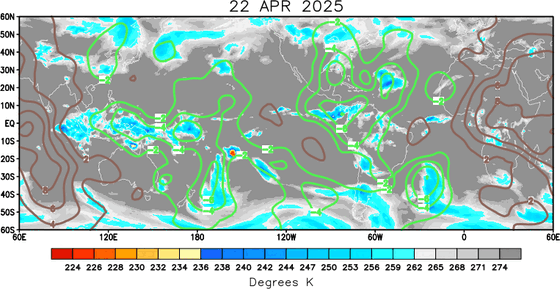 ---
Reader Comments
Comments will take a few seconds to appear.
About Levi32
Featured Blogs
Local Weather
72 °F

Overcast