96L developing, but too late to be a huge problem
By: Levi32 , 5:44 PM GMT on July 07, 2010
If you can, playing the video in HD makes it much easier to see things. The video will play in low quality by default.



Invest 96L is now starting to organize, and if this system had 3-4 more days over water it would be a big big problem for the west gulf coast, but as it stands this has 24 hours before landfall near the TX/MX border and will not have the time to bring anything more than nasty tropical weather to coastal northern Mexico and southeast Texas, with heavy rains and up to gale-force wind gusts at the coast to the north of where this makes landfall.

96L's mid-level center which became well-defined over the Yucatan last night is now moving off into the gulf, but it doesn't have to do all the work on its own like we thought it would have to yesterday. The surface trough that was up in the central gulf yesterday has continued northwest and is starting to bring thunderstorms and windy weather into SW Louisiana and NE Texas, but the southern portion of the trough is hanging back near the area of lowest pressures, and the surface circulation is starting to become much better defined nearing 24N, 93.5W. This is amazing to see because it is exactly what happened with Hurricane Alex 2 weeks ago when he was out in the Caribbean. His surface center ran off towards the area of lowest pressures and made the mid-level center play catch-up, but they did eventually get married, vertically stacked, and off the storm went and bombed out before hitting Belize.

This is what 96L is doing now. The surface center initially ran off, but the southern portion of that surface trough has hung back and is now becoming well-defined at the area of lowest pressures relative to normal. Now that it's in that area, which has been sitting there for a few days now, it will start to wind up, and you will see this thing really try to develop now that it is bringing the mid-level center in. Once the surface and mid-level centers get stacked later today, this thing will really try to ramp up. It's over the cold SST wake of Alex so that may be a limiting factor, but if this starts to feedback it just might make a run at TD status, and you never know it could even try to become Bonnie, but it has some obstacles to clear in order to get there. This is the point where things really start to come together for 96L if it can overcome the dry air to its west, which may be another limiting factor.

Overall, if this had more time, it would be a huge problem, but it does not have the time to be more than a pain in the neck for northern Mexico and south Texas. The entire coastline from northern Mexico up to Louisiana should be expecting very tropical weather with heavy rains and gusty winds, possibly to gale-force in some areas of south Texas, as this system comes ashore.

Elsewhere....the trough-split occurring off the Carolinas is entraining an old front and a tropical wave which is bringing a lot of tropical energy into the SW Atlantic. It will be interesting to see if the upper low can pull this energy underneath and try to feedback some kind of hybrid low as it lifts out to the north in a couple days. This is not likely to be a significant tropical development, but may bring some nasty weather to coastal New England and the Maritime provinces of Canada on its way northward, if it comes far enough west. Overall this is not a significant concern.

A couple of tropical waves with associated ITCZ disturbances in the central Atlantic are not in a hurry to develop right now, but will be entering more favorable environmental conditions in the Caribbean down the road in the next 5-8 days, and will be watched for mischief.

During the last few days the long-range GFS has been depicting a very favorable pattern for Cape Verde development, and really development in general across the entire tropical Atlantic during the 2nd half of July, and I show you this pattern on the video. The ECMWF and GFS have been hinting at mischief in the eastern Atlantic in 10-15 days, so I will be keeping an eye on this pattern to see if it verifies. We're getting into the meat of July now, and it would not be surprising at all to see our first Cape Verde-type development out in the central-eastern Atlantic at some point this month. Things are about to start humming out there.

We shall see what happens!



Invest 96L Visible Satellite (click image for loop):




Invest 96L track models:
---
Caribbean/East Pacific Visible Satellite (click image for loop):
Central Atlantic Visible Satellite (click image for loop):
Atlantic Tropical Surface Analysis:
200mb Vertical Velocity (green areas represent upward motion associated with the MJO):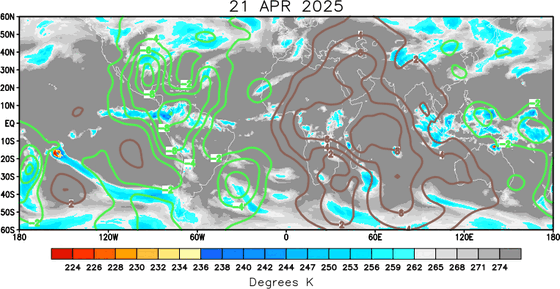 ---
Reader Comments
Comments will take a few seconds to appear.
About Levi32
Featured Blogs
Local Weather
43 °F

Clear