Alex 36 hours from landfall
By: Levi32 , 4:55 PM GMT on June 29, 2010
If you can, playing the video in HD makes it much easier to see things. The video will play in low quality by default.

Note: I said HURRICANE Alex 4 seconds into the video right off the bat....obviously that was a mess-up I apologize. I'm not very clear-headed this morning as my lack of sleep is catching up to me. Please bear with me in the video.



Tropical Storm Alex is approaching hurricane intensity right now as a CDO tries to form over the center, and hurricane hunters found a central pressure of 983mb. This is rather low for a tropical storm, but Alex is massive in size which could explain the spread out pressure field. Still, this looks like a hurricane to me and should really be upgraded. Some dry air may have gotten punched in to Alex's NW quad by the upper trough that was shearing it yesterday, and some dry air may have come from the cold water environment Alex was over yesterday, but there no longer seems to be a real source for this dry air and I don't expect it to be a big issue for Alex. The storm has now moved over the warmer waters north and west of the Yucatan shelf, and the new CDO blew up immediately after hitting these waters. As I opined yesterday, from now until landfall Alex should begin fairly steady strengthening, and I still expect him to be a Category 2 hurricane.

Alex is about 36 hours from landfall, sometime Wednesday night local time. The models have come into much better agreement now on the track, and they usually do by the time we're a day and a half from landfall. The consensus is now for a landfall near 25N on the Mexican coast, which was my original forecast from Saturday morning, but I did shift north a little bit yesterday. Landfall is now likely anywhere from the Mexican coast near 24N to Brownsville, Texas. 25N Mexico looks like a good bet to me. Alex is currently in the process of gradually curving from a NNW motion to a WNW motion that will take him into the western gulf coast, due to a ridge building into the plains which is forcing him back towards the west. There is still a chance that Alex tries to sneak northwest at the last second and get into southern Texas, as the ridge is going to stay pretty far north at 40-45N over the plains, and Alex may try to get closer to its southern periphery, but it is now starting to look likely to be a landfall south of the TX/MX border, but still close to Texas.

Residents of Texas should be aware that Alex's size makes him a danger to them even if Mexico gets the landfall, and hurricane warnings are up all the way to Baffin Bay. Tropical storm-force winds and heavy rain will extend even farther north of that, and much of the Texas coastline will have to deal with nasty and potentially dangerous weather tomorrow.

Elsewhere....a trough-split is looking likely to occur near Florida in several days after Alex is gone, and that area will have to be watched for home-grown mischief as a front stalls out under the trough-split with the big ridge building over the top in the eastern US. The African wave train will continue to be watched, as the MJO is once again returning to our area of the world and a couple of these waves look promising to become trouble-makers as they approach the Caribbean. There are no immediate concerns for development in the next 48 hours.

We shall see what happens!



Tropical Storm Alex Visible Satellite (click image for loop):




Tropical Storm Alex Track Models:
---
Caribbean/East Pacific Visible Satellite (click image for loop):
Central Atlantic Visible Satellite (click image for loop):
Atlantic Tropical Surface Analysis:
200mb Vertical Velocity (green areas represent upward motion associated with the MJO):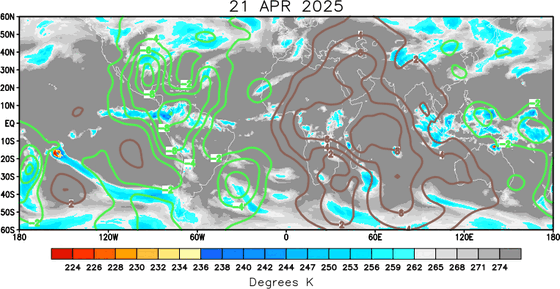 ---
2010 Atlantic Hurricane Season Outlook
Reader Comments
Comments will take a few seconds to appear.
About Levi32
Featured Blogs
Local Weather
82 °F

Overcast