2/7/2011 And we're waiting and waiting
By: FollowMal , 4:24 PM GMT on February 07, 2011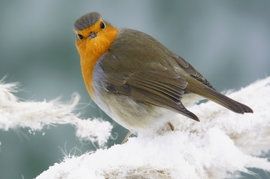 Here we go. Another day of chance melting after the snowpocolypse! Yesterday netted some really fine melting, it saw our snow down by a 1/3. Not so much today...it won't get quite that warm.

Our next snow/blizzard is on it's way...it'll be here starting tomorrow sometime and go thru Wednesday evening. I hope we get 2 inches. We're likely to get 8! But we'll live.

I miss the birds, I miss the leaves, I miss the grass and I miss the flowers. Hurry spring!!
Reader Comments
Comments will take a few seconds to appear.
Post Your Comments
Please sign in to post comments.
Not only will you be able to leave comments on this blog, but you'll also have the ability to upload and share your photos in our Wunder Photos section.
No reader comments have been posted for this blog entry yet.
About FollowMal
Featured Blogs
Local Weather
70 °F

Light Rain
Previous Entries for 2014
Recommended Links