Waxing Warmer
By: Bogon , 4:09 AM GMT on May 04, 2014
Since February this blog featured a polar projection of snow cover in the northern hemisphere. In my part of the world that view is no longer germane. Except on high mountains all the snow and ice are confined north of the forty-fifth parallel. In the eastern hemisphere frozen stuff has retreated north of sixty degrees. Only in Canada around Hudson Bay does snow linger south of that latitude. Folks in Labrador are still waiting for spring. It may be a long wait this year.

Here in the Dry Slot it's time to start looking south for clues to what the weather has in store. While it is still too early in the season to worry much about hurricanes, it will be tropical heat, not polar chill, that drives the circulation in my neighborhood this summer.

There's a literal sea change in conditions in the tropical Pacific. Here's an animated loop from the National Weather Service Climate Prediction Center. It shows sea surface temperatures in the equatorial Pacific Ocean over the last ninety days. Note the shift from blue to orange in the region west of the Galapagos Islands.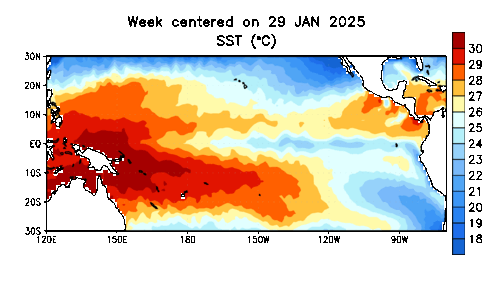 Previous Entry
The beach is a work in progress. Wind and waves are constantly shifting sand. Here bits of sea shell add darker tones to the mix.
Reader Comments
Comments will take a few seconds to appear.
About Bogon
Featured Blogs
Local Weather
59 °F

Clear
Previous Entries for 2015
Recommended Links