June 13, 2013 Severe Storms Event for Raleigh


JUNE 13, 2013 SEVERE STORMS EVENT

Hey, y'all. I just got home after an eventful day! The day started off as a beautiful one, with no clouds in the sky. It was also the hottest day of the year to date at 96 degrees so I went off to Sanford, NC to go swimming at a friend's house. I spent few hours there and when I left at 3 pm, I check my Twitter account and saw that Raleigh was under Moderate Risk and a rare PDS Thunderstorm Watch. I don't think I've ever been in a PDS Thuderstorm Watch before, although I've seen PDS Tornado Watch on April 16, 2011. I knew the storms were gonna be nasty. While driving home, I look to the western skies and saw a line of clouds in the distance. When I got home, I checked the radar and the storms were promising to be nasty so I took pictures of the sky pre-storm and the clouds as well. I left for work at Walmart and arrived there with the clouds about to pass over the parking lot. I took some more pictures and went into the store, where I clocked in. As soon as I was done clocking in, power went out and I rushed to my manager who was at the door watching the storm. As we both observed, the winds were blowing up to 70 mph with the carts going over the place, signs being knocked down, and trash bins getting airborne and getting smashed against cars. My manager decided to sent me out into the winds to gather the carts and trash bins. I struggled against the winds to get the carts and bins, but I got the job done fast enough before the downpour arrived. After that job was done, I was sent to Garden Center where there was a big mess from the storm. Plants were knocked down to floor, roof tarp torn off, debris all over the place, and more. The cleaning is still ongoing as I post this blog. From Garden Center, I watched the lightnings and some of them almost hit me. When the storms finally left, I observed an beautiful post-storm sunset and took picture of it. After few hours of work, I went home and watch the lightnings in the distance which was pretty cool. Pictures from the day is below and the credits are mine.




Captions: Clear sky at 3 pm in Sanford, NC




Captions: Clouds in the distance at 5 pm




Captions: Storm arriving at 6 pm




Captions: Storm over Walmart




Captions: Storm taking over clear, beautiful sky




Captions: Storm over NEXRAD radar KRAX




Captions: Mess in Garden Center I




Captions: Mess in Garden Center II




Captions: Post-storm sunset




Watching 91L for Development


Just a quick update on that "little" system. Apparently, it have grown in the size and it have been assigned a name of 91L.

AL, 91, 2013060300, , BEST, 0, 220N, 868W, 25, 1009, DB, 34, NEQ, 0, 0, 0, 0, 1010, 175, 90, 0, 0, L, 0, , 0, 0, INVEST, S,

Now, it doesn't look very impressive on satellite as you can see on GOES website and computer models (except for CMC) are not giving it a chance to develops into Andrea. It also got wind shear going against it and minimum SST as well so it'll not get much heat as Gulf of Mexico typically have later in the season. This is a classic June storm with long odds. That's why I'm giving it a 35% chance of development into Andrea. I'm also decreasing the "low" threat area to just couple of states in southeastern USA, Cuba, and Bahamas because of heavy rainfall 91L is expected to bring. The storm is expected to start traveling to northeast toward the area of weakness between two high pressures in Atlantic Ocean and Central USA. Here's the graphic for what I just typed in the last few sentences.



(Credit: Weather Underground for map and mine for graphics)

Like I said, the main threat from this storm, weak tropical storm or not, is that it will bring in a lot of rainfall. It does have a shot at being Andrea, but not a great one. We'll keep our eyes on this "little" system and see what happens. Also, watch out for another chance of development in the next few weeks as shown below.



(Credit: Weather Underground for map and mine for graphics)

Happy hunting, folks!




2013 Atlantic Hurricane Season is Finally Here!


Discussing 2013 Atlantic Hurricane Season

2013 Atlantic Hurricane Season has officially started at midnight today! This year should be a busy season as the patterns that have been breeding hurricanes actively since 1995 is still holding up as shown below:



(Credit: Climate Prediction Center)

Also, this year is a neutral year so the patterns of Atlantic basin will not be affected by El Nino, which decreases the total of storms typically. However, this year is also not a La Nina year either, which typically increases the storms total. But we got to be careful with neutral years because of recent memories of 2005 Atlantic season, the greatest amount of storms in recorded history. Right now, we're flirting with a weak La Nina but it's expected that the ocean will remain neutral during the season. You can see the numbers here:

NOAA's data on El Nino

Ocean is also predicted to be pretty warm as usual this year, despite a cool April/May for Gulf of Mexico. As Climate Prediction Center noted, the forecast for Atlantic SST is to be warmer than normal as shown below:



(Credit: Climate Prediction Center)

NOAA's Climate Prediction Center concluded that the numbers for Atlantic hurricane season will be 13-20 storms, 7-11 hurricanes, and 3-6 majors. Here's my thoughts...

Storms: 14-18
Hurricanes: 6-8
Major Hurricanes: 2-4

This year does look extremely active, but I'm going with a safer numbers closer to the average amount of storms, hurricanes, and majors. Here to hoping that everybody make it through this season unharmed!

Watching the Tropics

Even though hurricane season just started, most of bloggers have been keeping their eyes on NW Caribbeans for any hint of development into the first storm of 2013 season, Andrea. It is typical for most June storms to be formed in western Caribbeans and Gulf of Mexico as shown below: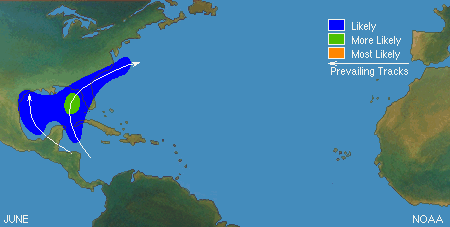 (Credit: NOAA)

This year is no different as most computer models have been showing hint of would-be Andrea developing in NW Caribbeans and moving northeast toward western Florida. Right now, we got what's left of Hurricane Barbara from Pacific basin hanging around in Bay of Campeche which could be a spark for the first storm of season. Because of the current patterns over the area, any development is expected to go north or northeast.



(Credit: NOAA GOES 14)

However, NHC is not impressed with the system and they gave it a near 0% chance of development in next 48 hours. I got to agree with them and gave it a 5% chance in next 48 hours. However, it doesn't mean this will never develops as it could get better in the next few days.



(Credit: Weather Underground for the map and mine for the graphics)

There really isn't much to discuss about this little system, but computer models are still suggesting a tropical system forming in NW Caribbeans in the next few weeks. I am also not completely ruling out ex-Barbara as a spark to the first storm of the season for next few days.



(Credit: Weather Underground for the map and mine for the graphics)

I am also keeping the threat level for the whole Gulf of Mexico coastline low as there is a chance of development in next few weeks.



(Credit: Weather Underground for the map and mine for the graphics)

We'll see what occurs!

TRACKING THE STORMS

This year, I'm keeping the track of all storms that have developed!

ATLANTIC:



PACIFIC:


As usual, credit to Weather Underground for the maps.

This season, I will be extremely busy with a summer job and college so I will have a even less time this season tracking the storms. I hope I can get on here at any chance I get! I will miss the free times, but I need money for college and need to start with my education to be a successful person!





About Bluestorm5
| | |
| --- | --- |
| | Just your typical 19 years old teenager with a high passion for weather and sports :) I plan on majoring in atmospheric sciences at UNC-Asheville. |
Tropical Blogs
Tropical Weather Stickers®
Local Weather
| | |
| --- | --- |
| | Rain |
Previous Entries for 2014