Isolated strong thunderstorms today...
"Thoughts on Severe Weather Outbreak of May 17"
Good Saturday afternoon!!! Well it has been a little while since a blog update so I figured on posting one on the chance of strong thunderstorms across the state. Instibility is marginall at best, but dynamics are there for some gusty thunderstorms with small hail. Overall there may be few severe weather reports today anywhere as most of the hail and wind should be below severe limits. But none the less there may a be a few stronger updrafts to develop an isolated severe thunderstorm. Looking onto tomorrow another area of isolated strong thunderstorms may form in far eastern and southern Pennsylvania as the stronger dynamics move eastward into that region so it may be possible to post another one of these severe weather format blogs. Stay tuned throughout today for more near term updates.

"Current Weather Setup"
A cold front is trailing southeastward across the great lakes and then through Pennsylvania. The front is accompanied by a strong low-level jet and cold air aloft. These factors will come together to form some isolated stronger thunderstorms today. Shear levels are moderately high with the front which will also aid to thunderstorm development. It is quite amazing on how cold the air is for this time of year. 850s aloft for Sunday are down below 32degrees for much of the state of Pennsylvania as far south as Harrisburg. So far for the first 16days of May temperatures have been well below normal and that pattern looks to continue for at least the next couple of days before some changes are on the way.

"Current Advisories"



"Current Satellite"


(Courtesy of Penn State Meteorology.)

"Current Surface Map and Weekly History of Jet Stream Position"



"Radar for Western Pennsylvania"


"Radar for Central Pennsylvania"


"Radar for Eastern Pennsylvania"



"Forecasts from Storm Prediction Center"
SPC AC 171626

DAY 1 CONVECTIVE OUTLOOK
NWS STORM PREDICTION CENTER NORMAN OK
1126 AM CDT SAT MAY 17 2008

VALID 171630Z - 181200Z

...ERN GREAT LAKES...
LEAD SHORT WAVE TROUGH /NOW CROSSING SERN ONTARIO PER WATER VAPOR
IMAGERY/ AND ASSOCIATED COLD FRONT FROM SRN ONTARIO THROUGH NWRN OH
WILL AID IN AT LEAST ISOLATED TSTM PRODUCTION TODAY. ANTECEDENT
CLOUD COVERAGE/SHOWERS WILL CONTINUE TO SLOW SURFACE HEATING...AND
WITH SURFACE DEW POINTS IN THE 40S...ONLY POCKETS OF WEAK
INSTABILITY ARE EXPECTED TO DEVELOP. NEVERTHELESS...STRONG
LOW/MID-LEVEL WLYS SHOULD FAVOR LOCALIZED DAMAGING WINDS/MARGINAL
SEVERE HAIL.

"Tornado Risks"


"Hail Risks"


"Wind Risks"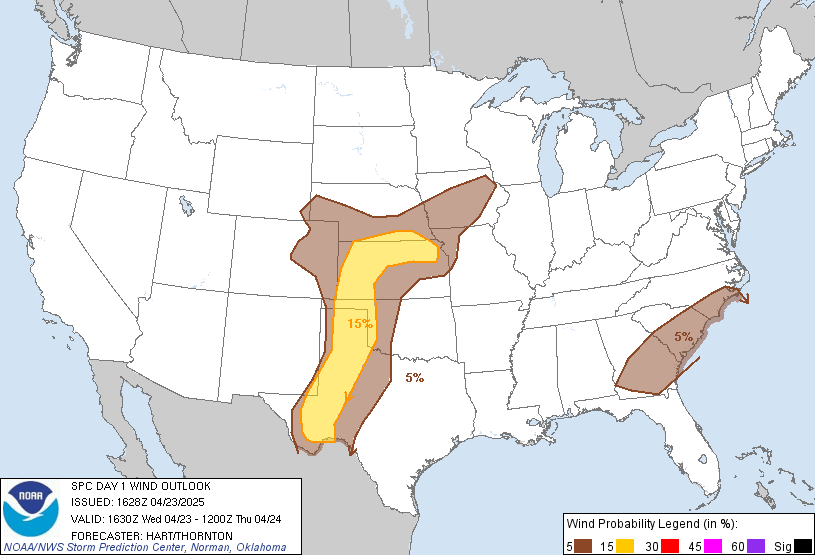 "Model Analysis"
I am not too excited about what I see on the models for this Saturday. CAPE values are very low and most extreme over central Pennsylvania with maxes only near 400-500 j/kg. LI indexes though are pretty impressive (not posted here) with them around -2-0 in central Pennsylvania. Freezing levels are incredibly low for this time of year with them around 5000ft in some areas of northern Pennsylvania today. Steep lapse rates though will favor thunderstorm development. Overall the time of day, steep lapse rates, and strong low-level jet should overcome the week instibility. For the simulated radar it basically shows the cold front moving through accompanied by some showers and thunderstorms. Todays threats are for small hail and isolated damaging winds. Any thunderstorms upper half of cloud base will be able to reach into below freezing temperatures in the atmosphere and with a strong enough updraft hail could be a threat. Also with a strong enough updraft thunderstorms could tap into the low-level jet and pull down some 40mph winds to the surface. Overall though all models concur that this should not be a widespread outbreak by any means.

"9z SREF Model Forecast Cape Index"



"NMM Future Simulated Radar"



"My Forecast for Severe Weather"
My forecast for severe weather is for a slight risk of severe weather across central Pennsylvania with a risk of regular thunderstorms for most all other areas. Tomorrow again there is a slight risk so a new map will probably be issue tomorrow. Again I am not too concerned about severe weather both days with hail and wind being the two primary threats.

"My Severe Weather Risk Map"



"Conclusions on Severe Weather Outbreak"
Overall not too concerned about today other than some marginal reports of very small hail and gusty winds but I figured I would post this blog just in case a severe cell forms as it only takes on storm to change people's lives forever. Stay tuned to your NOAA weather radio. And stay tuned here to this blog as I will have updates throughout the day on the situation developing or nondeveloping. Looking foward it stays below normal temperatures for the next 5-7days, but there are signs of a warmup in the future. For Monday afternoon I will post my weekly weather format blog. Have a great rest of your Saturday!!!

"Storm Reports"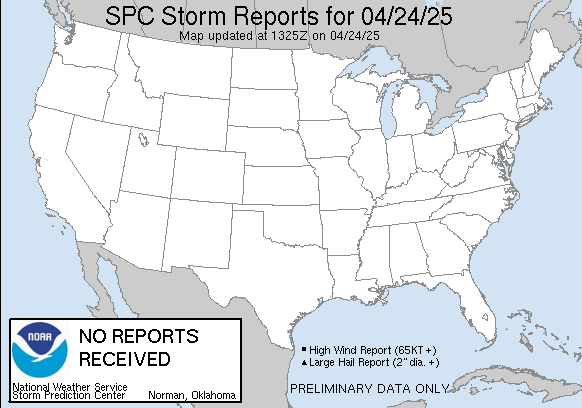 "Here north of Harrisburg 2008 statistics"
(Severe Weather Stats...)
Severe Thunderstorm Watches- 0
Severe Thunderstorm Warnings- 0
Tornado Watches- 0
Tornado Warnings- 0
Total Thunderstorms- 9

(Precipitation Stats...)
Flood Watches- 4
Flood Warnings- 3
Monthly Precipitation- 3.07inches
Yearly Precipitation- 16.73inches

(Temperature Stats...)
Heat Advisories- 0
Excessive Heat Warnings- 0
90degree days- 0
Reader Comments
Comments will take a few seconds to appear.
The Northeast Weather Blog...
Local Weather
23 °F

Mostly Cloudy
Previous Entries for 2016
Personal Weather Stations