Major Winter Storm to Impact the Northeast
A significant winter storm will impact the entire Northeast with rapidly falling temperatures and heavy snow. Blizzard conditions are likely from Long Island to Cape Cod. Temperatures will fall below 0 as far south as I-80.

Snow Map...



"Current Northeast Surface Station Plots"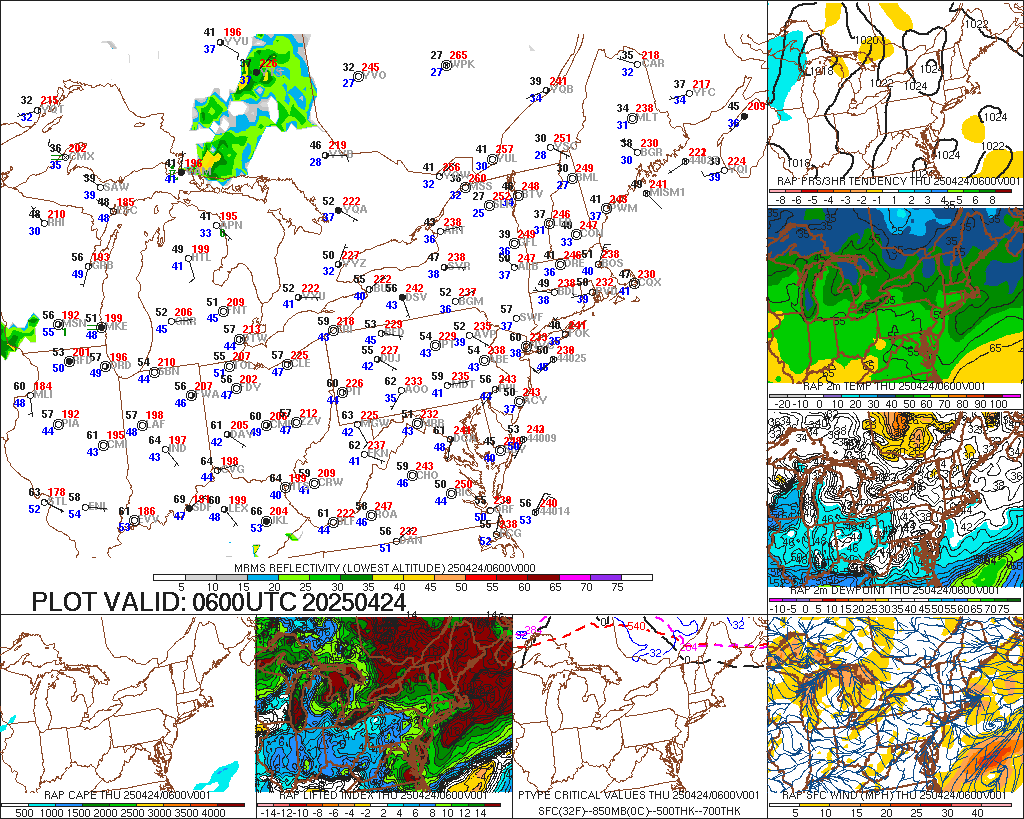 "Current Surface Map and Weekly History of Jet Stream Position"



"Regional Radar"



"Regional Satellite"



"Regional Advisories"



"Current Great Lakes Water Temperatures"



Current Northeast Snow Depth and Northeast Wind chills...



"Current NAO and PNA Predictions"


(Courtesy of NOAA)

"Forecast Max Temperatures"



"Forecast Min Temperature"



"Forecast Weather at 2pm"



(All maps courtesy of NOAA and Penn State Meteo.)

"Anchorage, Alaska Tower Cam"


*Back due to popular demand!

"Forecast Model Links"
-NAM model 12z...Link
-GFS model 12z...Link
-NMM model 12z...Link
-SREF model 9z...Link

"Severe Weather Links"
-Atmospheric Soundings Skewt T charts...Link
-SPC Mesoscale Analysis Pages...Link
-Public Spotter Reports for State College NWS...Link
-Severe Weather Model Forecast indices...Link
-Severe Weather Parameter Definitions...Link

"Flooding Links"
-Automated Pennsylvania Rainfall Recording Stations...Link
-Flash Flooding Guidance...Link
-HPC Forecasts for Excessive Rainfall...Link
-Hydrology Predictions for Lakes, Rivers, and Streams...Link

Lower Susquehanna Valley Doppler...


(Courtesy of WGAL)

Follow my 24hr forecasts on Twitter... Link and Facebook... Link.

"10mi northeast of Harrisburg 2013-2014 Winter Statistics"
(Snow Stats)
Monthly Total (October)- 0.0"
Monthly Total (November)- Dusting
Monthly Total (December)- 9.6"
Monthly Total (January)- 6.9"
Seasonal Total- 16.5"

(Advisories Issued)
Winter Weather Advisories- 7
Winter Storm Warnings- 1
Ice Storm Warnings- 0
Blizzard Warnings- 0
Freezing Rain Advisories- 2
Winter Storm Watches- 1

(Temperature Stats)
Lowest High Temperature- 9.6F on 1/7/2014
Lowest Low Temperature- -3.1F on 1/7/2014
Wind Chill Advisories- 1
Wind Chill Warnings- 0

(Snow Storms Stats)
Trace - November 8 - First trace of snow - Lake effect snow shower
Dusting - November 12 - First snow on the ground - Anafront
1.5" - December 8 - First inch of snow - WAA double low
4.3" - December 14 - Miller B - Changed to freezing rain/sleet
1.3" - December 17 - Alberta Clipper
2.0" - December 26 - Surprise squall/clipper
4.8" - January 2-3 - Miller B Coastal
1.5" - January 10 - SWFE all snow

(Cornell University (950ft elev.) Snow Stats)
Monthly Total (October)- 0.0"
Monthly Total (November)- 3.7"
Monthly Total (December)- 16.4"
Monthly Total (January)- 14.5"
Seasonal Total- 34.6"
Reader Comments
Comments will take a few seconds to appear.
Post Your Comments
Please sign in to post comments.
Not only will you be able to leave comments on this blog, but you'll also have the ability to upload and share your photos in our Wunder Photos section.
About Blizzard92
Featured Blogs
Local Weather
51 °F

Mostly Cloudy
Previous Entries for 2014
Personal Weather Stations
Linglestown, PA

Elevation:
520 ft
Temperature:
24.2 °F
Dew Point:
15.2 °F
Humidity:
68%
Wind:
Calm
Wind Gust:
9.0 mph

Updated: 10:37 AM EST on January 18, 2014