Oklahoma Skies: Loose Caboose Festival Saturday
By: Barefootontherocks, 2:22 PM GMT on August 25, 2014
About the Loose Caboose Festival
Fun and Food!
LIve entertainment!
Art, crafts, antiques and collectibles galore!
Free admission
Main Street in the Heart of Oklahoma horse country - Purcell
Fifteen minutes south of Norman
Saturday August 30
9am - 4 pm

~Tornado, Severe Thunderstorm and Flash Flood Warnings in real time
~Current Severe Weather Watches
~Today's most recent Convective Outlook from National Weather Service Storm Prediction Center
Please page down for links to local radar and more NWS information.



Links to Local Radar
~Oklahoma City (Twin Lakes) classic wu radar

~Frederick, OK classic wu radar

~OKC Storm Relative Velocity NWS radar

~Frederick, OK Storm Relative Velocity NWS radar

Nearby radars are also accessible from the above pages.

Links to the latest from NWS
~NWS Storm Prediction Center Homepage
~SPC on Twitter
~NWS Norman, Oklahoma Home Page
~NWS Norman on Twitter

More Oklahoma Weather Links can be found on the right side of this page or at the bottom, depending on your device's operating system and browser.

Please click image to go to SPC mesoscale discussion page



Please click image to go to Oklahoma mesonet website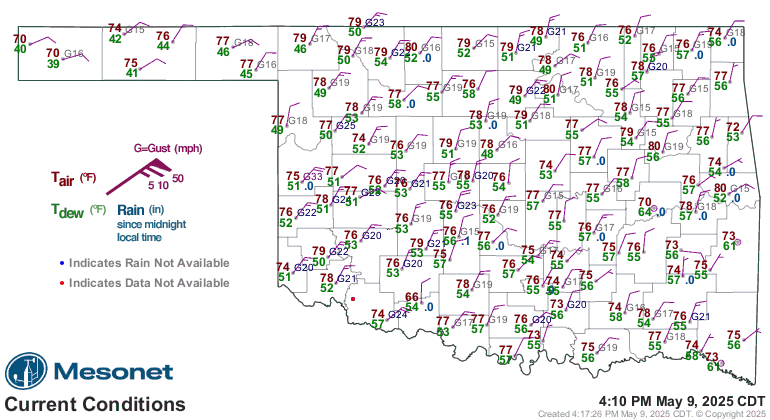 Current Visible Satellite



Current Surface Analysis - WPC


Oklahoma Mesonet links used with permission. Thank you!



Map above Courtesy of Digital Map Store


Updated: 3:35 PM GMT on September 03, 2014
About Barefootontherocks
Featured Blogs
Previous Entries for 2014
Personal Weather Stations
Sunset Ridge Estates

Goldsby, OK

Elevation:
1204 ft
Temperature:
30.2 °F
Dew Point:
26.5 °F
Humidity:
86%
Wind:
2.0 mph from the SE
Wind Gust:
5.0 mph

Updated: 8:47 AM CST on December 29, 2014