Supermoon
WEEKEND SUPERMOON: This weekend's full Moon is a "supermoon," as much as 14% bigger and 30% brighter than other full Moons of 2013. Last night, Alan Dyer photographed the swollen orb rising over the prairie in Gleichen, Alberta, Canada: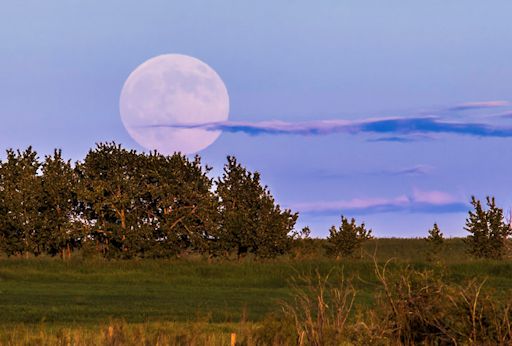 "After several days of torrential rain that brought horrific floods to many parts of southern Alberta, we were finally able to enjoy a clear night and the sight of the wonderful 'supermoon' rising," says Dyer. "[It] reminded us that the sky brings beauty as well as destruction.

The scientific term for the phenomenon is "perigee moon." Full Moons vary in size because of the oval shape of the Moon's orbit. The Moon follows an elliptical path around Earth with one side ("perigee") about 50,000 km closer than the other ("apogee"). Full Moons that occur on the perigee side of the Moon's orbit seem extra big and bright.

On June 23rd, the Moon becomes full at 11:34 UT, only 23 minutes after it reaches perigee. This near-perfect coincidence makes the Moon "super."

It's true that a perigee full Moon brings with it extra-high "perigean tides," but according to the National Oceanic and Atmospheric Administration this is nothing to worry about. In most places, lunar gravity at perigee pulls tide waters only a few centimeters (an inch or so) higher than usual. Local geography can amplify the effect to about 15 centimeters (six inches). The much greater flooding in Calgary was caused by rainfall, not by the perigee moon.

REAL-TIME MOON PHOTO GALLERY

Get more space news at: www.spaceweather.com


Reader Comments
New Comment
Post Your Comments
Please sign in to post comments.
Not only will you be able to leave comments on this blog, but you'll also have the ability to upload and share your photos in our
Wunder Photos
section.
About Astrometeor
| | |
| --- | --- |
| | 17 years old, b-day is aug. 27. Go to school at MLK High in Nashville, TN. Love football, soccer, Frisbee, Scouts, and Science Olympiad. |
Tropical Blogs
Tropical Weather Stickers®
Local Weather
| | |
| --- | --- |
| | Mostly Cloudy |
Previous Entries for 2014
Personal Weather Stations
Union Hill

Goodlettsville, TN

Elevation:

902

ft
Temperature:

64.0

°F
Dew Point:

46.1

°F
Humidity:
52%
Wind:

1.6

mph from the North
Wind Gust:

2.2

mph

Updated: 7:28 PM CDT on March 15, 2014
RiverGate

Goodlettsville, TN

Elevation:

515

ft
Temperature:

61.0

°F
Dew Point:

39.4

°F
Humidity:
45%
Wind:
Calm
Wind Gust:

0.0

mph

Updated: 7:29 PM CDT on March 15, 2014
Braxton Lane West

Hendersonville, TN

Elevation:

617

ft
Temperature:

57.0

°F
Dew Point:

25.9

°F
Humidity:
30%
Wind:
Calm
Wind Gust:

0.0

mph

Updated: 7:29 PM CDT on March 15, 2014