Allie's Autumn Reflections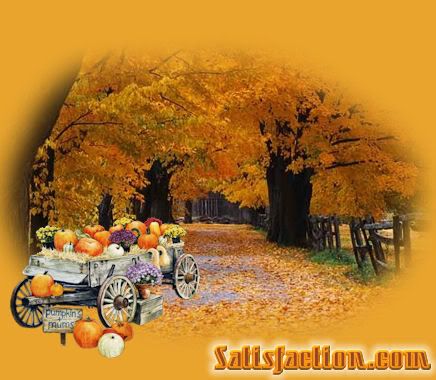 "How innocent were these Trees, that in
Mist-green May, blown by a prospering breeze,
Stood garlanded and gay;
Who now in sundown glow
Of serious color clad confront me with their show
As though resigned and sad,
Trees, who unwhispering stand umber, bronze, gold;
Pavilioning the land for one grown tired and old;
Elm, chestnut, aspen and pine, I am merged in you,
Who tell once more in tones of time,
Your foliaged farewell."
- Siegfried Sassoon, October Trees







"Season of mists and mellow fruitfulness,
Close bosom-friend of the maturing sun;
Conspiring with him how to load and bless
With fruit the vines that round the thatch-eves run;
To bend with apples the moss'd cottage-trees,
And fill all fruit with ripeness to the core;
To swell the gourd, and plump the hazel shells
With a sweet kernel; to set budding more,
And still more, later flowers for the bees,
Until they think warm days will never cease,
For Summer has o'er-brimm'd their clammy cells."
- John Keats, To Autumn






<
| | |
| --- | --- |
| Updated: 1:40 PM GMT on October 01, 2009 | Permalink | A A A |
Allie's Autumn Reflections
Been away for a good part of the summer and now finding a bit more time to spend on the blogs. With autumn upon us, its time to reflect on the past summer and what has been achieved.

The economy is improving here in Canada and they say we are out of the recession, politics are what they are, we may have an election on the horizon if the Liberals have their way and our Canadian dollar is dropping in comparison with the US dollar to stimulate the economy.

Weather has been the news of late with the rainy season the Prairies have been suffering, and Danny as he passed through our Maritime provinces making the biggest impact. Only too soon our temps will start to drop and cold weather will return. Not looking forward to it but its part of living in this great country. I would rather have snow than hurricanes anytime but there are days in mid Feb when the winds are blowing snow around and the temps have dipped to minus 20C, that I dream of living in the warm climates of the deep south. I think most Northerners agree with me there..LOL

I wish you all well and may this Autumn be filled with warm hearts, the smell of wood smoke on the air and big mugs of apple cider with friends and family.


| | |
| --- | --- |
| Updated: 1:19 PM GMT on September 03, 2009 | Permalink | A A A |